Living in the Capital of Idaho
Posted by Hughes Group Blog Team on Monday, December 3, 2018 at 2:21 PM
By Hughes Group Blog Team / December 3, 2018
Comment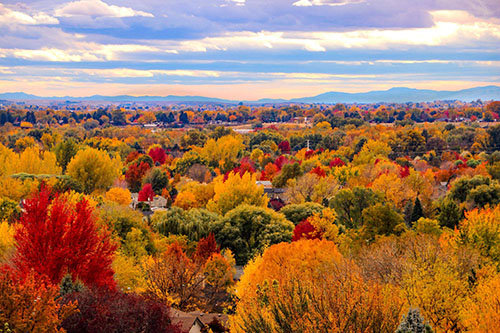 Idaho is a fairly big place. It comes close to cutting the country in half on the United State's western side. It is by no means the largest state in the country, though because Idaho is so tall, it inhabits a large variety of different kinds of terrain and land. Alternatively, if you ask pretty much anyone about Idaho, they will say that there is not much there. Despite its size, Idaho is one of the least populous states in the states. There are parts of the state where you can go for miles and miles without coming across anyone. However, while it is still pretty unpopulated in comparison to parts of the rest of the country, Idaho is not a barren wasteland. There some major urban centers with large populations, one of those being Boise, the capital of Idaho nestled at the heart of the Treasure Valley. Boise is a pretty unique city (As all cities are unique in their own right) and there are a few things you should know about what it is like to live there. Here are some of the interesting facets of life for those that call Boise home.
I am going to start with some of the nice or fun things about Boise that make it a great place to live. A little later we will talk about some of the less nice things that you may not have considered. The first thing you are going to want to know is what the weather is like because Boise is pretty much in the ideal position when it comes to climate. Idaho is known for harsh winters in certain parts of the state, but Boise tends not to fall victim to that quirk as much as other parts of the state. Pretty much every time of year is going to be pleasant, or at least more pleasant than other places might be. Summer is not too hot. Fall and spring are as nice as you might expect. And while winters can occasionally be tough, most of the time they are bearable and can actually be a lot of fun. Boise is situated on the south side of the state and that means it can be considered part of the equator of the United States, a place that is generally very nice. There will occasionally be a harsh winter with an intense blizzard, but you are more likely to get ideal ski weather instead.
Boise is also at the center of things to do in Idaho. The capital is not the only spot to have fun and explore, but there are a bunch of different and unique things you can do in the area. For example, there is the Boise River Green Belt, which plays host to all kinds of different events and city features. There are museums along the river. There is a zoo right on the river. Concerts are frequently held around the river. Every year there is a big get together where a large part of the city floats down the river on a bunch of tubes and rafts, enjoying the water and the sunny outdoors. Just a few miles outside of town is the World Center for Birds of Prey, which is part of an organization dedicated to saving different raptor species across the globe by breeding them and educating people about their plight. You can check out some of the unique and cool looking birds in action and learn a little bit more about their behaviors and circumstances. This is just a taste of what is available to you in the Boise area. There are several other large cities right next door and both they and Boise worth together to provide a bunch of options.
Not only is Boise a hub for different activities you can do in the area, but it is in an ideal spot to check out the rest of the state. If you want to explore the state at large, Boise is a fantastic place to start. It can be the ideal base camp to climb the mountain that is Idaho (Which includes a fair amount of mountain climbing). There are several major tourist destinations (Both inside and outside Idaho) that are very close to Boise and are within a few hours of driving time. Yellowstone is probably the biggest spot to visit, and that is at the very most a day away.
To refer back to weather and climate, there is one reason Boise can be a little displeasing at times. With the way the terrain is around the Boise area, clouds and pollutants tend to get caught in what is known as an inversion. There will be times where things will be cloudy for days on end just because the clouds have nowhere to go (Or rather the air cannot push them out and so they just stick around for a while). Of course, this means that when conditions are right, pollution can have a pretty heavy impact on the area. If the weather is just right so that the prevailing winds are not taking smog and smoke out of the area, you can bet it is going to hang around for a while. Just recently, the whole area was saturated with smoke from nearby wildfires, somewhat covering the natural beauty of the area. There are other downsides to Boise, but they are not major and generally will not apply to everyone. You might find you like Boise for a reason that others do not like it.
Boise is a fantastic place to live and when you take up residence in the Treasure Valley a whole world of opportunity opens up for you. Just about anything you can think of is a possibility. Take some time to explore the area and figure out what there is that might interest you specifically. You will not be disappointed.