Let's Fish Idaho!
Posted by Hughes Group Blog Team on Saturday, February 20, 2016 at 9:28 AM
By Hughes Group Blog Team / February 20, 2016
Comment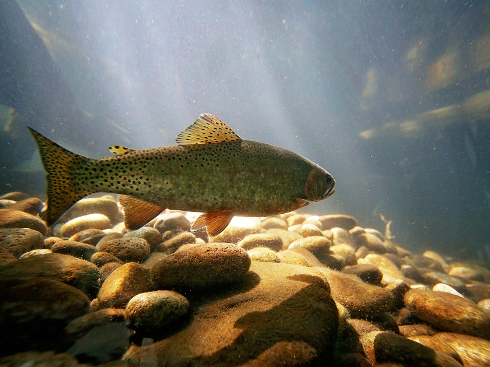 It's no secret that Idaho is great for outdoor sports. Its plethora of mountains, lakes, streams, and scenic valleys make it a popular place for all sorts of activities. Some of the more popular activities include skiing, hunting, camping, and boating. However, one of the most popular, despite the part of Idaho you are in, would have to be fishing. With literally hundreds of places to do it, fishing is done very often by people from all walks of life.
However, when you go fishing in Idaho, you need to have a license. Fishing licenses can be obtained through the Department of Fish and Game. They have varying costs for adults and children--one and three year packages. For an adult one year license it costs $25.75, and for a three year license it is $73.25. For children (ages 14 – 17), however, can get their yearly license for $13.75, and their three year license for $37.75. So, they are relatively inexpensive to obtain, however, there are several dozen regulations per fishing hotspot that you need to know as well before you go out angling.
In Idaho there are literally hundreds of places for good fishing. Here we have a list of some of the most popular places to fish throughout the state. We've broken them down into three categories based on how far away they are from Boise: Day Trip, Overnight Trip to the North, and Overnight Trip to the East. The day trips are supposed to be within three hours of Boise, and the Overnight trips are three hours away and farther.
Day Trips from Boise
Sun Valley
Sun Valley is a very popular destination for not only fishing, but skiing and camping as well. This resort town has consistently claimed the hearts of its visitors for its beautiful sights and ever expanding conglomeration of fun things to do.
Around Sun Valley, if you want to make it an overnight trip, there are several campgrounds as well as hotels in the surrounding area. However, if you want to make into a day trip from the Treasure Valley, Sun Valley is located about 2 hours and 44 minutes to the east.
Deer Flat National Wildlife Refuge (Lake Lowell)
Located only 40 minutes from Boise on the western edge of Nampa, the Deer Flat National Wildlife Refuge is a great day trip if you live in the Treasure Valley. Its rustic desert oasis feeling makes it a fun getaway if you want to see some animals or gorgeous vegetation—and fish of course.
There are no camping opportunities at the refuge, but there are hotels in Nampa that would be very close to the lake. However, if you live in the Treasure Valley, you probably won't need to find a campground anyway.
McCall and Cascade
The Cascade Lake in Cascade and the Payette Lake in McCall are also very popular places to fish. With fishing opportunities in all four seasons, a trip to these two lakes can be quite a fun time. Only two hours or so north of Boise, these two lakes, and the surrounding rivers, are popular among local anglers.
There are plenty of hotels, restaurants, and more in McCall and Cascade, along with a movie theater and ice skating rink in downtown McCall; so fishing in these to lakes sounds like quite a fun time. There are also campgrounds, resorts, and even boat tours to keep visitors happy as a clam.
Overnight to the West
Henry's Lake
Just east of West Yellowstone is the pristine Henry's Lake. With its serene glassy finish and the surrounding gorgeous Rocky Mountains make it an amazing getaway location beyond compare. It is a 5 hour drive from Boise and offers some amazing fishing spots. Henry's Lake, and the area around it is populated by 83 serviced campgrounds and 2 cabins, as well as 3 designated ADA sites and one ADA cabin. The lake amenities include flushing toilets, showers, dump stations and stations to clean all the fish you will catch.
Salmon Idaho
To reach Salmon Idaho, you'll have to drive a good 5 or 6 hours northeast, so if you like being far from civilization, this is the fishing spot for you. With spots along both the Salmon River and its surrounding tributaries, Salmon Idaho has plenty of places to catch the big one you've always wanted.
There are several campgrounds around the city of Salmon to choose from, so if you want to stay near the river, there will most likely be a spot for you to do so. However, if you want to stay in a hotel, Salmon has several to choose from as well.
Overnight Trips to the North
Lake Coeur d'Alene
This alpine paradise is located in Northern Idaho about 7 hours from Boise. Its gorgeous waters are the perfect place for a weekend fishing trip. Filled with Bass and Chinook Salmon, the Coeur d'Alene lake is a fisher's paradise.
However, if you want to take some time away from the lake, Coeur d'Alene itself has plenty of things to do. There are places in Coeur d'Alene to enjoy great food as well as many outdoor hotspots. So, if you are looking to do a lot more than fishing, Coeur d'Alene may be the best place for you to spend your next vacation days.
Priest Lake
Surely the farthest fishing destination on this list, Priest Lake is also one of the most serene. Located a whopping 9 hour drive from Boise, this picturesque lake is only 15 mile from the Canadian border. It is known for have vast varieties of wildlife, ranging from both Trout and Mackinaw in the lake to Moose and Grizzly bears around it.
For visitors there are several resorts for overnight stays as well as some great campgrounds. Not to there are great scenic paths with great sights to see; making Priest Lake a heavenly place to hang.
Whether you like to fish in your backyard, or in the mountains, then you will love living in Idaho. It doesn't seem to matter where in the state you are, you can easily find yourself a place to cast your lures. So, even on a regular weekend or afternoon you can enjoy a few hours by shore and hang your 'gone fishing' sign in the city.