Lessons From a Live-In Renovation
Posted by Hughes Group Blog Team on Wednesday, February 24, 2016 at 9:26 AM
By Hughes Group Blog Team / February 24, 2016
Comment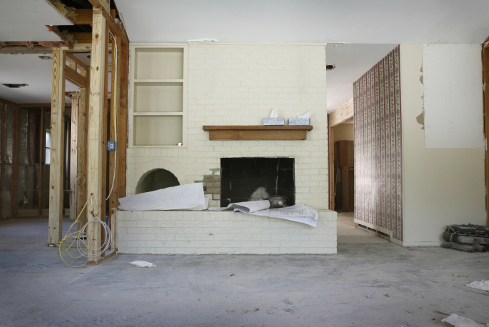 It's the dream of many of us, to buy a fixer upper and take the time to renovate the house into something that is truly ours. We are so fascinated by it, that there are numerous television shows, websites, and blogs dedicated entirely to home renovations and buying and fixing fixer upper houses. But a renovation on a TV show is much different than a renovation in real life, especially when you are still living in your home during the remodel.
It's easy to get caught up in the excitement or renovating a home. You can forget, or not even realize, just how big of a project you are taking on, even if you aren't the one doing all of the work. Living in your home through a renovation is no walk in the park, and it can be a lot bigger of a challenge than you ever thought it could be. Here are several lessons from people that have lived through a renovation, in order to help you decide if you will do the same.
Lesson #1- Extra Strain on Relationships
Living through a renovation is a challenge, and not just for your day to day living. If you are living with your spouse or partner, expect your relationship to get strained. In the words of one person that lived through a renovation, take your relationship now, and how you handle stress, but pretend that you are on fire. If you can stay calm like that, you'll be fine. Otherwise, prepare to endure the extended stress of living together in a house that's torn apart.
Lesson #2- You Will Regret Your Decision
You won't have permanent regrets, but you will end up doubting yourself and your renovating decisions fairly early one. It's going to happen. This is to be expected, because if you are doing a large renovation, your house is going to essentially look like it has been destroyed. When you are standing in what used to be your kitchen, and you are staring at a completely empty and barren room, you might be regretting your decision.
Keep with your renovation, and know that it will get better. Eating out all the time, or tripping over a toilet is only temporary. Stay strong, just know that this feeling of regret and doubt is normal, and temporary as well.
Lesson #3- Renovations Aren't Fun
If you bought a fixer upper because you thought the renovations were going to be fun, you have another thing coming. Renovations are not fun. They are like a second job. A second job that you can never get away from, because you always come home to it. This is not to say that the dreaming and planning stage aren't fun, and that you won't absolutely love your renovations when you are all finished. However, living in a construction zone, especially without a kitchen or a bathroom (if you are renovating those) is anything except fun.
Lesson #4- Until You Live in Your House, You Won't Know What It Needs
This is one thing that some of the TV shows get right. No matter how much you've planned, and how much you've prepared, something will always go wrong. If you are buying an older house, the potential for something unexpected happening increases even more. Unfortunately, you are just going to have to accept that. The ability to adapt and change your plan becomes a very important trait, both to maintain your sanity, and to ensure that your renovation is completed properly.
Lesson #5- You Should Know What You Are Doing
This is a big one, especially if you are planning on doing the renovations yourself. At least one of you should know what you are doing in a home renovation. Otherwise, you might end up getting stuck on the dreaming and planning phase instead of actually doing any of the work. A renovation takes a lot of time, and it takes a lot of work and planning to be able to stay on track, on time, and on budget. If you don't know what you're doing, your renovation could easily turn into a nightmare. Sometimes, it pays to use a professional.
Lesson #6- The Eternal Project
The details are important. You want your new bathroom to look perfect. However, spending too much time stressing over the minute details can make a project take even longer, and work comes to a standstill. This delay could arise over something as simple as choosing between a polished nickel or a polished chrome fixture. While you want your renovations to look beautiful, don't get so caught up in the details that they delay your project and make it drag on for what seems like eternity.
Source-
http://www.houzz.com/ideabooks/13179066/list/8-lessons-on-renovating-a-house-from-someone-whos-living-it