Lakes Near Boise
Posted by Hughes Group Blog Team on Thursday, May 31, 2018 at 11:03 AM
By Hughes Group Blog Team / May 31, 2018
Comment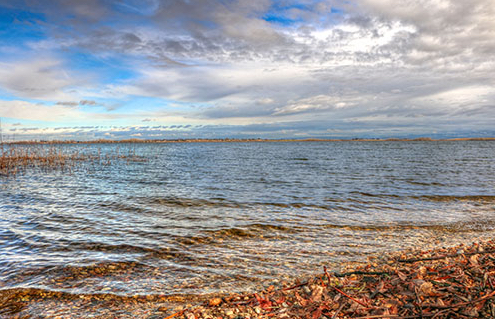 There is a lot of water in Idaho. There are rivers and lakes basically everywhere you look, and a lot of state pride surrounds these strong and massive bodies of water. But where do you start? What are the best and closest lakes for anyone living in the Treasure Valley? Boise is a great city, but sometimes you just have to get out and get on the water. What follows is a brief rundown of several of the most wonderful lakes near Boise as well as a few of the farther away ones that are work hopping in the car for an extended drive. There are plenty of places to go near Boise, and we will get into those (Hopefully literally), but Idaho is big and full of serene water.
The closest big lake to Boise is Lake Lowell, which borders right up alongside Caldwell and Nampa. The lake is surrounded by the Deer Flat National Wildlife Refuge, one of the many refuges that can be found in Idaho, like the massive one to the south that protects and replenishes different species of bird of prey. The Deer Flat National Wildlife Refuge is a place where many species of animal can come for a time and breed and live in safety. There is an especially large number of birds that use the lake during the more inclement times of year when they need a place of warmth. All of this makes Lake Lowell a perfect spot for spotting and watching wildlife. Grab yourself a bird book and set up on the lake shore to see what comes by. Do not forget binoculars as well, as many of the coolest and most interesting animals will not like human contact and will need to be spotted from a distance.
To the east of Boise is Lucky Peak Lake, though the whole body of water could more easily be referred to as a river. It runs for a few miles southwest to northeast, with several tributaries and creeks running off of it, and a dam or two to provide hydroelectricity or extra livable land. Nearby is Lucky Peak State Park, which can be a great place to spend an afternoon, even if you never touch the water. All around the lake are various hiking trails and picnic areas. As for the lake itself, it is perfect for all kinds of different boating. Where Lake Lowell is pretty much unused by boats except for maybe the occasional rowboat, Lucky Peak Lake gets tons of motorboats and other kinds of watercraft. There are a few places nearby where you can rent boats if you do not have your own with you or if you do not feel like shelling out the cash to own your own. It is also a little more open to human influences, seeing as it is not surrounded by a wildlife refuge. The Southernmost part of the lake is dammed up by the Lucky Peak Dam.
These are the biggest lakes near Boise, but as you head north, it will not be long before you encounter some new and massive lakes, such as Lake Cascade, which also has its own state park. It is a bit less unusually shaped than Lucky Peak Lake. There are a few places to camp nearby and spend a few days experiencing the lake. One cool think you can try out is sailing. This takes quite a lot more skill and practice to accomplish, but it can be even more fun than most other kinds of boating, and Lake Cascade might be the best place to learn to sail.
There's always the fairly quick trip to Lake Lowell which sits nestled alongside the City of Nampa and City of Caldwell. Or, if you you'd like to go further north, you will come to McCall, a big tourist location for Idaho, and one of the best places for skiing when it comes time for winter. Here you can also find Ponderosa State Park and Payette Lake, which is another lake with a pretty large amount of civilization right on its shores. Tons of homes and business run right up to the waterline. There is more boating to be done here, and if you would like, you can even go on a cruise. It is not a very big cruise line, you cannot fit an oceangoing cruise liner in a lake as small as Payette Lake, but the experience is similar enough. You can get a tour of the lake with interesting facts and comfy ride the whole way. If you go to the area during the winter and find the lake frozen over, there are plenty of other things to do as well.
If you are really looking to go far to find a good lake and you are not satisfied with what is close to Boise, you can take a trip up to Coeur d'Alene and see the lake of the same name just south of the city. It is quite a drive from the Treasure Valley, but if you have had it with all the other lakes, it can be a fun journey and destination, though I would plan on spending a while there, as it is a long journey for a single day spent there.
Idaho has no shortage of lakes, and if you want something with a little faster current, there are plenty of rivers as well. It is one of the greatest states for those that love water and everything you can do with it. Find a good place to buy or rent a boat, get into your swim trunks, and set out for a sunny day on the beach or swimming away.