Ketchum: So Much More than Just a Ski Town
Posted by Hughes Group Blog Team on Thursday, November 5, 2015 at 2:18 PM
By Hughes Group Blog Team / November 5, 2015
Comment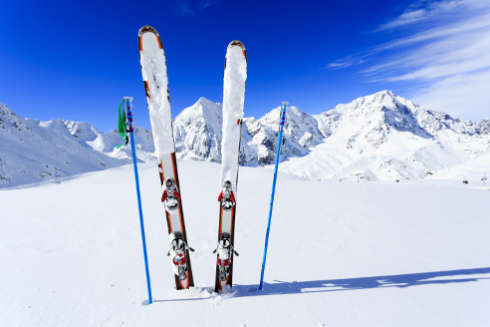 If you love skiing, and want the best that Idaho has to offer, there's really only one place to live. Nestled in the Sawtooth Mountains of the Rocky Mountain Range, is a small town, with not quite 3,000 permanent residents. But this small town offers some of the best skiing, not just in the United States, but also in the entire world. It's even made it into the 25 best ski towns of the world on National Geographic. That's right, the small Idaho town of Ketchum is right up there with locations like Zermatt, Switzerland and Jackson, Wyoming.
Idaho is full of surprises and hidden gems. You could probably spend your entire life in this state and never know about Ketchum. Of course, you'll probably hear people talk about Sun Valley and the Sun Valley Ski Resort, but you might not put the two together. The Sun Valley Ski Resort is just outside of Ketchum. You don't have to love skiing to want to live in, or visit, this hidden Idaho paradise, though. Idaho has a lot to offer if you love the outdoors, and Ketchum has them all.
Skiing and Snowboarding
Of course, skiing is what brings most people to Ketchum and Sun Valley, so it's only natural that this would be the first draw to the area. And if you're looking for great skiing, this is the place to be. Sun Valley is the original destination skiing resort. It offers an impressive 2,000 acres of terrain that's varied, and over 3,400 vertical feet. And it's not just one mountain. Sun Valley offers two mountains to ski or snowboard. The first is Bald Mountain, where you can ski both sides. The second is Dollar Mountain, and it offers a great introduction to skiing and snowboarding, as well has having a tubing hill, and a terrain park.
Nordic Skiing
To go skiing, you don't just have to go down a mountain. Nordic skiing, or cross-country skiing, is also a popular winter activity. You can glide across the snow over the many trails and enjoy the landscape and nature while skiing in a different way. Just as the downhill ski slopes offer an impressive amount of terrain, so do the Nordic skiing trails. There are over 25 miles of trails here, and they feature consistent terrain so you won't get worn out too quickly.
Sleigh Rides
Winter doesn't just mean snow for skiing. Sun Valley also offers sleigh rides. You can enjoy a shorter, and incredible scenic, half an hour tour. You'll explore the area between the Sun Valley Inn and the Trail Creek Cabin. Or, if you'd prefer a longer, and more memorable ride, you can take a sleigh ride to dinner at the Trail Creek Cabin. Round-trip rides are also available, and you can always reserve a private ride for yourself and that someone special.
Ice Skating
The Sun Valley Outdoor Ice Rink is the best location for ice skating. There are incredible views on this rink, and not just of the valley. You can enjoy the ice skating of Olympic skaters. Just watch, maybe get an autograph, or take some lessons. The Sun Valley Outdoor Ice Rink is a year-round outdoor ice rink, and it's just one of a few in the United States. If you'd like to catch a game of hockey, be sure to check out the indoor rink during the winter.
Year-Round Fun in the Sun
Ketchum and Sun Valley have a lot to offer for recreation, and it doesn't end when winter does. After the snow starts to melt, you can hit the mountains in a different way. Strap on your hiking boots or grab a bike, and take to the trails. You'll enjoy being outside in the comfortable summer weather, and the views are absolutely spectacular. You can even enjoy a nice horseback ride.
Hit the water, and go swimming for fishing. The rivers and streams of Sun Valley are perfect for fly fishing, and it's been said that they'll even make non-fishers want to head out and go fishing. Or, ignore the lure of catching the big fish, and head out to the lake for a relaxing boat ride.
If you love Idaho, you'll love Ketchum and Sun Valley. Ketchum might be a small town, but it offers big opportunities, and you'll never be bored playing in the valley and the mountains. Winter, summer, or anywhere in between, you'll always find something to do in this hidden away gem. The question is just where you're going to start.
From Silver Mining to a Booming Ski Resort
When you visit Ketchum, Idaho today, you'll find a beautiful little town nestled in the Sawtooth Mountains, part of the Rocky Mountain Range. It's a beautiful little town, with a population in the ballpark of 2,700 people. The weather here is fantastic, with almost year-round sunshine. But the sun doesn't stop Ketchum, and the Sun Valley Ski Resort, from being one of the best skiing destinations in the world.
According to the National Geographic, Ketchum is one of the top twenty-five skiing towns in the world. Ketchum rivals locations in Switzerland. What is it that makes this small Idaho town, that's hidden away in the Sawtooth Mountains, so special? It's a small town, but it's big on recreational opportunities and beautiful views.
Silver Linings: Ketchum's Start as a Mining Town
When Ketchum first came into existence, it was a small mining town. With a population of fewer than 500 people, it certainly wasn't a booming town. But that didn't stop Ketchum from being huge in a different way. The town was named after a local trapper. David Ketchum had a claim in the basin, and also acted as a guide. Ketchum is certainly a unique name, and it's far better than what the town was originally called.
In 1880, when the town was the smelting center for the Warm Springs mining district, it was called Leadville. For around a decade, massive amounts of lead and silver were refined and processed here. Thankfully, the post office thought that the name Leadville was simply too common. The name was short lived, and Ketchum became the official name of the mining town.
And for the town of Ketchum, Leadville would have been too simple of a name. The town wasn't just a smelting center. It was one of the largest. In fact, according to the history on Ketchum's city website, it was one of the richest mining areas in the entire Northwest. However, after about a decade the price of silver dropped, and with it the mining operations of Ketchum.
Evolving Industry and the Birth of Sun Valley
The fading of the mining boom didn't kill Ketchum, though. Unlike the scattered ghost towns throughout Idaho, Ketchum remained, and a different industry arrived. Sheepherders brought their herds from the south to Ketchum. During the summer, the sheep grazed throughout the Sawtooth Mountains.
Proof that Ketchum doesn't do anything small, the sheep industry boomed here just like mining had. Over the next few decades, Ketchum grew into the largest sheep and lamb shipping station in the entire country. And Ketchum was only going to get bigger.
In 1935, the Sun Valley Ski Resort opened its doors for the first time, and it was a resounding success. It brought celebrities and skiers from all over the world. With the arrival of the Union Pacific Railroad, it was easy for anyone to travel to the small Idaho town to enjoy some of the best skiing in the world. Sun Valley boasted the first ski lifts in the entire world, and the popularity, and size, of the resort only continued to grow over the years.
A Booming Ski Resort that's Line-Free
As Sun Valley Resort grew, the skiing expanded. Now, there's a huge amount of ski slopes to use. The resort boasts 18 ski lifts, which provide the ski resort with a massive lift capacity. Sun Valley actually has a higher lift capacity than any other area. The lift system at Sun Valley is capable of moving almost 30,000 skiers. Per hour! With so many mountains, slopes, and lifts, it's easy to see why Sun Valley can say that they offer a line-free experience.
From humble beginnings as Leadville, Ketchum has grown into an impressive year-round destination. The town is still small, with barely 3,000 permanent residents, but that doesn't mean its offerings are small. Instead, it offers an incredible ski resort, and a gateway to the Sawtooth Mountains that makes Ketchum more than just a town. This is a destination. And it's a destination that draws people not only from all over the country, but from all over the world.
This is what Idaho is about. It's big places and fun in small, unassuming packages. Driving into Ketchum, you'd never guess that it's home to one of the most popular, and best, ski resorts in the world. It's also home (or a second home) to many celebrities. Ketchum is a small town, but it offers big opportunities for life, and recreation.