Island Park - The Long and Narrow Town
Posted by Hughes Group Blog Team on Tuesday, October 6, 2015 at 2:06 PM
By Hughes Group Blog Team / October 6, 2015
Comment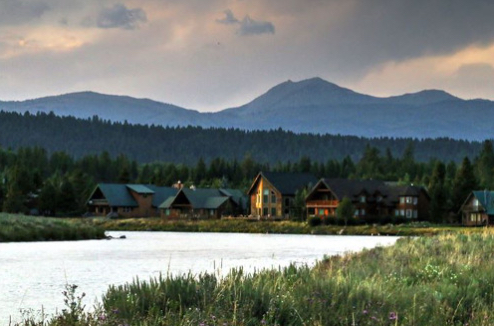 Imagine you are sitting on a beautiful patio. Dinner is steaming in front of you, and the river is capturing the burning orange of the setting sun. Fish are feeding, sending faint ripples across the otherwise smooth surface of the nearby river. It has already been an eventful day, and you just got here! As the sun dips below the horizon, the stars start to come out in the crystal clear sky. What a perfect ending to the day. You finish your dinner and head back to your cabin, already anticipating the adventures that await you when the sun peaks back over the horizon in the morning.
Island Park is a place that's hard to describe. There's just so much there. It stretches along the highway, meandering along rivers and creeks, and even includes the Island Park Reservoir. Island Park is full of fun little places like Last Chance. It's a convenience store and gas station. It's sure to draw people in just because of the name. It could have very well been the last chance before West Yellowstone to stock up and fuel up. But, as tourism and traffic have grown, more gas stations and modern amenities and restaurants (like Subway) have sprung up all along Highway 20.
But it's places like Last Chance and Mack's Inn that give Island Park such unique character. They are small little parts of Island Park, miles apart, that have their own lodges, shops, and attractions. Island Park is also unique because it has possession of something that no other city in the United States can claim. On IslandParkIdaho.com, it says that it has the "longest Main Street in America." This is because 36.8 miles of Highway 20 are within Island Park, and that highway is used as Main Street. Another fun piece of information, also from the previously mentioned website, is why Island Park was incorporated the way that it was. It turns out the town was incorporated in May of 1947, when it became state law for the sale and serving of alcohol to be restricted only to incorporated towns. Because they were so many business scattered all across the highway, they drew the boundaries of the town to include them all! So, while Island Park contains the longest Main Street, the entire town ranges from only 500 feet to 5000 feet wide.
So, Island Park is a long and narrow town, but it's full of wonderful restaurants, campgrounds, cabins, and inns. To name a few, there's Angler's Lodge, Pond's Lodge, TroutHunter Lodge, and Henry's Fork Lodge. You won't run out of choices. Plus, the town is close to so many different attractions and sightseeing opportunities; you might not have time to see them all. It's only about 33 miles from Island Park to West Yellowstone, which has plenty to offer as well. Plus, Yellowstone National Park is right in the backyard of West Yellowstone. There are lakes and rivers for fishing, swimming, or boating. Not to mention plenty of places to go hiking, biking, horseback riding, or four wheeling. And, there are rental shops galore for any of those choices. Or, simply stay at a cabin, or campground, and just enjoy being so close to nature and the beauty that Eastern Idaho has to offer.
Island Park is certainly an interesting town, but just that means there's plenty to keep you occupied. The people are friendly, the scenery is astounding, and the chances to experience the great outdoors are virtually limitless. If driving is your thing, there are a lot of scenic byways as well. If you don't mind taking a slight detour, turn right into Ashton and take Highway 47, instead of following Highway 20 up through Ashton Hill. Although, that drive in itself is spectacular. However, if you take that detour, you can drive along the Mesa Falls Scenic Byway and visit Upper and Lower Mesa Falls. The byway ends in Island Park. So, you still arrive in the same place, but you get to visit some incredible waterfalls and forests along the way.
There's only one question now: when are you going to Island Park?