Is Boise Considered A 'Green' City?
Posted by Hughes Group Blog Team on Saturday, August 17, 2019 at 11:02 AM
By Hughes Group Blog Team / August 17, 2019
Comment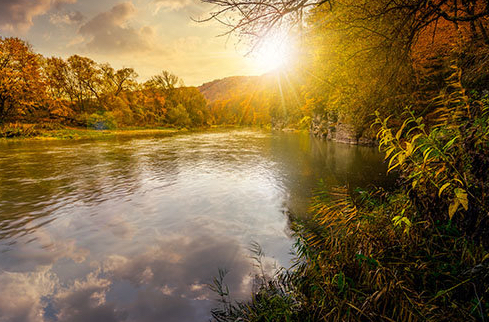 Can a big city be friendly to the environment? It is pretty likely that as you have spent time in larger cities you have seen a lot of trash on the sides of the road and on the sidewalks, and a disappointing amount of pollution clouding the sky. Not to mention all of the energy that goes into powering the many buildings and other things throughout the city. It is sad because a big city is an absolutely gorgeous thing when it is well-kept. Ideally, the local government and the citizens in a city would have the same mindset and work together to keep the area they live in looking nice. This is exactly what Boise is! Even though it is the largest city in the Gem State, it is remarkably well taken care of for its size, and one of the best things about Boise is how environmentally aware the area and the people in the community are! So in just what ways does Boise manage to stay 'green'?
It is a central part of the mission of Boise's local government to keep the city sustainable through many different means, including maintaining the city's economy, the community, and of course, the environment. Mayor David Bieter committed to this when he said, "Sustainability is part of our city's marrow. It's at the core of our efforts to make Boise the most livable city in the country." As you can see, the City of Boise has a clear vision of keeping their city green, and they make it a point to hold themselves to that very standard. If you have had the opportunity to spend much time in Boise, you can attest that that is absolutely true! This vision is achieved through a variety of projects and policies, including keeping citizens involved and engaged in keeping their communities caring, healthy, and safe, making efforts to promote and improve upon alternative modes of transportation (bike riding, public transportation, etc.), and setting an example in resource recovery, city conservation, and energy efficiency!
Boise City Council has very clear goals in mind as far as being energy efficient goals. They plan on having the city run on 100% clean electricity by the year 2035. This is one of the many goals that are included as part of a project titled "Boise's Energy Future." There are also clear goals and plans established to improve on the city's use of geothermal energy as well as natural gas. The City of Boise is always making strides to help those living in the community know about the project that is going on and be willing to support it. During the initial stages of the project, a survey was taken around the city, which revealed that 77% of the public agreed with and supported the efforts that the City was making to minimize energy use and start making strides to convert to renewable energy. As the current amount spent each year by residents for energy in their homes and businesses is $245 million (75% on electricity and 25% on natural gas), the plan details efforts on reducing that number, eventually to provide a cost-effective alternative form of energy. To get specifics on the six strategies involved in this plan, visit the City of Boise's official website where you will be able to download it for yourself and know how you can help with the city's energy efficiency efforts!
Another way that the City has been working towards its goal of 100% clean energy is by enacting the Green Building Code. The Green Building Code is essentially a roadmap for those building and developing projects in the area (and in Boise, there is more and more every day!), giving them information on how they can capitalize on energy efficient components in their buildings. To help make this a more attractive option to builders, the City of Boise has also adopted the International Green Construction Code in order to make projects designed as being green less expensive. In essence, these codes help developers have a stronger desire to incorporate renewable energy into their projects. Supporting various 'green' building projects is one of the ways that the City is most trying to further develop Boise. To further incentivize building 'green,' the city offers many benefits to these projects, including a project manager from the City's Planning and Development Services being provided, a Green Building construction sign and plaque to display on the finished building, recognition and marketing, and even a quicker process to review plans and give permits. Because of all that the City offers, more and more energy efficient projects are being built every day!
The City of Boise's strategy also heavily involves utilizing solar energy in the future, and the City has already made great progress in establishing this type of energy in Boise. The plan is for many of the buildings and facilities that can be found in the area to be solar powered. Boise was designated Gold by SolSmart in 2018 for the leaps that have been made in order for solar power to become more easily accessible and less expensive for the community. Because of this designation, Boise is considered one of the best places in the country as far as solar power goes. Already, many city-owned facilities are equipped with solar panels, helping Boise even further reach the goal they have set.
These are a few of the many great ways that the City of Boise as a whole has been managing to keep things 'green,' and it already has made quite an impression. Citizens are aware of the efforts being made and are inspired to do their part. That is why Boise always looks so clean and nice. When there is a clear vision and goal for maintaining energy efficiency and cleanliness in a city, the residents and the local government are better able to work together to make the world and the environment a greater place to live in!
Sources: