International Selkirk Loop: Exploring Bonners Ferry
Posted by Hughes Group Blog Team on Saturday, November 21, 2015 at 2:12 PM
By Hughes Group Blog Team / November 21, 2015
Comment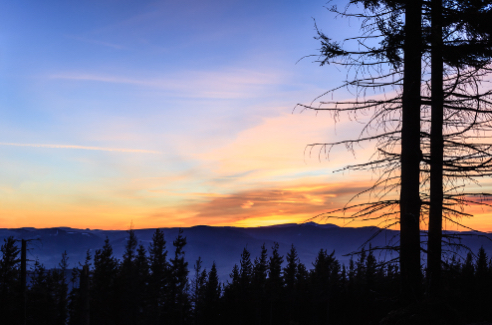 There is a town that sits along the banks of the Kootenai River. Nearly one hundred years ago, steamboats chugged up and down the river, with this town serving as an important steamboat port. Before that, it served as a crossing point for the river. It was first crossed by Indian bark canoes. In 1865, Edwin Bonner created a man-powered ferry to bring miners across the river as they headed to the latest gold rush in British Colombia. Since then, the railroad has taken over for the steamboats, and now roads cross the river instead of boats.
But the town of Bonners Ferry is still present. The town has survived annual spring floods. Originally, there were wooden structures that had been built on stilts in order to avoid the floodwater. These were replaced with brick buildings, two-stories tall, and made to withstand the annual flooding. Many of those brick buildings are still standing today, and if you visit the Boundary County Museum, you'll see pictures of the flooding, with those same buildings.
Full of History and Life
This incredible little Northern Idaho town is full of history. But it's home to more than just history. It's also a perfect stop along the International Selkirk Loop. This is a massive loop that cuts across the panhandle of Northern Idaho, through Southeast British Columbia, and Northeast Washington before coming back into Idaho. If you were to drive the entire loop, you could easily spend seven days driving and exploring. It's incredible. The loop circles the Selkirk Mountains, and it's also home to a historically nomadic Native American nation.
Bonners Ferry is home to the Kootenai Tribe. At one time, they roamed the entire International Selkirk Loop area. To this day, they have still retained their original language and culture, and the Kootenai Tribe has done this more strongly than virtually every other Native America tribe in the United States. The Tribe has a strong presence in Bonners Ferry, with a casino and an endangered fish hatchery. The casino is the only one along the entire loop.
Wildlife Preservation
Bonners Ferry is a beautiful town, surrounding by the natural beauty of Idaho, and there has been a lot of work done to ensure that both the wildlife and the landscape are preserved. The Kootenai Wildlife Refuge was created to reclaim and protect a part of the wetlands in the panhandle. It covers almost 2,800 acres. It serves to creative an environment for migratory waterfowl by creating resting and feeding areas. It's worth checking out, and features a four and a half mile loop for vehicles. Bicycles are also allowed. There are different places where you can observe the wildlife as well, plus foot paths to blinds in order to take better pictures.
The valley is full of wildlife preservations. There is the Nature Conservancy's Ball Creek Ranch Preserve, which adds another 4,000 acres for migratory waterfowl, and there is the Boundary/Smith Wildlife Management Area, which is a 2,000-acre fish and wildlife reserve. Preservation is important here. Not only do these different reserves create safe environments for local wildlife, they also allow visitors to explore and experience the wildlife.
Outdoor Recreation Year Round
Of course, one of the biggest draws of the International Selkirk Loop and Bonners Ferry are the recreational opportunities. This part of Idaho is a paradise for outdoor recreation enthusiasts. In the warmer seasons, hiking, biking, and various watersports are popular and plentiful. In the winter, skiing and snowmobiling opportunities are seemingly endless. There are plenty of trails, meadows, and mountains to enjoy. This is an outdoor playground with endless opportunities, and something for everyone to enjoy.
Exploring All of Idaho
While you don't have to head North to Bonners Ferry to enjoy any of the recreation that Idaho has to offer, it is a fantastic area. Bonners Ferry is full of history, wildlife, preservation, and recreation. The International Selkirk Loop offers breathtaking scenery and wonderful outdoor recreation. If you live in Idaho, there's really no excuse not to explore the northern part of the state.
The beauty of Northern Idaho's forests and mountains are unmatched by any other part of Idaho, and it's a truly awesome experience. You'll want to make the time to explore the Idaho Panhandle and everything that it has to offer. With a full history, and a lot of options for scenic views and fun, Idaho is the place to live if you love the outdoors, and Bonners Ferry and the International Selkirk Loop are two things you should have on your to-do list this year.