If You've Never Been to Boise
Posted by Hughes Group Blog Team on Monday, September 5, 2016 at 1:54 PM
By Hughes Group Blog Team / September 5, 2016
Comment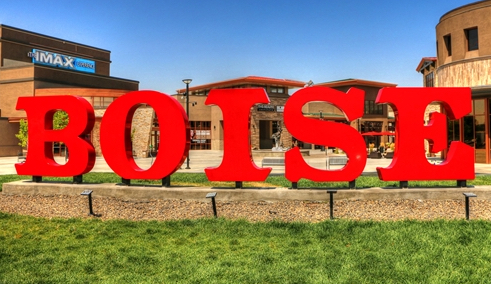 If you have never been to Boise, then you are in for a treat. Boise is a special place and is dear to the hearts of many people. But, what all do you know about Boise? What makes it special? You may have heard about the many festivals that Boise has; or maybe you've heard about the exciting sports that can be observed and participated in, but until you've come, you won't know for yourself. So, what can you expect when you come to Boise? Thousands of crazed Boise State Bronco fans? 12th generation farming families? Loads of potato themed paraphernalia?
In short, yes, but there is so much more.
There are a number of things that make Boise special, and one of the reasons is its diversity of interests. Boise is full of people with many different interests. There are people who love sports, people who love the arts, people who love the great outdoors, people who love business, and everyone in between. In Boise there are schools, museums, parks, stadiums, studios, skyscrapers, and river paths. So, when you come here, don't worry that you will have to leave your hobbies behind, you will find something to enjoy.
The Arts
Whether it be dance, theater, pottery, painting, sketching or sculpting, Boise will have it. There are many classes that can be taken through the community if you want to learn these things, and there are many establishments that allow you to enjoy them as well. The following are three of the valley's most predominant programs for the appreciation of the arts.
The Boise Art Museum
Many cities have art museums, but what sets the Boise Art Museum apart is the fact that it is a nonprofit program that was started solely to promote art appreciation. It was founded in the early 1900's with the intent to share art with the people of the Treasure Valley. They are still open today with new exhibits cycling through so there is always a reason to come back. The Boise Art Museum also sponsors a thing called Art in the Park where local arts can show off and sell their artwork.
The Trey McIntyre Project
The Trey McIntyre Project is a prestigious modern dance group that has been featured on national television and other mediums. They are a beloved part of Treasure Valley culture and have become huge advocates for new businesses to come to Boise with their business (thanks to the easy transition that Trey experienced when he first moved here). At the Trey McIntyre Project they practice in modern and expressive dance. They have performed on many stages and are even making dance films.
The Idaho Shakespeare Festival
Much like other Shakespeare festivals around the country, the Idaho Shakespeare Festival performs beloved classics from both Shakespeare and other sources throughout the year for their ever growing audience. With actors that are recruited from around the nation, the Idaho Shakespeare Festival is full of talent that will have you calling for an encore from the very first line.
The Great Outdoors
There are so many things you can do in the great outdoors, and when you live in Boise, you live on the edge of all these possibilities. Boise is surrounded by all sorts of amazing environments that allow for just about any sort of outdoor activity. We have two lakes within an hour's drive, a desert to the south, mountains to the north, the Boise National Forest to the east, and class 5 rapids only an hour or so up the road— just to name a few.
Water Fun
There is so much that you can do in and around Boise if you like the water. Whether you like to fish, float, boat, ski, or just enjoy the atmosphere, you can definitely do that here!
The first stop for any water lover would have to be the Boise River. This little river is deceptively fun. Frequently a popular spot for floating and swimming, the Boise River is a fond part of everyone's summer. Be careful when you get in though, there are sections that are as deceptively dangerous as it is fun. It is not recommended for small children.
The Foothills
It is nearly impossible to resist the Boise Foothills. This system of hills, ravines, and brush land is what separates Boise from the forest and the Rocky Mountains. It is a fun place to go as it is threaded with trails, places for riding, and all sorts of other fun. In the Foothills, you can see all sorts of exotic flora and fauna so it is perfect for the sightseer and wildlife watcher.
Winter Excursions
If you like skiing, or just being up in the wintery wonderland of the mountains, then you need to get yourself to Bogus Basin or any of the other ski resorts that are nearby. There are runs for beginners, masters, and for tubing as well. It is a popular place for people from Boise and the rest of the Treasure Valley to spend a winter day as it is only about 45 minutes from downtown Boise.
Sports
It doesn't matter if you are a spectator or on the field, your sports dreams can be fulfilled here in Boise.
Football
A community favorite, football, is a common activity over the weekends. With all the high school games, the Boise State Broncos, and the like, you can easily get your fill of football. If you want to get in the game there are plenty of opportunities to do so. From community teams, to neighborhood pick-up games, there are plenty of ways to join in on the fun.
Hockey
For those of you that adore the ice, you might be happy to hear that Boise actually has its own minor league hockey team: the Idaho Steelheads. They have games once or twice a week from Fall to Spring, most of them being at home at the CenturyLink Arena. However, if you want to just skate around, or just want to play some hockey for fun, then Idaho Ice World is the place for you. That is where most people go to skate for fun, where high school teams practice, and where you can pick-up a game if you have the gear.
Basketball
The Idaho Stampede, much like the Idaho Steelheads, is a developmental team here in Boise. They also play in the CenturyLink Arena, the same place as the Steelheads. This is possible because the floor in the CenturyLink Arena can be changed from ice to normal flooring upon the request of the scheduler. (The arena is also the home of boxing matches, concerts, and indoor football).The Idaho Stampede are owned by the Utah Jazz.
Learning
It doesn't matter what kind of learning you are doing, Boise will have a way for you to achieve it. If you want to go take college courses, there are plenty of those; if you want to just do self-study in a particular area, you can do that too.
Boise Public Libraries
Boise is unique, as it doesn't just have one library, it has 4. These libraries are strategically placed all over the city making them all equally accessible. The main library on Capital Boulevard in downtown is by far the largest and most extensive, though. This giant building is three stories tall with space for thousands and thousands of books. It has books on specialty topics that you wouldn't be able to easily find anywhere else. One of these sections, specifically, is its language books. They have books to teach just about every language, from Japanese to Welsh and everything in between.
Boise State University and the College of Western Idaho
There's no doubt that Boise State University is the largest school in the valley. It is home to a large student and faculty population and has programs in dozens of areas. So, if you want to get a Bachelor's Degree, Master's Degree, or just want to take some classes here and there, you can do it at Boise State. However, if you aren't looking for a full degree, but rather want to simply further your education, you may want to consider the College of Western Idaho. This community college is a feeder school to Boise State, but can also be available for people going to any other schools or just people from the community that want to learn.
Now, this is only a small taste of what Boise has in store for you. There are so many things here to do, you just need to know where to look. As you plan your trip to Boise, contact one of our local agents, they will be glad to help you find what you need, as well as get you into the home of your dreams. Their years of experience in the Boise real estate market make them some of the best people to have on your side when first coming to a new city.