Ideas for Basement Designs
Posted by Hughes Group Blog Team on Tuesday, January 31, 2017 at 10:34 AM
By Hughes Group Blog Team / January 31, 2017
Comment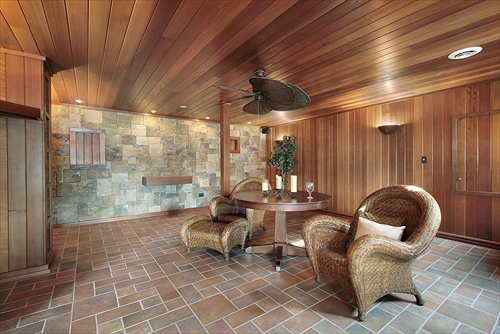 Basements can be more than just space under the house where boxes and spiders are stored. Many folks have founds ways to make their space work for them in ways that are out of the box and creative. Here are a few ideas for the homeowner who is itching for a change in their basement. For anyone who is not looking to build a whole new world under their home, but rather would enjoy a few special touches here or there, here are a few ideas. There are also a few options for those who would like to go big or go home. Of course, this is not a comprehensive list of ideas- if an idea can be thought of, it can be done with a little bit of skill and imagination.
Movie buffs would be thrilled to find a cool piece of furniture that will turn the heads of any guest. Used in films such as Clue, Young Frankenstein, and Batman Begins, revolving bookcases can be really interesting ways to go from one room to another. And who knows? Maybe a secret bookcase entrance could lead to a room that is more private from guests? Possibly the wine cellar? Or a study that is away from public view? Or maybe the secret room doesn't have to be secret after all. If there is space, then why not put a guest room back there?
Another idea that could be quite useful, is building a mother-in-law suite that could be rented out or could be used regularly for those with many household dwellers, especially if the living room is turned into a theater room, or a theater room is part of the floorplan elsewhere in the basement. Sometimes, an extra kitchen can be helpful for large get togethers with many dishes. Pull out the fancy china and set the table for a four-course meal!
Many folks draw in their own personal style to their basement renovations. An exposed brick wall can be an extraordinary way to bring texture and life to a room that may need a bit of spicing up. This can even be mimicked if having a wall exposed doesn't sound like the best option, or if there aren't any brick walls in the home. Another great way to add texture and dynamic design is to purchase tack up or glue on ceiling tiles. These come in numerous designs and options, including brushed copper and various faux wood styles. Pair the ceiling texture with a fun rug and a pattern of wallpaper or paint on the wall and the room will begin to show personality that can be changed or tweaked easily throughout the years as tastes change. Why not throw in a fun couch as well? Many people tend to shy away from bold prints on furniture, but it can be fun to find a bright, loud couch that wouldn't normally fit in the rest of the house and use that as a springboard to decorate the rest of the room.
In the same vein as fun tilework on the ceiling, though slightly more eccentric is the idea of painting or commissioning a mural. If the main room in the basement is a theater room, why not turn the ceiling into a starry night sky with bright constellation patterns and a swirling Milky Way. Every movie could be shown on a billboard in the room as "A Night Under the Stars". The same could work for a dining room. The opportunities with custom paint jobs are limitless. Whatever theme for the basement could be extended to the often unused space or the ceiling.
For those who like to play board games or tabletop games, a gaming table could be just the ticket to turning the basement into a room for entertainment and fun. Custom game tables can be expensive, but since they are made to order, just about any modifications can be made to them. Cup holders, inlaid televisions, green felt tabletops for dice and cards, and drawers for storage are all frequently added to tables, plus a table top cover to turn a gaming table into a table that can seat people for a meal in it's off time.
Artists may be thrilled to think of their newly renovated basement as a fun and freeing art studio. Any interested in ceramics could add a kiln and throwing stations to their space and use it as an opportunity to let the creative juices flow. Painters may be more interested in easels and staging areas for models or still life artwork. Architects and artists who draw would be thrilled to have drafting tables and space to spread out ideas on walls and tables. With an in-home studio, it's much easier to create lovely artwork to use in the home or to make pieces to put in a gallery or sell in a bazaar.
Basement space is so often underutilized and somewhat bland. There are always cool ideas to use to make the basement just that much more functional and fun without diving headfirst into a fully themed room. Small changes here and there can freshen up a room to help maintain a similarity, yet inject an amount of change to keep things exciting. Have fun planning and playing with designs and furniture and the basement will be sure to jump to the top of the "favorite places" list!