Idaho's Powerful Wind Energy
Posted by Hughes Group Blog Team on Thursday, October 10, 2013 at 6:54 PM
By Hughes Group Blog Team / October 10, 2013
Comment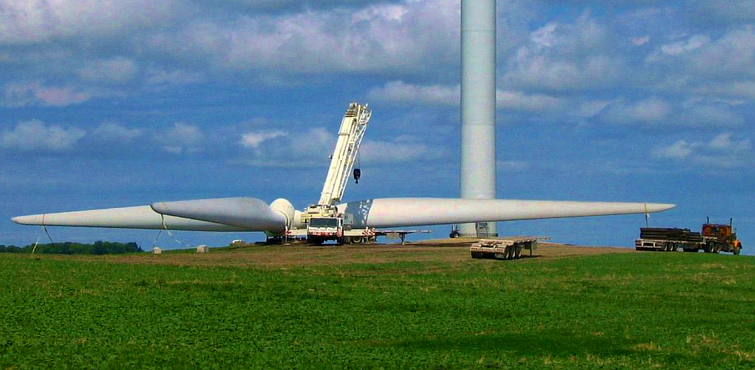 Wind energy is one of the fastest growing sustainable energy sources in the world – and in Idaho, wind energy is in a boom. Wind, like hydroelectricity, solar energy, wave power, and geothermal energy are all sustainable provisions of energy that don't compromise our future generation's ability to meet their needs to live a full, comfortable life. In a world that is steadily working toward utilizing energy efficiency and renewable energy, Idaho is in the front of the game – and there to stay. The driver behind Idaho's progressive movement is the Wind Powering Program at the Idaho National Laboratory, a U.S. Department of Energy program that works toward dramatically increasing the use of wind energy in the United States.
Wind is a clean source of renewable energy, and most the energy derived from wind comes from turbines. Wind farms have tens to hundreds of large turbines dotting ridges and windy areas – and the largest in Idaho is at the Goshen South Wind Farm in Bingham County. Since the National Renewable Energy Laboratory began comprehensive studies by state to determine their wind energy potential, it was discovered that Idaho is capable of generating 52,000 million kWh/year of wind power. Idaho used 23,085 million kWh in 2011, meaning that Idaho has more than enough potential to use wind and solar energy power to provide all the electricity in the entire state.
Idaho isn't the only state excited about wind power. For the first time, wind energy became the no. 1 source of new U.S. electricity generation capacity in all of 2012, announced by a report released by the Energy Department earlier this month. 43 percent of all new electric additions in 2012 were accounted for by wind energy, adding more than 13 gigawatts of new wind power capacity to the U.S. grid, the report said. However, with the growth of wind energy still in uncertain territory, the Department of Energy has been urging an extension of production tax credits to help continue the growth of wind energy production and manufacturing. Some of the highlights in the report include:
Estimated numbers ofworkers in the wind sector are over 80,000, including workers at manufacturing facilities, as well as engineers and construction workers who build wind installations.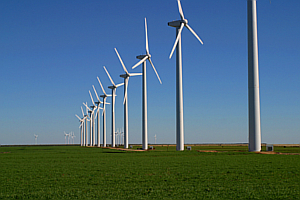 The entire states of California and Washington can be fully powered by wind energy – or more than 15 million homes each year.
Nine states rely on wind energy for more than 12 percent of their total energy consumption.
"The tremendous growth in the U.S. wind industry over the past few years underscores the importance of consistent policy that ensures America remains a leader in clean energy innovation," said Energy Secretary Ernest Moniz. "As the fastest growing source of power in the United States, wind is paving the way to a cleaner, more sustainable future that protects our air and water and provides affordable, clean renewable energy to more and more Americans."
In 2011, Idaho ranked among one of the fastest growing states for wind power in the country, with 75 percent growth. But it is not only because of wind that Idaho calls itself the home for renewable energy. Idaho's geography makes it the perfect testing ground for renewable energy technologies, with the ideal blend of business climate and already existing low energy costs. The aforementioned Idaho National Laboratory has been in operation since 1949, and is a science based, applied engineering national laboratory that's dedicated to supporting the U.S. Department of Energy's mission in nuclear and energy research, science, and national defense.
This past week, the Idaho National Laboratory announced a new scholarship program that offers energy internships to Idaho students who are interested in performing energy related research. The internship is conducted through the INL in Idaho Falls, and will reach out to students here at Boise State University, Idaho State University and University of Idaho in the fall to recruit applicants for an internship in summer of 2014.
The Idaho National Laboratory is an important part of what makes Idaho the perfect home for sustained energy – INL's electrical engineers identify wind energy potential and advance the development of wind energy resources around Idaho as well as the rest of the world – and not just for wind energy. Geothermal is another major energy resource used in Idaho and studied at the INL. Geothermal water is used for generating electricity, heating buildings, growing fish (and even alligators), plants, and for recreation. Idaho is an untapped treasure trove of geothermal power, as it carries stores of vast, underused geothermal resources. In fact, Idaho is the first to have a geothermal power plant in the Pacific Northwest, the U.S. Geothermal Raft River Facility (started back in 2008). The INL used the Raft River site to demonstrate binary geothermal energy production.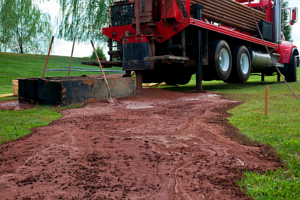 According to the U.S. Department of Energy, geothermal energy potential is incredible, and amounts to 50,000 times the energy of all oil and gas resources in the world. The Raft River facility is located about 200 miles southeast of Boise, and is amazing for the geothermal reservoir that sits beneath the ground, which may be capable of producing up to 110 megawatts of power based on estimates from GeothermEX Inc. The commercially produced power being generated at the site is under a purchase contract by Idaho Power under the terms of a 25 year PPA. The site is significant because of the proven 300 degree Fahrenheit hot water resource that has been developed and tested, and also due to the major infrastructure facilities currently in place.
Idaho's use of geothermal power dates back to the Native Americans, settlers, miners and trappers. Today, Idaho is home to the only State Capitol building in the U.S. that is heated by geothermal direct use application. Of course, geothermal power and wind energy are just two of the sustainable energy resources out there – the untapped energy from biomass, solar and hydroelectricity are abundant. But you can bet that whatever sustainable energy practices the future world demands, Idaho will have it.
Hughes Real Estate Group covers all your buying and selling needs throughout Boise, Nampa, Meridian, Eagle, Caldwell, and Kuna. Call us anytime at (208) 571-7145 for more information or to get your search started!
Sources Used:
http://energy.gov/articles/energy-dept-reports-us-wind-energy-production-and-manufacturing-reaches-record-highs
http://www.propertycasualty360.com/2012/01/31/top-10-states-for-wind-power-growth
https://inlportal.inl.gov/portal/server.pt?open=514&objID=1555&mode=2&featurestory=DA_612163