Idaho State Capitol
Posted by Hughes Group Blog Team on Thursday, February 11, 2021 at 10:01 PM
By Hughes Group Blog Team / February 11, 2021
Comment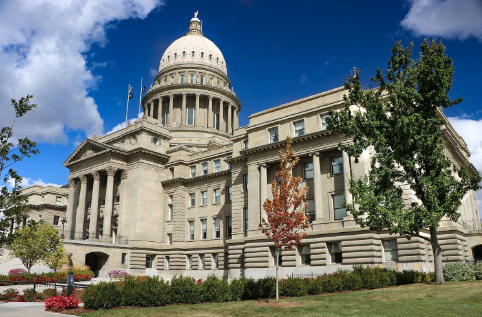 When people think of Idaho, they probably are not thinking about great cities with massive populations and lots of traffic problems. That is something that New York and California have going for them, though people associate Idaho with wide-open spaces and a lot of nature, plus the potato. While this is probably one of the biggest draws for Idaho, it is not the only thing going on in the state. There may have been a time where Idaho was just one big empty space with a few towns sprinkled around, but that has not been the case for a while and the state is quickly moving faster and faster towards something else. Boise, Idaho, the capital of the state, is a flourishing and continually growing metropolis with a relatively large population and a lot of big-city things to do. If you do not know anything about the city, you should be aware that not only is it a nice city nestled near mountains and rivers, but it is also a bustling place of exciting activity and business. If you wondering what it is like to live in Boise, I have some fantastic news for you. We are going to get into some of the things that make Boise truly great.
Boise is one of the most stable places in the country economically and has been steadily growing the last decade or so (With some ups and downs to be sure). If you need to live in a place where shopping is easy, housing is inexpensive, and jobs are plentiful, Boise is going to give you a lot of pleasure. Things are not too expensive and neither are they too cheap (Not cheap to the point that the quality of what you are getting is so inferior that you might as well not even spend anything on it). There are a lot of jobs in Boise and the Treasure Valley, and you are pretty much guaranteed to get something you need or want when it comes to employment. You might think that Idaho is all farms and mountains and you can only be a farmer or a park ranger, but that is definitely not the case. Pretty much any job you can think of can be found in and around Boise. There are the standard jobs that crop up everywhere humans start to live in great numbers like hospital work or jobs related to infrastructure, but Idaho even has tech jobs. Some of the largest companies in Idaho are all about pumping out tiny, highly advanced pieces of technology.
Boise also has an excellent nightlife. Idaho has become a big place when it comes to bars, beers, and wines. Some Idahoans take their alcohol very seriously. Sure, Idaho has all of the regular beers you can get everywhere else and are which are pretty bottom rung when it comes to quality but is also a massive craft beer movement going on in the state right now. Similarly, Idaho is winning awards for its wine in places where only foreign, high-quality wines have won before. There are vineyards cropping up all over Idaho and you can tour them to find out all about the process of making high quality and tasty wines, or you can just enjoy the sweetness they are putting out for yourself.
Easily the best thing about Boise is how easy it is to get out of the city when you need to and bask in the natural glow coming off the mountains and swimming in the river with the fish. If you like the city but are also an outdoors kind of person, Boise has a lot to offer you. Not only is it the City of Trees, but if the nature-infused into the city is not enough for you, simply hop in the car and go for a ride into the wilderness. It does not take long to get to a new and exciting part of Idaho terrain that has been largely untouched by human hands. There are state parks everywhere and you can very quickly get north into the mountains. Boise is very much a city that has a close connection to the natural world and you can live two lives. Either enjoy the metropolitan aspect of Boise or seek out the wilder side of the city. It is up to you and you can split the days into either civilized, natural, or both.
One of the final great things about living in Boise is the weather. Sure, there are years where the winters can be cold as Idaho is pretty far north in the country (It has a border with Canada, so you do the math), but most of the time, every season is mild. There are going to be very few times during your life in Boise where you are sick of the weather and find yourself wanting to be somewhere with a winter that is warmer or a summer that is cooler. Things can get pretty hot or pretty cold depending on the larger climate of the world and what is going on elsewhere, but you are very rarely going to find yourself wishing you were somewhere else. Boise is pretty much all around mild and all-around fun. Why not take an extended visit and find out the truth for yourself?