Idaho City: Attractions, Real Estate, and History
Posted by Hughes Group Blog Team on Monday, April 17, 2017 at 5:31 PM
By Hughes Group Blog Team / April 17, 2017
Comment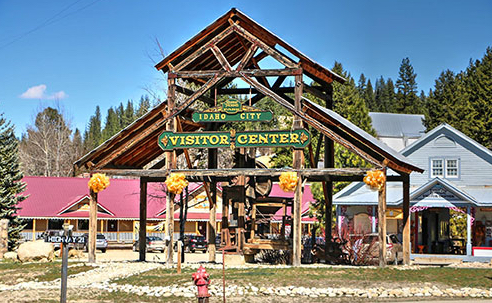 Idaho City is a rich slice of history embedded in the heart of Idaho. There is so much to check out in this little town, and so much to experience. From tours to museums, to saloons and ice cream parlors, Idaho City has a great assortment of activities to offer you the opportunity to experience Idaho how it was back in the 1860s.
History
The history of Idaho City is a lively one—it definitely puts the "wild" in "Wild West." In 1862, the city was an active frontier of quick draws and saloons, bursting with business and booming with life. Due to the Boise Basin containing over $250,000,000 worth of gold, which was found at that time, thousands flocked to the area to find some gold of their own. Idaho City became a huge city in the Northwest, surpassing Portland, Oregon in population. It contained opera houses, theaters, barber shops, saloons, bakeries, drug stores, breweries, pool halls, tailors, music shops, and more.
However, after a few years, no more gold could be found and the thousands that flocked in soon left in the same haste. Many stayed, and the town was able to withstand the test of time (particularly because of the success of all that found gold). Fires sprung up for a few years, and at one point destroyed most of the city, but because of that gold money, they were able to rebuild and carry on.
Now, Idaho City is a site that must be visited when in the gem state. It holds so much history of the state of Idaho and provides a step back in time, as many of the original buildings are still standing and there are many attractions to be seen and taken a part in.
Attractions
There's a lot to do in Idaho City. From tours of the town to a trip to the ice cream parlor, you won't be disappointed in a day spent in the once booming gold rush town.
The following is a list of attractions in Idaho City:
*Tours. There are two tours to choose from in Idaho City; one is for the town itself and one is for its unique museum. Each tour is only $2 per person (with a $30 minimum).
*Shops. The little shops where you can buy goodies are unique in Idaho City. There's an old-time photo shop, an old-fashioned toy shop, a quilt/craft store, and a unique shop called R&J Expressions, which has been there selling unique gifts for over twenty years.
*Dining and dessert. The restaurants in Idaho City are fun and offer some of the same experience as the rest of the town. You can head on down to Diamond Lil's or Goldmine Grill & Saloon for the saloon experience, or you can head on down to the diners, Trudy's Kitchen and Donna's Place. If you want something sweet, you can head down to the two ice cream parlors in Idaho City. One, Donna's Place, has a huge area for seating several guests and a capacity to seat over 80 people, while the other is an old building that offers that 1860s time-traveling experience. When you walk into the latter (named "Sasprilla"), you will find a quaint shop and happy service. When you walk into Donna's Place, there are 17 booths to choose from and a heap of workers to make you anything from a chicken sandwich and ice cream to its infamous $125 peanut butter sandwich (don't worry, nothing else on the menu is nearly that price).
There's another Donna's Place, in Placerville, and is one of the surviving original buildings of Idaho City. It is now a country market where you can get whatever you want to get, or you can request it and the good people at Donna's Place will go out and get it for you.
*Camping and lodging. There are campgrounds and RV parks if you want to experience the natural beauty of Idaho City. If you want to experience the majesty of the town in more than an afternoon, there is also a small inn where you can stay and make your experience complete.
Real Estate
A little less than 500 people still live in Idaho City, and there are some amazing homes and cabins for sale. Homes and cabins in Idaho City are typically priced in the $200,000 range and offer acreage, great location, beautiful scenery, and fantastic amenities (one cabin for sale even has a heated workshop separate from the house with a half bath inside).
There are churches, stores, and things to do. The city is also only about 40 miles from Boise, so you're pretty close to Idaho's capitol in Idaho City as well.
So, what are you waiting for? Don't let the opportunity to visit this historical city pass you by. Make the trip, and you will see that it was well worth it in the end.