Hyde Park: Boise, Idaho
Posted by Hughes Group Blog Team on Thursday, July 17, 2014 at 9:18 AM
By Hughes Group Blog Team / July 17, 2014
Comment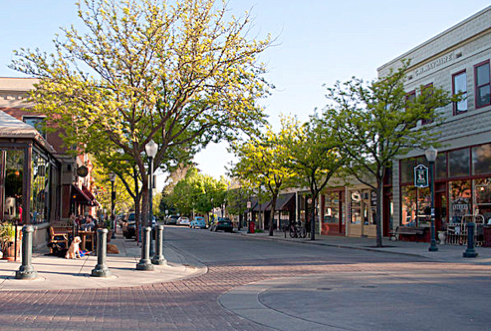 If we're going to talk about Boise, Idaho, the Hyde Park Historic District is an obvious conversation starter. While Boise is obscenely booming when it comes to enviable neighborhood character traits, Hyde Park is without a doubt a landmark neighborhood and standout gem.
Not far from downtown, you'll find Hyde Park within Boise's coveted North-end. The North-end is home to tree lined avenues such as Harrison Boulevard as well as many of Boise's older homes, many of which are registered with the Boise Historic Preservation District. Harrison Boulevard itself is considered the destination for Boise's most supreme collection of architecturally diverse, beautiful and unique homes. Inducted to the National Register in 1980, the North-end Neighborhood Association was formed to preserve the integrity of the neighborhood and has made it the best place to shop, sight-see or grab an afternoon coffee anywhere in the city.
Fresh Air and Sunshine
Pedestrians, bicyclers, and anyone in between will find the North End and Hyde Park to be the ultimate picturesque block filled with natural beauty and Boise history; it is disabled-friendly and good for those of all ages. Marked by its trees, flowers and dozens of parks, the North-end ushers residents and recreationalists right into the Boise Foothills, a vast geography of miles and miles of trails. It's no wonder that Boise Idaho real estate in the Hyde Park region continues to explode in property value.
Along with Harrison Boulevard, Hyde Park occupies a space on the National Historic Register for its unique buildings and architecture. Hyde Park is most unusual for its high quality and character driven retail area where you'll find a bustle of activity linked to some of Boise's most fabulous eateries, coffee, specialty and antique shops. As the North-end's center of activity, Hyde Park is also a strong community ideal for residents and those with dogs, and it is a top spot for the touring and mountain bikers of the Treasure Valley. In 2008, the American Planning Association put Boise's North-end as one of ten great neighborhoods.
No matter which corner of Boise you call home, Hyde Park is a destination to bring the everybody to experience the greatest culture, recreation, and shopping the city has to offer. There's something for everyone to enjoy in this absolutely splendid and pleasantly unusual corner of the world. The summer is bustling with fantastic yard sales, Saturday biking for everybody and of course, the Hyde Park Street Fair. It's certainly part of what makes Boise, Idaho the ideal place to call home.