Hyatt Hidden Lakes Reserve
Posted by Hughes Group Blog Team on Thursday, June 27, 2019 at 10:47 AM
By Hughes Group Blog Team / June 27, 2019
Comment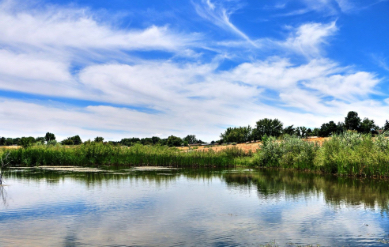 One of the beauties of the Boise area is that new gems are still being discovered all the time. Despite having hundreds of well-established reserves, parks, lakes, and nature paths, there is still more to find within minutes of the Treasure Valley. Hyatt Hidden Lakes Reserve is one of those "hidden" treasures that was opened in 2012. Due to the generosity of the Hyatt family and the desire of Boiseans to preserve the natural beauty and history of the area, 44 acres of open space and natural wildlife have been opened to the public ideal for enjoying scenic views and enjoyable surroundings, fresh air, and learn about sustaining the native beauties of the Boise habitat and wildlife. There are guided tours and unaccompanied opportunities to explore the boardwalks and paved paths of this haven. Indoor restrooms and conservation stations dot the pathways and open year-round. The stations provide discovery-method education for all ages about conservation, erosion prevention, and various types of wildlife, along with nesting ground for cavity birds.
The native plant life has been cultivated and reintroduced in this West Boise reserve. More recently a gravel pit, the Hyatt Hidden Lakes Reserve has been returned to former beauty. Volunteers and city council workers have worked together to ensure that accurate representation of the native plant lifeline the trails and fills the expanses seen from the overlooks. This has invited a diversity of wildlife, including some of the 15 endangered and threatened species that call Idaho home. Hummingbirds, finches, bees, butterflies, and more not only enhance the beauty of the habitat but also the propagation of the abundance of wildlife. Each guest of the reserve is bound to discover new beauty. Birders have found 173 different species of birds throughout the reserve, which have been well-documented on professional birding sites. Deer, bats, and russian olive trees are also found intermingled with owls, squirrels, and geese. Each has its own place in beautifying and protecting the natural beauties, preventing erosion, discouraging brush fires and damage to this habitat.
The Hyatt Hidden Lakes Reserve brings a renewed sense of nature to this West Boise acreage and provides a home to wildlife, conservation, education, and trail exploration by all ages and abilities. The city government is concerned with maintaining a habitat to please all life, including its non-native human visitors. Open houses have been held regularly to invite public opinion and research into the preservation of this reserve. The public is invited to visit the reserve and explore its beauties and submit ideas for adjustments to the conservation work. Community participation is an important and explicitly welcome piece of Boise's development both urban and natural. Martha Brabec, a foothills restoration specialist, speaking of the reserve stated, "We want to hear what reserve users and reserve neighbors think about each proposal. Engaged community members created this special pocket of urban open space and strong community involvement is needed now." Inviting the public to be involved has magnified the impact of this reserve, along with the conservation station education that teaches residents of the Boise area how to make changes to their own habitats to provide homes to native wildlife in their own backyard.
Aptly named, this reserve is hidden in the middle of the city, however, the location provides easy access to allergies community members. Everyday life can be set aside in this nearby haven while breathing in fresh air and inhaling the unique diversity of Hyatt Hidden Lakes Reserve. This hidden treasure of natural scenes is certain to delight its visitors whether coming for a first or daily visit.