Human Proofing Your Home-- the Power of Hardwood, Granite and Steel
Posted by Hughes Group Blog Team on Monday, January 20, 2014 at 12:07 PM
By Hughes Group Blog Team / January 20, 2014
Comment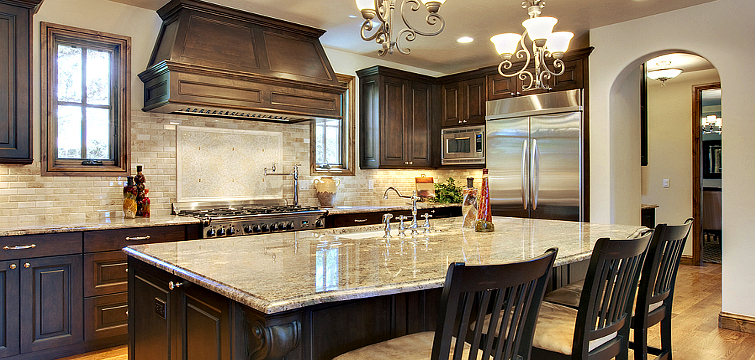 Humans are, unfortunately, accident prone. They drop, stain, and just all-around break things-- it is almost ridiculous! There doesn't seem to be an immediate solution, but homeowners and builders in Idaho have found a way to almost human-proof the number one problem area in the home: the kitchen.
You've no doubt been in one of these kitchens, they look strong, chic and unbreakable; but how does it work? It is simple: Hardwood floors, granite countertops, and stainless steel appliances. These three things have helped countless homeowners extend the functionality and fashionability of their homes. Could they be right for you?
Hardwood Flooring

Floors can hardly look better than when they are shod in strong wood.You have probably, at some point or another, been impressed with those who have hardwood flooring in their homes. You may think that that floor looks amazing, and would look amazing in your home. However, amidst your desire for chic looking floors, have you understood the economic, environmental and biological benefits to having hardwood floors? It might seem like since they are made of wood, they could wear down quickly.

Economically, hardwood flooring can be one of the greatest investments that you can do in your home. When compared to linoleum or tile or even carpet, hardwood floors hardly ever have to be replaced. The sturdy build of the wooden puzzle that you walk on everyday is one of the most durable things you can put under your feet aside from stone itself. This makes it more cost-effective in the long run. Linoleum floors are only estimated to last a decade, or two if you are lucky. In comparison, hardwood floors are estimated to last a hundred years of more if properly cared for.

You may worry about denting your hardwood floor. This isn't impossible by any means. Still, you can look online or to a professional and get help to minimize the eye-catching impact of these scratches and scruffs, you could refinish it, or you could go for more of a distressed look. You have options and with some care you can lessen the chances of this happening, besides wood flooring is not weak.
Hardwood floors are relatively environmentally friendly. Wood is a naturally occurring resource which means it's production is not nearly as damaging to the ecosystem as carpets and so forth. Also, when hardwood floors are taken out, they can be recycled, or even burned for fuel.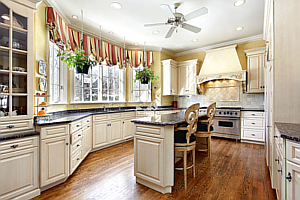 As far as biological benefits go, hardwood flooring is healthier for you and anyone who enters your home. The wood surfaces don't hold dust or pathogens as easily as carpet or other types of flooring. This makes it a great choice for anyone with strong allergies or immune system issues.
When you add all these factors together, and remember how easy it is to clean, hardwood floors are the best floors you can have in your home. Not only will it increase the quality of your life, but it will look great and make the selling value of your home more than you would expect.
Granite Countertops

The choice to put granite countertops in your home is a big one. However, if you chose to use this strong and versatile resource, it is sure to please. The main benefit to having granite in your kitchen is its durability. Granite is a tough material that won't deteriorate for an extremely long time. Granite, when it is made, is forged by heat and pressure to an enormous magnitude, which means you won't need to use hot pads anymore--except with glass and similar objects that can shatter due to temperature differences with the cold granite. Granite can crack if it is struck hard enough, but with proper treatment, it will last longer than you.
Again, the granite countertops are germ free. There are typically no cracks and grooves in the stone, nor is it porous, making it resistant to germs that could slip into another countertop. All pathogens, germs and other gross things stay on the surface of the granite and can be easily cleaned off by a disinfecting wipe or warm water and soap.
Lastly, there is the matter of stainless steel appliances. For the same reasons as granite, stainless steel is an unimaginable asset to your home. The steel is easy to clean, free of germs and will last much longer than competing models. These types of appliances are becoming more and more popular nowadays and the price is dropping, making them more affordable to consumers.
If all three of these assets-- hardwood floors, granite countertops, and stainless steel appliances-- are used, the value and life expectancy of your home is going to grow exponentially. If you go the extra mile and properly take care of it, there is no telling how valuable they will be to you. Many new homes built here in Idaho, and especially the Treasure Valley, are built to this caliber. Yes these are some pricy upgrades and not everyone will have the budget to put in these items. But everyone can look for durability and quality in their kitchen features.You won't be disappointed with the construction of your new Idaho home.
http://www.hielixehr.com/five-benefits-of-granite-countertops/
http://home.howstuffworks.com/home-improvement/construction/materials/granite-countertops4.htm
http://www.builddirect.com/Hardwood-Flooring/Hardwood-Floors-Articles/Main_Benefits_of_Hard_Wood_Floors.aspx
http://woodfloors.org/environmental-benefits.aspx
http://www.mybonahome.com/news/2011/05/carpet-vs-hardwood.html
http://ths.gardenweb.com/forums/load/flooring/msg0218104317583.html
http://www.ineedcontractor.com/hardwoodfloor-life-expectancy_.html
http://www.overstock.com/guides/top-5-advantages-of-stainless-steel-appliances