Huckleberries and Idaho
Posted by Hughes Group Blog Team on Wednesday, July 17, 2019 at 10:54 AM
By Hughes Group Blog Team / July 17, 2019
Comment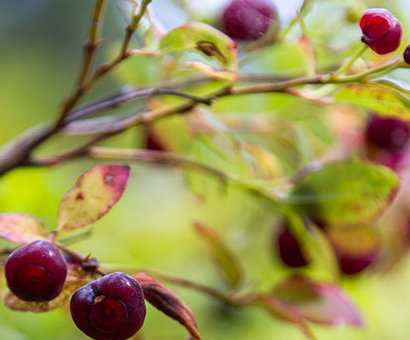 Idaho has been long associated with potatoes. People from all around the world recognize Idaho as "the place with potatoes," but there is a lesser known food item that is just as central to the potato in Idaho's repertoire. It is the state fruit of Idaho: the huckleberry. Actually, a fourth-grade class back in the year 2000 proposed for it to become the state fruit. That wasn't even very long ago at all! It took a little while for them to become the state fruit, but they made it.
These bulbous, deep purple berries are a local favorite by Idahoans and visitors alike. If you ever travel through Idaho in the late summer, you are sure to find markets, shelves at grocery stores, and other locations selling locally made jams and treats from the state fruit. If you are a tourist visiting Idaho for the first time, don't stop at potatoes in your souvenir search—remember that huckleberries are an Idaho favorite too!
Huckleberries are quite unique, in look, taste, and otherwise. There are many species unique and native to the state of Idaho, including the black huckleberry (a big favorite of bears in the Gem State). This unique type of Huckleberry can't be grown commercially, as it can only be grown at an elevation from 2,000 to 11,000 feet. They need to have a covering of snow to insulate them in order to grow, which is one of the reasons why they cannot be grown commercially.
Huckleberries can be found all over in Idaho. There are, of course, picking sites that hold the best huckleberry finds. If you want to go huckleberry picking in the right season, you need to be sure to go at the end of the summer. If you do this, you can find the best crop of the berry at one of the following locations: Huckleberry Creek in the Sawtooth Mountains, the Grand Teton Valley in Eastern Idaho, the Coeur d'Alene National Forest up north, and Ponderosa State Park in Western Idaho.
Huckleberries, also known locally as "purple gold," can be picked by the handful in a lot of locations in Idaho, including the ones mentioned above. Another popular spot for picking huckleberries is by Priest Lake. This area is popular because it is home of multiple trails you can take to follow, all abundantly filled with "purple gold."
Going into the mountains or off a beaten track (safely) are other great places to find huckleberries. Anywhere with high elevation, the right climate, and with large quantities of sunlight make for great huckleberry-picking spots. For instance, Schweitzer Mountain in Sandpoint, Idaho is a great site to explore, with vigorous trails, thick forests, meadows, and streams that create the perfect area for huckleberry growth, and therefore great huckleberry picking. In fact, here, you can take a "huckleberry shuttle" starting in late July to get a bucket full of berries. Reserve your spot ahead of time, pay a small fee, bring a bucket, and "fill your boots" with as many huckleberries as you can find.
At some of the aforementioned spots that are popular for picking, you can enjoy a day filled with the sights and smells of outdoor Idaho while scavenging for the delectable state fruit. You don't need a permit or anything to pick these berries—just make sure you aren't picking them in a restricted area. Ponderosa State Park and Coeur d'Alene National Park both have adventurous, picturesque huckleberry-picking areas that provide fun, scenic, and tasty experiences for its explorers. Also, near the mountains in the Teton Valley, you can smell the thick sweetness of berries in the air. That's when you know there are good huckleberries nearby.
In the Sawtooth Mountains is where you can find "Huckleberry Creek," home to a magical land of beautiful huckleberries. If you have ever wanted to explore nature in peace and quiet while enjoying the sounds and smells of nature, this spot is a great place to go to. Here, you can experience nature in a staple location of Idaho while picking delicious huckleberries, which is also a staple of Idaho. You can feel like an adventurer as you search for the darkened purple spots freckling the area around you. However, bears roam this area and also love huckleberries. For this reason, you have to be extra careful if you choose to pick berries here. Please do all your homework before going into nature, no matter where you choose to go.
There are many other huckleberry hot spots, including popular locations, festivals, ferries, and more that will bring you to all the best places in the world of huckleberries in the state of Idaho. It is always best to get as much information as you can ahead of time to know what to look for in picking the perfect berry. So, do you research, pick a location (there are so many spots to choose from, whether it's up north in the panhandle or down by Utah), bring a bucket, and start picking.
Huckleberries can be quite large and range in shades, so be sure you know what types of huckleberries grow in what locations so you know which ones are ripe and which you should be looking for in order to take the right, ripe ones home (or to eat right off the vine!). Whether you already knew all of this information and are a seasoned huckleberry picker or huckleberry expert, or you are learning about it all for the very first time, it is always fun to read about Idaho's unique relationship with the huckleberry. There is always much to explore in Idaho, and huckleberries are just one of many gems to find in the Gem State. Don't forget about "purple gold" on your next Idaho adventure. If you choose to explore this magical venture and go into the wild looking for huckleberries, you will likely come across a whole new world of taste and experience something, unlike anything you have before. Immerse yourself in nature and experience first-hand the relationship between huckleberries and Idaho.
Sources:
https://statesymbolsusa.org/symbol-official-item/idaho/state-food-agriculture-symbol/huckleberry
https://www.onlyinyourstate.com/idaho/huckleberry-picking-id/
https://www.northidaho.org/north-idaho-regions/bonner-county/priest-lake/2-uncategorised/121-huckleberries