How to Make the Most of a Small Kitchen
Posted by Hughes Group Blog Team on Friday, August 4, 2017 at 5:57 PM
By Hughes Group Blog Team / August 4, 2017
Comment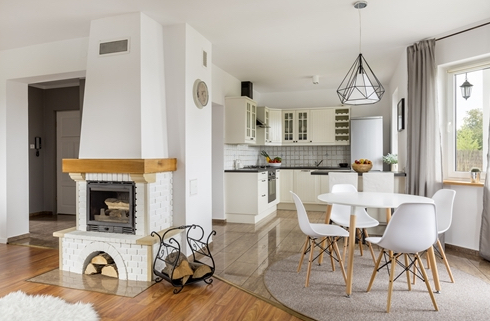 For those who love to cook, the kitchen is the hub of the home. Even those who aren't skilled in the culinary arts can acknowledge that the kitchen is often the most popular gathering place. While some homes have spacious, fancy kitchens outfitted with every appliance imaginable, other houses don't have as much space to offer a kitchen. Those who have small kitchens will agree that the main goal is to make the most of what little space they have. It can lead to high levels of frustration, but organizing and making small tweaks can have a big payoff.
When building or remodeling a home, allocating as much space as possible to the kitchen is a good idea. Even if a large kitchen isn't a necessity, resale value will go up due to the extra space in a kitchen and dining area. One thing to keep in mind during the creation of a kitchen is that the more counter space available, the more versatile the kitchen will be, so try to refrain from the typical kitchen made with two parallel lines of cabinets and counters. If at all possible, create a u-shape or even insert an island if there is enough space.Sometimes, this isn't a possibility. There are many ways to visually open up the space and create more storage for dishes, blenders, and other small appliances. It could take a bit of maneuvering, but a little bit of elbow grease and some ingenuity, it's definitely possible to make the most of a small kitchen.
One way to visually open up a kitchen, or any room that feels small, is to use lighter materials. Naturally dark woods or woods with darker stains can create a sense of tightness in a room. They can be beautiful in larger kitchens that can afford to lose some visual openness but only hinder in little kitchens. Similarly, dark flooring and dark or bright paints can have a shrinking effect, therefore should be saved for other parts of the house. Light is a great way to open up space. Natural light specifically is a great tool for creating the illusion of more room. Making sure that the kitchen area has some other light sources as well can brighten and expand the visual field. Combine the light cabinetry, flooring, and appliances with lots of natural and artificial light sources for great results.
If renovation is a possibility, there are many ways to add more space with storage. Part of the dilemma that comes with having a smaller kitchen is that the storage that is available is often ineffective or out of reach, so recreating the cabinetry or adding more can be really helpful. There are plenty of innovative cabinet choices including adding pullout shelves and tilt out bins. Pullout shelving offers an open drawer type of concept in a shelf-like space. Pots and pans can remain more organized in these shelves because it's possible to see all the contents of the shelf without having to dig through the containers in the front. Tilt out bins are great because they allow for more things to be stowed in a drawer that has been placed in a shallow cabinet area.
Using drawers in the place of large cabinets with one or two shelves each is actually a great way to not only make the kitchen feel more chic, but it can help a lot with organization and maximizing the storage space that is available. Drawers create a similar effect to the pullout shelving because it is easier to view all of the drawers contents without displacing things that have been placed in the front, as is common in cabinets. Another bonus about drawers is that they come in all sizes, so larger ones can be built for things like blenders, mixers, crock pots, and stock pots while smaller drawers can contain silverware, herbs and spices, and other small cooking utensils.
Speaking of herbs and spices, there are many unique ways to keep them readily available without having them take up too much space. If cabinets are being remodeled, there are plenty of cool designs to choose from that fit the containers well. Drop down cabinets and indoor spice racks fall in this category. If building new shelving isn't an option, maybe door mount spice racks could do the trick. Or, if do it yourself projects seem like fun, then creating a magnetic spice rack could be a cheap way to get the spices out of the cupboard to make way for other things.
Every aspect of the kitchen can be used in some way. Using adhesive strips can help to make good use of the smaller spaces. For example, hanging measuring cups and spoons on the inside of a cabinet door can alleviate the need for drawer space to store them. If there are adorable oven mitts, then they can be displayed similarly by attaching adhesive hooks to the outside of the cupboard or wall space, plus they will be more easily accessible for taking hot meals out of the oven.
No matter the solution, whether big or tiny, a more organized kitchen is a happier kitchen. While actual square footage and counter space may not gain inches, if everything has a logical place then the kitchen is more likely to stay cleaner for a longer time. That is the trick to a small kitchen. Visual clutter can be a huge hindrance, but luckily there are ways to keep the clutter down and the efficiency of a tiny kitchen at a max. It just takes a bit of practice to turn a small space into a space with big possibilities.
http://www.hgtv.com/remodel/kitchen-remodel/making-the-most-of-a-small-kitchen
http://www.instructables.com/id/DIY-Magnetic-Spice-Rack/
https://www.forbes.com/sites/houzz/2017/02/07/how-to-make-the-most-of-your-small-kitchen/#77f5d2764361