How to Get the Most out of a Small Backyard
Posted by Hughes Group Blog Team on Monday, November 5, 2018 at 2:01 PM
By Hughes Group Blog Team / November 5, 2018
Comment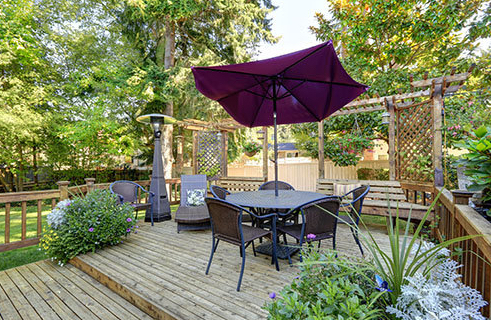 You may not be very fond of your tiny backyard, but the truth is they can be just as fun and entertaining as having a large outdoor space. One great thing about having a small backyard is that it requires less maintenance. So, you see, bigger isn't always better! Having a place to enjoy the outdoors at home increases the enjoyment of living there. When the weather is great, it's almost as if there's a new wing of the house that's been opened to entertain in. The trick is to utilize every corner, each unused nook and cranny, and choose furniture and decor that are minimal and multifunctional.
If you live in a big city, you are likely very familiar with the small backyard space you are allotted virtually anywhere you decide to live. Landscapers and designers in cities have honed their skills at creating functional, cozy extensions of the home so the homeowner gets the most out of their outdoor space. Not only can you add handy items to your small backyard that will increase storage space, but you can also create the illusion of space through vertical gardening, portable furniture, and develop a style for your yard that creates an intimate environment for socializing.
Your first step should be to address the elephant in the room— you have a mighty small backyard that you want to feel big. Use what's already in your outdoor space and draw attention to certain features with directional design. Come up with a basic design plan before you take the plunge and tear up your yard. You want to ensure it will achieve the enlarging effect you need before diving in. Be sure to prioritize what you want and need in your backyard to determine if everything will fit and still look great. What are your must-have features? Do you want there to be a focal point? What will the seating area be like?
Add decks or paths that follow a hedge, include string lighting to highlight your path, or position your furniture to face the widest view of your property. Define the spaces in your yard by adding levels to give the perception of having several different outdoor rooms. A few wood pallets, grassy areas, or stonework can separate areas in our mind's eye. Adding different levels creates depth. Strategically placing multi-purpose furniture is important to establishing isolated outdoor "rooms" as well. Be sure to implement diagonal lines in your deck or pathways to further add to the stretched perception of more space.
Design with light. Sconces and overhanging lights can add to the ambiance of your backyard and create a comfortable and mellow place to relax. If you decide to add a focal point, choose the entryway or the seating arrangement by adding a pop of color. Play with angles and pay attention to scale. Choose furniture that marries both form and function and can be used for various purposes. Incorporate little accents here and there to add design elements that make a big impact. Create a stackable water fountain, build a planter out of an old tree stump, or add a striking sculpture for an artsy vibe.
Planting vertical is important for creating and saving space. Use tiered planters for growing herbs, hang planters from the roof, and choose plants that are taller to establish privacy. Position smaller plants closer to the entryway and taller ones closer to your fence to give a sense of depth to your outdoor space. Try your hand at building a pallet flower display that acts as a shelf to hold multiple small plants. Think in tiers— maximize the ground space you have for other backyard elements by utilizing tiered planters. If you love designing, create a wall with succulent art that scales the wall or repurpose tin coffee cans to use as planters on a wood pallet. Get creative!
Be sure to use every part of your yard, even if it isn't part of your backyard. Many properties have side or front yards that offer a bit of extra real estate that can be valuable additions to your outdoor redesign. Avoid large pieces of overhead architecture that will obscure your yard from sunlight. The more sunlight, the more open it will feel. Another trick for creating depth is to hang a few vintage mirrors on your fence to reflect all your greenery and hard work. If you have a lot of tools and outdoor gear and nowhere to store them, consider building a mini vertical storage shed large enough to stow these items.
Always keep in mind, less is more. If you have a hundred good ideas, don't try to incorporate all of them! Be sure that there is a good balance between the objects you add to your design and the open areas of negative space that remain. Too many new pieces of furniture or a jungle of plants can make it very crowded and subtract from your overall goal of creating a larger outdoor space. Plan, prioritize, and just go for it! If you find you don't have the time or budget to reinvent your little backyard, don't worry. Build it in stages and splurge whenever you can.
If your grass needs some help to make your yard look healthier and more open, try using artificial turf or lush, synthetic grass to bring more unity into the area. Practice smart zoning to make your yard flow better and be sure to use movable furniture for endless design options. Try to avoid the "hodgepodge effect" when placing planters or containers around your backyard. Instead of ten different containers all in different colors, opt for four large, matching containers to make your yard look less chaotic and feel more unified.
With some planning, a couple of creative ideas, and a bit of know-how, you can turn your tiny backyard into an outdoor paradise that looks larger and feels more open. Are you inspired? Have some crafty designs you're itching to get started? There's no better time than the present!
Sources:
https://www.hgtv.com/design/outdoor-design/outdoor-spaces/make-the-most-of-a-small-backyard-pictures
https://www.bhg.com/home-improvement/porch/outdoor-rooms/improve-small-backyard/?slideId=slide_a8171729-e9e3-4c1e-a7be-bfb3acf82e3f#slide_a8171729-e9e3-4c1e-a7be-bfb3acf82e3f
https://www.countryliving.com/gardening/news/g4183/small-backyard-ideas/?slide=16
https://www.bobvila.com/slideshow/1-dozen-ways-to-make-the-most-of-a-small-yard-47534#sunny-patio
https://www.houzz.com/ideabooks/27949082/list/16-ways-to-get-more-from-your-small-backyard
https://www.installitdirect.com/learn/landscaping-small-yards/
https://www.installitdirect.com/learn/small-backyard-landscaping-10-tips-for-making-the-most-of-small-outdoor-living-spaces/
https://sassytownhouseliving.com/making-the-most-of-a-small-backyard/