Here Are the Basic Steps to Buy a Bank-Owned Home
Posted by Hughes Group Blog Team on Monday, June 29, 2015 at 1:11 PM
By Hughes Group Blog Team / June 29, 2015
Comment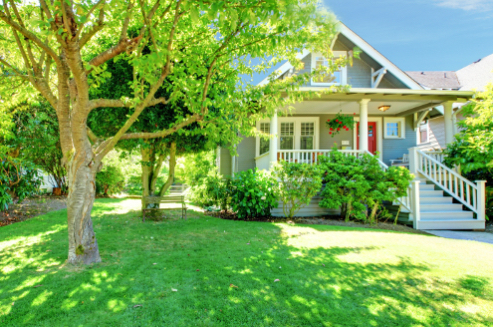 Buying a home can already be a massive undertaking. It takes a lot of time, a lot of research, and a lot of money. It's a big decision to buy a house. It can be confusing. Especially when you start hearing terms like "bank-owned" and "REOs." What do those even mean? And are they really as good of a deal as they sound like? Bank-owned homes and REOs, or real estate owned homes, are basically the same thing. A house becomes bank-owned after it has been foreclosed on. Essentially, in pre-foreclosure, the homeowner has defaulted on the mortgage by missing payments. At this point, they can still stay in the house, but they have to pay and get their mortgage payments caught up. If they don't, the house is foreclosed on and turned over to the bank. At this point, the house is put up for auction and sold. If the house doesn't sell, however, it goes back to the bank. Now, it's a bank-owned home. Instead of bidding in an auction, or dealing with the homeowner selling the house, you deal directly with the bank. There are some great advantages to this, but it can be a challenge. And you shouldn't consider buying a bank-owned home if you aren't prepared.
The Steps to Take
Bank-owned homes can be sold for significantly lower than market value. The bank is trying to recoup the cost of the defaulted mortgage. But you need to be careful. While you can get a great deal, you could also spend a lot more money on fixing a bank-owned home than you would on a move-in ready home. Here are some steps that will better prepare you.
Preparing the groundwork
You want to be ready when you go into buying a bank-owned home. Yes, the bank wants to get rid of the house and get their money back. But that doesn't mean the bank is just going to give the house away, or even accept your first offer. Because bank-owned homes tend to be under market value, the banks are actually encouraging bidding wars. Use your local real estate agent to help you navigate the murky waters of bank-owned homes. They'll help you negotiate, and make sure that you don't overspend. You'll also want to get preapproved for a loan. Bank-owned homes move fast, and if you have to secure financing after finding a home, it will most likely be too late, and you'll have to start the house hunting all over again.
Knowing the deal
It should be apparent that buying a bank-owned home isn't anything like buying a home from a private homeowner. Sure, the end game is the same. But banks play by some different rules. This is partly because they have lawyers, and they use them. You'll often find that you have buy the house as-is, or pay the closing costs. This is where having your own real estate agent, and even your own lawyer, can be a huge advantage. Let the agent and lawyer go through the fine print of the bank's contract. They can understand it, and help you negotiate.
Contingency trap
When you buy a privately owned home, you have several ways to get out of your offer. If the appraisal is lower than the asking price, you can renegotiate. With a bank, though, that's a very different story. You don't want to overbid on a bank-owned house. If your offer is accepted, and the house appraises far below the asking price, you'll be stuck paying the higher amount. Unless, of course, you're willing to give up your deposit and walk away.
Inspect with a contractor
If you want to avoid that previous scenario, inspect the home. Bring along an experienced contractor. They will look for anything that might be wrong with the house, that the bank isn't already aware of. The bank is required to disclose anything that might be wrong with the house, but they might not know everything wrong, or the extent. The contractor can give you an idea of price for repairs or anything that might hurt the home's value. This can be incredibly valuable when it comes to negotiating.
Bidding low
The price of the bank-owned home is probably low. They want to attract multiple bidders to get more money. But, you still want to bid low, because you don't want to overpay, especially if the house is in need of repairs. But you don't want to bid too low, otherwise you might not get the house. So what do you do? The best method is to figure out the market value of the home, and the other homes in the neighborhood. Target your bid about twenty percent below that market value, and you should have a good chance.