Henry's Fork of the Snake River: Not just World Class Fishing
Posted by Hughes Group Blog Team on Monday, July 27, 2015 at 12:31 PM
By Hughes Group Blog Team / July 27, 2015
Comment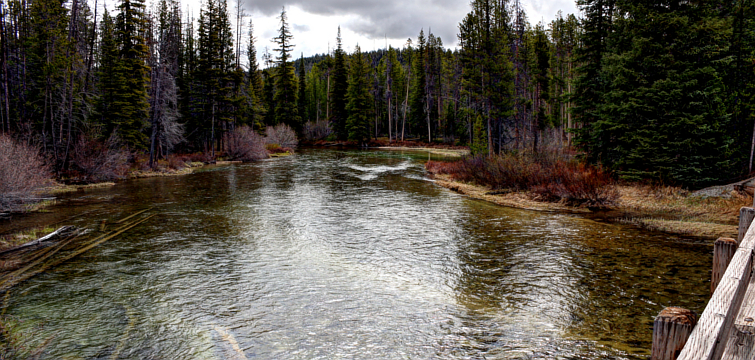 If you've heard about the Henry's Fork of the Snake River, it was probably a fisherman telling you. And they told you about Henry's Fork for good reason. The river is among the best fishing spots in the world, and it draws fishermen from all over the world. The biggest reason that Henry's Fork is such an excellent fishing area is because of its diversity. It's as if there were several rivers in one.
Henry's Fork begins at Henry's Lake, and it flows through grasslands, canyons, waterfalls, and rapids before meeting up with the Snake River close to Rexburg. The fishing is diverse and ranges from slow pools to swift rapids that are impossible to wade. Henry's Fork is arguably the best trout fishing in the world. Harriman State Park
This park is a beautiful piece of land, and the Henry's Fork cuts right through it. Originally a ranch, Harriman State Park was given to the state of Idaho to be used as a park to preserve the land and ranching lifestyle. You'll find plenty of opportunities to explore here, either on foot or on horseback. The trails are plentiful, and you'll be able to hike or ride through beautiful scenery along the river. And, if you do enjoy fishing, you'll be able to fish the Henry's Fork here as well.
Mesa Falls
These waterfalls are incredible, and are definitely worth the detour. The Mesa Falls Scenic Byway takes you on a beautiful drive along the Henry's Fork. It goes from Ashton to just outside of Island Park. While not as direct as the highway, the scenery alone is worth the extra drive time.
The main attraction of the byway is the waterfalls. The Mesa Falls are made up of two waterfalls: Upper Mesa Falls and Lower Mesa Falls. You'll be able to pull off of the byway, park, and take the paths directly to the water's edge. The biggest waterfall drops over an impressive one hundred feet, and there's an overlook right at the top of the waterfall. It's an incredible view, and you won't want to miss it.
Big Springs
While the Henry's Fork starts from Henry's Lake, it's also fed by an incredible natural spring. What makes Big Springs so unique is that the water seems to literally appear from nowhere. It bubbles out of the earth and feeds into the Henry's Fork. This is a popular place for feeding fish. You can't fish here, but you can feed the giant rainbow trout. Kids love it.
You can also float the river from Big Springs to Mack's Inn. It's a fun trip, and you can take inner tubes, rafts, or canoes. They are all available to rent at Mack's Inn, and they'll even drive you and your gear to the beginning of the float. The float can take awhile, but it's incredibly beautiful and relaxing. The entire river is calm, so it's a great float for anyone, as there aren't any rapids, and the river doesn't flow quickly.
World Class Fishing
While there's plenty to do if you don't fish, the Henry's Fork is world famous because of fishing. There are plenty of places to fish along the entire river. You'll be able to test your angling skills as you try to catch a monster trout. There's a 15-mile stretch above the Island Park Reservoir that is catch and release only.
The Playground of Idaho
The Henry's Fork of the Snake River is a beautiful piece of Idaho that's full of recreational activities that will keep anyone entertained. While Idaho is full of opportunities like this, the Henry's Fork is a unique and almost magical place that you have to visit at least once. Of course, like any place in Idaho, just once won't be enough. You'll want to keep coming back year after year. And you should. After all, this is why you wanted to live in Idaho, so that you could get outside and play in one of the best playgrounds in the United States.