Have an Adventure by Staying in Your Car
Posted by Hughes Group Blog Team on Friday, April 10, 2015 at 9:55 AM
By Hughes Group Blog Team / April 10, 2015
Comment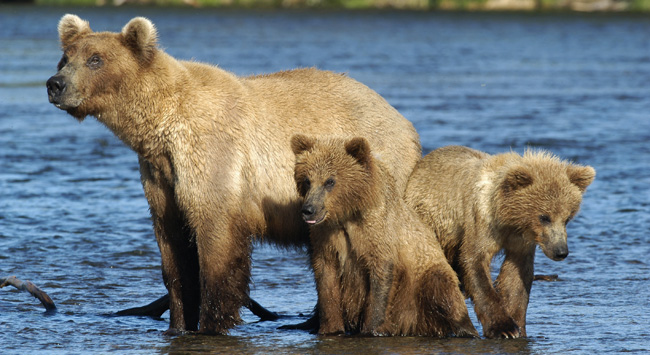 One of the draws of living in Idaho is just how accessible the outdoors are. Many times, a short drive and you're living the Idaho lifestyle. Even with cities, and other populated areas, there are plenty of parks, rivers, zoos, and other outdoor features. Idaho is a beautiful state, with plenty of ways to experience the great outdoors or viewing wildlife. However, because Idaho is so close to Yellowstone National Park, visitors and residents have some unique opportunities to experience wildlife up close and personal (and safely).
While some form of wildlife is present everywhere, I'm guessing you don't necessarily want to enjoy the company of some chatty squirrels or local pigeons. If you're after something a little more wild, a quick drive over to Eastern Idaho will solve your thirst for something more. Whether you are already heading up to explore Island Park, West Yellowstone, or you want to visit Yellowstone National Park or Grand Teton National Park, Yellowstone Bear World should be number one on your stops. It's located just south of Rexburg on Highway 20, and it's bound to meet, and exceed, your expectations for a wildlife adventure.
Yellowstone Bear World is unique, because you drive through the park. The wildlife habitats are large and open (apart from fences containing the park, and dividing the animals), and they let you witness the animals in an almost completely natural habitat. The animals are right there with you, so you can experience the beauty of Idaho's wildlife firsthand. If driving through once isn't enough, I don't blame you! After you've paid admission, you can drive through again and again the same day, while the park is still open.
There's a large variety of wildlife at Yellowstone Bear World. They have black bears, grizzly bears, gray wolves, rocky mountain elk, mule deer, white-tail deer, American bison, moose, and mountain goats. And that's not even all of them! They have new animals seasonally, and more they just don't have listed on their website. While it's always exciting seeing wild animals in their natural habitat, sometimes nature just doesn't work with you. Seeing bears and wolves in Yellowstone National Park is hit or miss, but at Yellowstone Bear World, you're guaranteed to see them. Plus, they might even come right up to your vehicle!
While the biggest attractions at Bear World are the animals, that's not all that you can do there. They have a great gift shop, called the Three Bears Gift Shop, plus they have amusement rides, feedings, tours, and even a petting zoo. These experiences let you get even closer to the wildlife, and how can you say no to the chance to pet a deer or bottle-feed a bear cub? If you're interested in getting even closer to the wildlife because you want to take some great pictures, then their Curator tour is what you're after. You can even live a little on the wild side because the Curator tour is the only way you can actually feed the adult bears. One thing is for certain: at Bear World, you are bound to have an adventure and a great time.
The other great thing about Yellowstone Bear World is where it's located. It's 80 miles to West Yellowstone, Montana heading north on Highway 20, or 80 miles to Jackson, Wyoming heading east on Highway 33. Both cities are great locations, packed with plenty to do on their own, and they both have national parks practically in their backyards. On top of that, Eastern Idaho is simply beautiful, and it has plenty to offer on its own. From waterfalls, to forests, to sand dunes, you're bound to find something to capture your imagination and take you on your next fantastic adventure. Idaho is full of wonderful places where you can immerse yourself in the wilderness and nature. But, at the end of the day, you can still return home to your nice warm bed, where you can think about what you're going to do tomorrow. So get ready, and plan your own awesome adventure in Idaho.