Green Space and Boise, Idaho: A Partnership of Perfection
Posted by Hughes Group Blog Team on Tuesday, September 10, 2013 at 9:31 AM
By Hughes Group Blog Team / September 10, 2013
Comment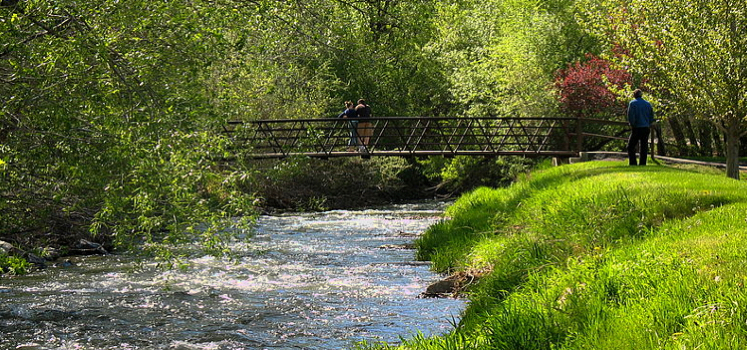 One of the wonderful things about Boise, Meridian, and Nampa – is that there are plenty of spacious, natural green spaces and urban parks to add aesthetic value and create an easy, fantastic way to enjoy the outdoors. The benefits to living near a park are significant – more significant than you likely thought. Conserved public land, such as urban parks and recreational areas, extend many psychological and social benefits to people – and just as important – ensures livable communities and natural places for generations to come. Whether it's a park or a garden, the need to preserve nature is very important, and the Treasure Valley has done well with maintaining natural green areas for both animals and people to enjoy for a long, long time to come.
Boise, Idaho works well to promote fit and healthy living to all its residents – naturally with the expanse of outdoor wealth that surrounds the area in all directions, and through the efforts of city planners who work to ensure that parks, playgrounds, trails, and wide open spaces remain a big part of life within city borders. Men's Health ranked Boise with an A- for health, an A- for quality of life, and a B+ for fitness. They were quite impressed with Boise's average commute time, eighteen minutes, citing that research suggests the less time spent commuting, the more time there is for other, more important things – such as sleep and exercise, among others. One of the secrets, they figured out and quite right – is Boise's cycling life. There is more than 220 miles of on street bike lanes as well as nearly 50 miles of designated bike routes through the county. While this is definitely a piece of the healthy puzzle, it's just a mere piece.
Boise parks and recreation is responsible for maintaining roughly 850 acres of parks and green, natural areas, many of them weaved through downtown. Boise backs up to the scenic and fabulous foothills, where you'll find over 130 miles of trails that make it easy to forget you're so close to the city. It is these natural areas and open spaces that make Boise the active and healthy place it is. Physical activity is an integral part of staying healthy, and research shows that those who live near parks are more physically active. With easy access to a park or any type of recreational area, it promotes walking, riding bikes, and staying active. Because of the abundant green areas in Boise, Meridian, and Nampa – it's easy to see why the Treasure Valley is one of the most livable places in the country.
It's a startling statistic, but roughly two thirds of those who reside in America's largest cities do not have access to a nearby park or open space. For example, just 30 percent of Los Angeles residents live within walking distance of a park. For those who call the Treasure Valley home, these statistics are astonishing – it seems that no matter where you are in the Boise Valley, an open space, playground or park is just around the corner. Even for folks who don't own a home adjacent to a park – it's a short journey to the nearest one.
For those who are fortunate enough to live adjacent to a park, the benefits are great from a lifestyle point of view, as well as a business. It's important to many home seekers, or at least a major plus, to live near areas that promote healthy living and make it easy to pull on the walking shoes or dust off the bike helmets. One of the heaviest, if not the heaviest influences on resale value is how close the home is to nearby amenities (think location) – including types of green spaces, parks, and recreational areas. So, not only are green spaces beneficial to home buyers and sellers, they induce exercise.
Exercise reduces stress. According to Dr. Richard Mitchell, a researcher from the University of Glasgow, "the use of fields and parks for walks and other physical activities helps to regulate blood pressure as well as alleviate the harmful effects of stress." He also said that for those who use green spaces, it directly impacts their health – which goes back to why the Boise valley is considered one of the fittest and healthiest places to live. Boise was selected by Sunset Magazine in their February 2012 edition as one of the top most fittest towns of the west. A month before that both Women's Health and Men's Health declared Boise as the number 5 healthiest city. It's also been named as one of the best places to retire, to cycle, to have vitality, and to of course – live. It's easy to argue that much of the attention and hype that surrounds Boise is due to the massive green areas and impressive nearby recreation. It can't be a coincidence.
It's super easy to get lost in the lush, green pockets of Idaho's capital city. With a gorgeous and pristine river that carves its way directly through the center of town, it's especially easy. Every corner of town is connected by a network of trees and various green areas that include man-made ponds, pocket parks, pathways, and playgrounds – and with a lovely view of the foothills just outside the city, Boiseans often find it hard to forget the rugged and splendid natural world that surrounds the city. As a part of the Rocky Mountain west, you'll find big skies and numerous jewels of adventure.
The Treasure Valley's efforts are seamless when it comes to coexisting with Idaho's vast and plentiful open and forested areas. In addition, maintaining the integrity and importance of parks within urban life has always played a huge role in Boise's history, and we think – always will.
Interested in learning more about Boise Idaho real estate? Give Hughes Real Estate Group a call anytime at (208) 571-7145.
Sources Used:
http://abcnews.go.com/Health/10-best-worst-cities-men/story?id=18513449
http://www.boiseidaho.gov/notes-info/boise-list-of-lists/