Great Ways to Cool Off in Boise
Posted by Hughes Group Blog Team on Friday, March 27, 2020 at 12:05 PM
By Hughes Group Blog Team / March 27, 2020
Comment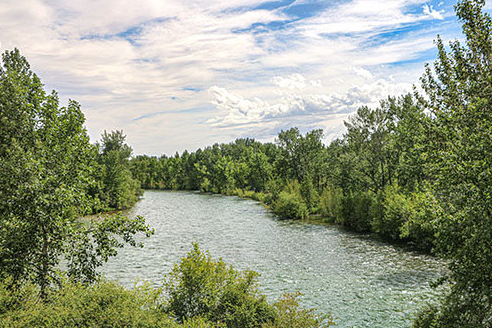 Idaho winters may be a bit cold for some. Despite a season of wintry white snow, one of the many reasons why Boise is such a great place to call home is the four seasons it experiences. These distinct four seasons delightfully complement an array of year-round outdoor activity opportunities from snowy slopes to summer splashes; the Gem State has a splendid way of balancing the vast myriad of open-air recreational possibilities that arise from all four seasons. So the snow has past and its warming up outside and now is a great time to start considering how you want to enjoy your summer months. You may consider planning ahead and be prepared for the hot summer days in the Boise area, as there are so many different fun and relaxing things to do to help you keep cool. You will find that Boise can actually be one of the best places to spend your summer if you spend it doing the things you enjoy the most. Here you will find plenty of excellent options for keeping yourself cool in the Boise area this summer season!
If you want to be able to enjoy nature as you are cooling off, be sure to float along the Boise River. The Boise River has everything you need to enjoy a luxurious float, with generally calm, cool waters. It's an ideal spot whether you want to just ride the flow of the river on a tube or take an adventure on a paddleboard, raft, canoe, or kayak. There are plenty of spots to launch yourself onto the Boise River for a nice, refreshing, glide through the water, but one of the most popular is at Barber Park. There are a lot of great advantages to starting your float here, including it being one of the more extended options for your float, giving you 6 miles of relaxation before reaching the shore of Ann Morrison Park. Barber Park has a rental service for tubes, rafts, vests, and kayaks if you are unable to bring your own. To properly prepare for your trip, you may want to grab a map (courtesy of the City of Boise) to help you know where to take a rest if you get a little winded during your journey. The float can last you about 2 hours, though it's dependant on how many stops you make, allowing a healthy amount of time to relax and cool down when you have a little spare time on a hot summer day. For those who don't want to worry about being picked up at the end of their float, past accommodations have allowed for a $3 shuttled back to their vehicle. Be sure to check out the most recent pricing for this year's shuttle program. If you are searching for things to do during a summer afternoon, be sure to check out this great float on the Boise River. If this sounds like the ideal day out for you, be sure to prepare with all the necessary water safety precautions before heading out and be sure to pay attention to posted signage along the way.
One of the most popular places to be in the whole Treasure Valley during the summer season is Roaring Springs Waterpark. As one of the largest waterparks in the greater Northwestern U.S. States. Roaring Springs has consistently kept its status as "the place to be" during summer in Boise. The variety of attractions in the park are sure to help anybody have a great time. In addition to the popular fast-paced water slides, you may get cool in the wave pool, enjoy a group raft ride, or relax in the lazy river. If you are taking some time to sunbathe while you are at the park, be sure to grab some of the great food and drink options available. As a nice bonus, if you aren't ready to go home after your time at the park, walk on over to Wahooz Family Fun Zone and Pinz Bowling Center right next door to continue having a great day!
If you want to go for a river ride somewhere with a little more thrills, a less than an hour drive away from Boise, you will find the Main Section of the adventurous Payette River. This particular 7-mile stretch of water is filled with some grand rapids that are popular for people wanting an entertaining rafting ride. You can either bring your own rafts to ride down on until you reach the ending point at Beehive bend, or you can sign up for a guided rafting tour for those who are inexperienced or want the assurance of additional information on how to maximize their safety while enjoying the waters. Beehive Bend is also a great place to relax on the beach and just wade in the river. Whatever you want to spend time doing, Payette River really is an excellent place to go and cool down.
Paddleboarding has become increasingly popular over the last several years, and it is undoubtedly a fun and relaxing activity to partake in during summer in Boise. Few places are better to go paddleboarding at than Quinn's Pond in Boise River Park. There are some light waves and rapids at this pond to add some extra fun to your time on the water. Give it a try, whether you have a lot of experience paddleboarding or not (it is a simple and fun hobby to acquire). The park itself is located right along the western part of the Boise River Greenbelt and is another great location to relax and enjoy the summer sun if you don't want to go out onto the water.
A beautiful, pleasant, and shady place to go for a stroll in is the Idaho Botanical Gardens. During the summer, the beautiful plants and flowers are in full bloom, so you can look at some true beauty as you spend a little bit of time in the shade. There are a lot of great events that happen at the Botanical Gardens all throughout the summer, so be sure to have a look at their website to see what events are going on when you find yourself in the area! Another exciting aspect of the Gardens is the neat Lewis and Clark exhibit that details some of the Gem State's rich history!
Boise and the surrounding Treasure Valley area are full of relaxing and fun things to do to help you to stay cool during the hot Idaho summer. Whatever your pace is, you are sure to find a way to have a good time, whether it involves going for a lovely stroll in the shade, taking a relaxing float down the river, going for an intense rafting trip on the rapids, or spending time at the Northwest's largest waterpark. With all that there is to do in this part of the glorious Gem State, you are bound to find something to enjoy this summer to help make it a memorable one!