Grab Your Sled and Hit the…Sand?
Posted by Hughes Group Blog Team on Saturday, October 10, 2015 at 2:04 PM
By Hughes Group Blog Team / October 10, 2015
Comment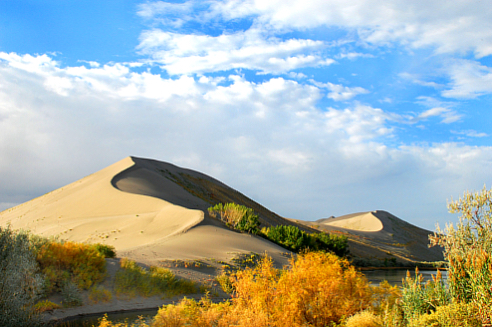 Living in Idaho, you've probably noticed just how diverse the landscape and terrain is here. From green mountain forests to sandy deserts and grasslands, Idaho's natural beauty is incredibly diverse. This diversity allows for some unique opportunities when you head outside. If you live in Boise, you're literally surrounded by outdoor recreational opportunities. For some of them, like whitewater rafting on the Boise River, you don't even have to leave the city.
Bruneau Dunes State Park
Of course, sometimes the opportunities are just too good to pass up. For a day trip that's a little different than others, head towards Mountain Home. Nearby are the Bruneau sand dunes. This state park is unique. It's all sand, with two lakes, that covers almost 5,000 acres. The Bruneau Dunes State Park is also home to the tallest single-structured sand dune in the entirety of North America. It stands at 470 feet, towering above the rest of the sandy desert floor, and the surrounding sand dunes.
You might be thinking that there are surely sand dunes taller than 470 feet. You're probably right. The important distinction here is that this is the tallest single-structured sand dune in North America. Simply put, this means that all of the sand dunes are together. They are linked, instead of being spread out as individual dunes.
Getting Sand in Your Boots
The sand dunes are a joy to explore. The right shoes are important. With temperatures climbing above 80 degrees in the summer, you can bet the sand will be much hotter than that. I know, you may want to feel the sand between your toes, but this is not the place to do that. The sand that's been baking in the sun all day gets incredibly hot. It gets off enough to cause burns and blisters on your feet if you walk in it barefoot. Wearing hiking boots, or good shoes, is a must if you want to walk around the sand dunes.
Sledding and Sand Boarding
With how hot the sand can get, you just might be wondering about how you could actually go sledding on the sand dunes. It's really quite simple. Grab a sled, like a saucer, and go blazing down the giant sand dune. You won't be on the sand enough to burn you. Of course, you will want to make sure you are using a plastic sled. If you use a metal sled, it will get far to hot and can burn you. On top of that, plastic seems to slide better on sand.
Whether you're bringing your children, or if you just have a wild side, sledding at the Bruneau Dunes State Park is a blast. While sledding in the winter is fun, it can get really cold and wet. You don't have to worry about that here. If you time your trip right, you can go when the weather isn't quite so hot, so you'll stay warm and dry. Although, you might just get sand everywhere.
Sledding isn't the only quick way to get down the sand dunes at the park. If you check in at the visitor's center, you'll be able to rent sand boards. These are a lot like snowboards, with the obvious difference that they are used on sand. Test your skill, and try to sand board down the dunes without falling off. Sledding and sand boarding are both great ways to spend your day at the Bruneau sand dunes. It can be just as fun trying to climb back up the sand dunes as it is sliding down them.
A Worthwhile Day Trip
If you live in Boise, the Bruneau Dunes State Park is an easily manageable 64 miles to the south of the city. They are a popular destination, and people even come from Oregon, Utah, and Nevada to enjoy the incredible sand dunes. They were formed over 15,000 years ago, and they have remained relatively stable due to the nature of the winds in the area. The sand gets pushed back into place.
There's plenty more to do beyond sledding and sand boarding down the dunes. At the two lakes, you can go fishing. You can hike all over the sand dunes following the trails or by blazing your own path. There are even campgrounds and equestrian facilities if you want to spend the night or bring your horses to explore the sand dunes. The next time you visit, bring a sled (make sure it's plastic), and enjoy a fun day sledding down the sand dunes. It's just one of many things that makes living in Idaho so great.