Fun Treasure Valley Day Hikes
Posted by Hughes Group Blog Team on Thursday, April 13, 2017 at 5:33 PM
By Hughes Group Blog Team / April 13, 2017
Comment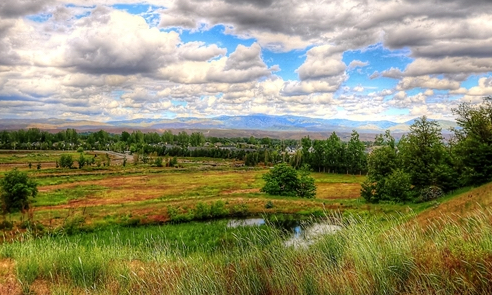 Table Rock- Table rock is a 3.8-mile loop trail that features beautiful native wildflowers and is located in the foothills in Boise, Idaho. This trail is open to the public from March until November, dogs are also allowed but they need to be on a leash. The trail may be for people who want to walk, stroll, run, mountain biking and horseback riding. Make sure to wear sunscreen and bring water, because there is little to no shade as well as no water sources. The hike takes about 45 minutes to 1 hour to hike to the top, there are 5 trails you can hike up and back down. The hike starts behind the old state penitentiary, surrounded by sandstone cliffs and once you get to the top an amazing view of Treasure valley. This is a beautiful hike, with the view of the Treasure Valley at the top with benches to look out onto the treasure valley.
Jump Creek- Jump Creek Falls trail is located just outside of Marsing, Idaho, this is a beautiful trail with a waterfall. There are a few trails you can take, the shortest of which takes you to the falls while the longer hiking takes you to the top and the back part of the falls. The longer hike is an out and back trails meaning it doesn't loop around. This trail is dog and kid friendly and ideal for a hike and then a dip in the pond at the bottom of the waterfall. Downstream and off the path a ways there are amazing caves where you can walk in the crystal clear water. The hike is relatively rocky in some areas, and you have to get wet as you do have to cross the stream a few times. Jump creek is also home to poison oak and rattlesnakes during the summer so be sure to keep alert and be safe. Jump creek is open from sunrise to sunset, and is in a giant ravine, which you may also hike to the top.
Boise Greenbelt- The Boise Greenbelt a gorgeous recreation area known for its tree-lined pathway that follows the Boise river through the city. The Boise River greenbelt is a total of 25 miles with educational signs where you can learn about Idaho's native birds and their habitats. Online you can download a free Boise River Greenbelt map and pamphlet that includes safety tips, points of interest, history of the greenbelt, greenbelt etiquette, wildlife you might observe and different trails you can take and their lengths. On the map they also have areas where you can park, go to the restroom, where the bridges are, repair stations and outdoor fitness gyms. Before you go to the Boise green belt though you need to know that it is a smoke free area. You should also know that the City of Boise wants you to feel safe while you travel along the green belt. In order to make it feel safer, Boise police department has issued a couple of police officers to bike along the green belt.
Camel's Back- Camel's Back is located at 1200 W Heron street in Boise, currently this is an active construction so there are areas of the park you cannot go. The park portion of the Camel's Back is approximately 11 acres and many park amenities. These include playground, tennis courts, outdoor gym, volleyball courts, picnic area, and access to the foot hills. This park is also a smoke free zone and the picnic areas can be reserved. The restrooms in the park are open year round and the park is open sunrise to sunset. They have ongoing restoration efforts to protect native and rare plants and to rehabilitate steep hill climbs by the eroding landmark. There are also dozens of trails that branch off from camel's back that stretch out into the foot hills.
Bruneau Dunes- This is a little outside of the treasure valley, about 64 miles from Boise, so it's a real quick day trip. At Bruneau you can enjoy a nice sandy hike or even a quick slide down the face of the dune on a snow sled. (If you have not sledded down sand dunes it is a lot of fun, and is much like the summer version of winter sledding). The sand dunes have areas where you can camp with amenities such as showers, flush toilets, equestrian campgrounds, and trails. Access to the facilities and the water is also dependent on the weather between November to March. While you are there, if you don't like hiking and sledding you can also go fishing or boating on the lake, picnicking, bird watching, horseback riding, kite flying, star gazing, or even go dune skiing (you can rent a sand board from the visitor center). During the winter you can still dune sled, ski and snowboard but there is a thin layer of snow on the ground. If you want to take a work group or just go camping with some friends there are also shelters and conference areas you can reserve.
Deer Flat Wildlife refuge-Is located in nampa Idaho, and is also home to Lake Lowell. This refuge area is specific to breeding mammals, birds and other animals native to Idaho. During one winter we were named "Globally Important Bird Area" by the American Bird Conservancy because of the migration of the mallards and canadian geese through Deer Flat. At Deer Flat they have hunting areas, fishing, wildlife viewing, hiking, environmental education (such as signs on the trails and classes), boating and swimming. The Wildlife Refuge consists also of riparian and forest habitats, as well as two sections of open water: wetlands and grasslands. However, the main attraction of Deer Flat, and the largest portion of the refuge is lake lowell, which measures a total of 14.5 square miles.
Boise National Forest is located northeast of Boise, covering a vast landscape that is over 2.5 million acres of forest and grassland. You can explore the North Fork Payette river canyon that is 2,800 feet in elevation or the 10,000 foot peak of trinity mountain. With 500 trials, 250 lakes and reservoir it is definitely a must if your outdoor enthusiast. Hulls Gulch Nature Trail- This is a 3.7 mile point to point trail near Boise Idaho that covers a total of 292 acres. Along the hike, there is a beautiful lake as well as lots of common wildlife. There are two trailheads that take connect you to the ridge to rivers trail system of over 190 miles of adventure. (This area is recommended for experienced hikers, because of the rocky terrain). The trail is used for hiking, trail running as well as mountain biking year round. Just at all the other parks and trails this is a no smoking is prohibited with exceptions to julia davis park. The park is open from sunrise to sunset.
Ridge to Rivers System, is located in the Boise foothills, and is interconnected with roads, and trails throughout the foothills. With 190 miles of trail, there is something for every level of hiker, jogger and outdoor enthusiast. They also post online the condition of the trails and if they are closed due to fire damage, water drainage, or construction. Ridge to River also has a website with a map where you can print out certain parts of the trail system so you and a group of friends or family can have easy access to maps of the areas where you want to hike. Dogs are allowed on leases, as well as mountain biking on the trails.