Fun things to do in Meridian this summer
Posted by Hughes Group Blog Team on Friday, August 12, 2016 at 1:34 PM
By Hughes Group Blog Team / August 12, 2016
Comment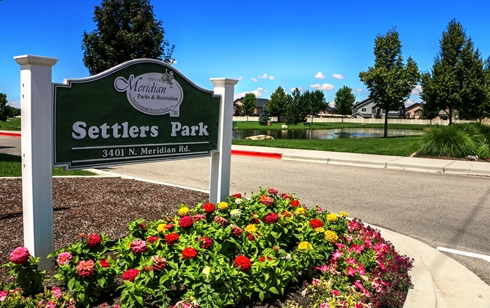 The City of Meridian is a diverse community with a broad spectrum of recreational opportunities to offer its residents. With summer upon us, many people are eager to get outside the house and enjoy the world around them. Meridian is certainly a favorable environment for those looking to have a little fun – or a lot. Here are just a few places to visit and activities to participate in for those looking to add some entertainment and excitement to their lives in the coming seasons. Enjoy!
The Village at Meridian
With its tree-lined lanes and charming European architecture, welcoming outdoor space paired with inviting indoor space, the Village at Meridian is a fitting icon of Meridian's bustling retail and recreation scene. Complete with fashionable retail stores, fine dining, a classy movie theater, a playground, a bowling center, and a visually stunning fountain with hourly light and water shows, this destination is well equipped for a relaxed get-together with friends. Whether it's the relaxing outdoor atmosphere of fire pits, music, and comfortable furniture, the variety of dining opportunities, or the summer concert series, it's easy to find something to love about the Village. It stands out as one of the most diverse retail, dining, and recreation sites not only in the Meridian/Boise metropolitan area, but also in the whole state of Idaho and even in the surrounding region. Residents of Meridian will find no shortage of entertainment at the cultural center that is the Village.
Parks
Immediately behind the Village at Meridian is Julius M. Kleiner Memorial Park. One of the larger parks in the area, Kleiner Park is just one of nineteen parks within the purview of the Meridian Parks and Recreation Department. Kleiner Park boasts a wide variety of features including a bandshell/amphitheater, picnic shelters for community gatherings, a splash pad, bocce ball courts, a fishing ponds. Another large Meridian park full of fun is Settlers Park. The Settlers Park playground is built to accommodate everyone. Settlers Park is home to numerous athletic activities, with an eight field baseball/softball complex, tennis courts, horseshoe courts, and plenty of field space for other sports. On Friday nights in the summer, Settlers Park is host to a free weekly movie night. Everyone can enjoy an evening together outdoors in camping chairs or on picnic blankets as films for all audiences are projected onto a giant inflatable screen. Other community and neighborhood parks are spaced throughout Meridian, ensuring that residents will always have a place for outdoor fun close to home.
Roaring Springs
If you're looking for some cool-down fun when things heat up this summer, Roaring Springs Water Park is one of the best places to go. A vast park with a growing list of features and attractions, Roaring Springs is a destination for both those looking for thrills and those looking to chill. Ample space to lay back and take in the sun while enjoying concessions from one of the several food vendors rounds out the experience, making this water park worth a whole day of fun for you and all of your friends.
Meridian Speedway
In the shadow of the iconic yellow Meridian water tower, the Meridian Speedway offers high-speed fun with a variety of cars and race types on the weekends. It's a racetrack; cars, speed, food . . . what more needs to be said?
Special events
The Meridian Parks and Recreation Department presents numerous special events every year which provide still more opportunities for everyone to get outside and enjoy themselves. The weekly summer movie night at Settlers Park is one such event, but there are many others. The Meridian Community Block Party is an annual event at the park with inflatables, local performers, vendors, games, etc. The Meridian Barn Sour is a fundraising event in which participants run in a 10k or 6k race, or in a 1 mile fun run. Proceeds fund scholarships for local residents with low incomes to facilitate their participation in recreation programs. Unplug and Be Outside Week is a series of events and activities aimed at encouraging everyone to leave behind the screens every so often and get active outside. The Independence Day festival is a joint event of Meridian Speedway and the Parks and Rec Department. The Speedway hosts a race on the evening of the 4th while Parks and Rec entertains festival-goers with food, activities, and live bands at the adjacent Storey Park. The evening is capped off with the traditional fireworks display to commemorate our national pride. These are just a few of the exciting annual events that Meridianites can look forward to year after year.