Fun Stuff to do in and around Boise
Posted by Hughes Group Blog Team on Saturday, July 27, 2019 at 10:52 AM
By Hughes Group Blog Team / July 27, 2019
Comment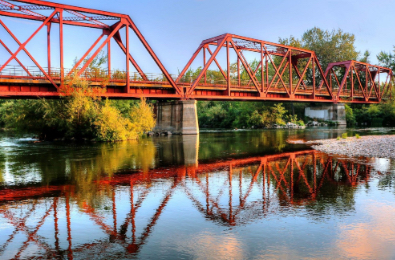 There are so many great things to do in the Boise area during this part of the year. Boise is filled with awesome places to visit to help make your summer memorable, and there are plenty of sights to check out in nearby cities in the Treasure Valley as well!
It is hard to talk about the summer season in the Boise area without referencing the fantastic Roaring Springs waterpark! As the biggest waterpark in the Northwestern United States, there are so many fun and awesome things to do for people of all ages, including thrillingly fast waterslides, raft rides, a wave pool, and a lazy river. There is also food and drinks available for purchase at the park, as well as swim diapers and lockers for your convenience. Although it is technically located in Meridian, Idaho, at just 6 miles outside of the Boise city limits, it is still a wonderfully close-by and entertaining place to go! As an added bonus, when you are done swimming, you may want to check out Wahooz Family Fun Zone and Pinz Bowling Center, which is nicely located right next to the waterpark! If you really want a good deal, there are "Triple the Fun" tickets available, which will allow you to go to each of these excellent parks at a discounted price! With all that this spot has to offer, you are bound to be able to make a day or two here some of the best of the entire summer!
Right through the heart of Boise, you can get a great taste of the wonderful nature that the Gem State has to offer. The Boise River Greenbelt is a gorgeous scenic park that goes on for 25 miles across the peaceful Boise River. It is one of the most popular parks in the city, and for good reason, as it is easily one of the prettiest. If you are looking forward to experiencing the great outdoors of Idaho this summer season, The Greenbelt offers a wonderful place to have a picnic, enjoy some excellent fishing, go for a short jaunt, or take a long hike. In addition to great hiking trails, the park offers a fun scavenger hunt trail that provides interesting information about the city's rich history and a 10-mile trail perfect for bicycling! This large park really has it all, so go check it out and spend some quality time there this season!
While the Greenbelt is a wonderful place for a nice jaunt or small hike, those looking for a little more adventure should check out the Hulls Gulch Reserve. The Grove and Lower Hulls Gulch are the two major trails that hikers enjoy in the area, and in total, the reserve offers 150 miles of fun trails with beautiful scenery, and whether you are wanting to go for a run, a hike, a bike ride, or even a horseback ride, you will find a trail here that will be a perfect place for you to enjoy the fresh Idaho air. Because it is a wildlife reserve, there are so many awesome animals to spot during your hike along the trail, including elegant birds such as the great horned owls, small mammals like red foxes and coyotes, and even some snakes and lizards! If you are looking for a trail away from the city life where you can just enjoy gorgeous scenery and fantastic animals, the Hulls Gulch Reserve is a wonderful place to go!
If you love animals, there are few places as awesome to visit as Zoo Boise! Located in Julia Davis Park for 100 years, the zoo has long been a staple of one of the city's most popular parks.
As the biggest zoo in the state, you will have the opportunity to check out all kinds of creatures both common and rare. It is widely known for its amazing exhibits that allow you to get up close and personal with the zoo animals. The hundreds of different exhibits include animals of all kinds, including mammals, reptiles, and birds as well as fish, amphibians, and arthropods from different locations all across the planet! The Zoo takes pride in its many rare and exotic creatures, with their most popular attractions including the Amur Tiger, Bald Eagles, Red Pandas, Lions, Penguins, Leopards, and even the very hard-to-find Komodo Dragons! The more interactive exhibits allow visitors to feed animals such as sloth bears and giraffes, and at the Zoo Farm, you can feed farm animals like sheep, goats, and even llamas! While the Zoo is open year-round, you should definitely go during the summer to make the most out of your visit. In addition to the many educational opportunities and events that occur during this time of the year, the Zoo has its famous "Butterflies in Bloom" exhibit to check out! This exhibit allows visitors to go right inside and see the thousands of colorful butterflies fluttering all around. They are everywhere, and they may decide to land on your arm or shoulder for a nice picture! Be sure to go and enjoy the zoo during the months that what many consider the best exhibit is available!
There is so much to do during your summer in the Boise area, and so many great places to go to take advantage of the great Idaho fresh air! On a hot day where you want to cool off, visit Roaring Springs, on a really nice summer day go for a hike, or on a day where you just want to go check out some cool animals and enjoy the magic of being surrounded by butterflies, be sure to go to Zoo Boise! There are so many awesome ways to spend some summer days in this part of the state, try a few of them and make this summer one for the books!
Sources:
https://visitidaho.org/things-to-do/amusement-water-parks/roaring-springs/
https://vacationidea.com/destinations/best-things-to-do-in-boise.html