From the Ground Floor Up: Flooring in Your Home
Posted by Hughes Group Blog Team on Wednesday, July 16, 2014 at 12:57 PM
By Hughes Group Blog Team / July 16, 2014
Comment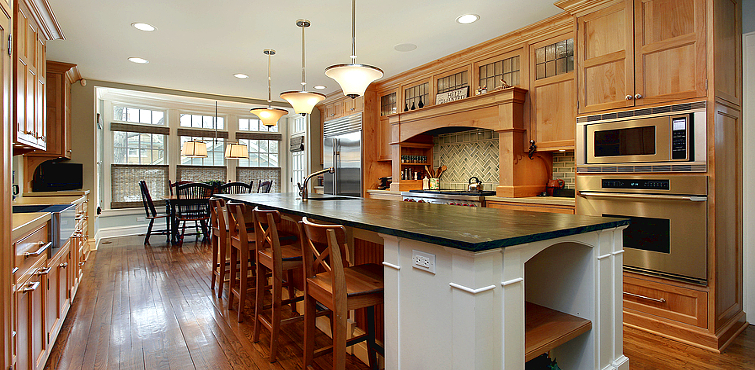 There are many different ways to construct the flooring in your home. Whether you are looking for flooring that will match the style of your home or looking for what will work best practically, there is bound to be something perfect to meet both of those needs.
HARDWOOD
Hardwood is a popular flooring for many homes across the United States and has become even more popular in the last ten years. This style is popular for the elegant atmosphere it creates in the home. Even though hardwood is more expensive than other home options, it can prove to be less expensive in the long run. Also, homes in the market generally sell more if they have hardwood instead of other flooring options. Recent modifications to hardwood have made this particular type of flooring low maintenance. You can finish it once and not worry about consistent waxing and polishing.
Hardwood floors come with the option of the amount of gloss to make a different finished look. Within hardwood floors, there are many different colors and types of woods with different grain designs and sizes of planks. There are generally three different types of hardwood floors- Solid Wood Floors, Engineered Wood Floors, and long strip.
Solid wood floors have one solid piece of wood with tongue and groove sides. Some solid wood floors are unfinished but there are also many that are pre-finished in ¾ sections. Be careful where you install solid wood floors. It is the general rule to not install them below ground level or directly on concrete because they are more sensitive to moisture. Nevertheless, solid wood floors are good because they can stay in good condition for a long period of time. As a matter of fact, there are solid floors that are over a century old that are still in good condition.
Engineered wood floors are made with two to five thin sheets (plies) of wood that stack on top of each other in alternating directions. The crossing of wood plies creates a wood floor that is dimensionally stable and less affected by heat and moisture. Engineered floors do not last as long as solid wood floors but are more easily installed and less expensive. Furthermore, engineered floors are able to have more flexibility than solid wood floors, allowing more types of woods to be used.
Long strip plank floors are the last type of wood floors. Similar to engineered floors, long strip plank floors have multiple wood plies that are glued together. What makes long strip plank floors different than engineered wood floors is mainly the length of the wood plies. Long strip plank floors have shorter plies and are therefore easier to replace than engineered wood floors or solid wood floors.
STONE
Stone flooring is mainly used in bathrooms and other areas of the home that utilize a lot of water, such as bathrooms, but can be used for other rooms. Stone creates an elegant and regal atmosphere and can be found in many sophisticated homes.
As the oldest form of flooring, this natural element creates a natural design and permanency that you can add to your home. There are different types of stone that are used in homes today.
The first type of stone is granite. It is harder and denser than most other stones, making it more reliable and resistant against scratches and stains. The best places to install granite would be kitchens, bathrooms, and entryways. Or, you may use it as an accent throughout your home.
The second type of stone is marble. Marble is not as dense as granite which makes it easier to scratch. Furthermore, the chemical composition of marble makes it easier to stain and harder to clean. Nevertheless, marble is a stunning stone that comes in a wide variety of colors and patterns. Install marble in bathrooms, fireplaces, foyers, studies, or libraries.
Additional types of stone are limestone and travertine. Both are more porous stones than marble and granite and therefore will need to be regularly maintained to prevent damage from occurring, like chips or stains. However, these stones are beautiful when integrated into the design of your home.
A stone that is less often used is slate. Slate may not have the prestige that granite or marble has, but offers plenty of dramatic color and design choices for a homeowner to play with. A single section of slate may include reds, blues, greens, lavenders, blacks, and golds. Slate is a very durable stone that can be used in both indoor and outdoor projects, most often for patios or other similar living spaces.
TILE
Ceramic tile floors can have the design effect as stone in your home, but are less expensive and easier to install. Because ceramic tile is made up of several natural ingredients, it is very durable, easy to care for and resistant against stains. Ceramic tiles offer nearly limitless design opportunities, because they come in many different colors, designs, and textures. However, ceramic tiles are classified by their type of finishing, which is integral to understanding what tiles you should use for your flooring project.
The first type of ceramic tile is glazed ceramic tiles that are coated with glass- forming minerals. This process will give glazed ceramic tiles a nice finish of either matte, semi-gloss, or high-gloss. These tiles should be used for the interior of your home.
The second type of ceramic tiles are unglazed tiles which are very dense and also very hard. Unglazed ceramic tiles are generally used on the outsides of homes.
The final type of ceramic tile are porcelain tiles that have very dense and therefore very durable. Most urban areas like malls use ceramic tiles for their high traffic areas, assuring you that this tile will stand up to a lot of stress.
Keep in mind that ceramic floors are extremely hard and unforgiving on feet. Walking on tile floors without shoes may be uncomfortable and could lead to joint problems, and therefore homeowners should use tiles appropriately.
Still, tile can add an element of finesse and refinement that will make this style worth installing.
LAMINATE
Laminate flooring has the ability to look like other popular floor surfaces but is easier to install, has easier upkeep, and is more affordable. Many homeowners today have laminate flooring that looks like hardwood, ceramic, or stone tiles. Laminate floors are made with an aluminum oxide crystal surface so it is extremely resistant to spills and scuff marks.
Laminate flooring is popular, too, for the fact that it can be installed almost anywhere in the house. Unlike many hardwood floors, laminate surfaces can be applied without worrying about what surfaces are below it.
Laminate flooring are also very easy to install. There are a few different techniques that are used to install laminate flooring: glue free laminate flooring, attached underlay, glued laminate flooring, and pre-glued laminate flooring - , laminate has a simple installation process. There are many different colors and designs for a laminate floor. Choose one that will best fit the color scheme and style of the room where you are putting the floor.
As you look for different flooring for your home, consider using hardwood, stone, tile, or laminate.There are many other types of flooring out there such as vinyl and linoleum and carpet so look into different flooring to meet your needs.
http://www.kitchenandflooring.com