Five Features That Make a Contemporary Kitchen
Posted by Hughes Group Blog Team on Saturday, December 12, 2015 at 9:02 AM
By Hughes Group Blog Team / December 12, 2015
Comment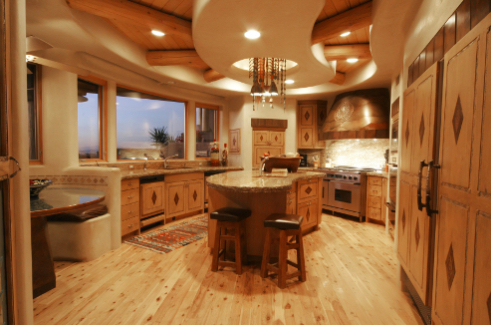 When it comes to your kitchen, there are a lot of styles that you can use to create the perfect kitchen. No matter what style you decide on, you'll want your kitchen to fit in with the rest of your house, while still standing out as a dream kitchen. Kitchens are often what sell a home, and even if you aren't planning on selling your house, you can fall in love with it all over again by updating your kitchen, and bringing in a different style.
When it comes to kitchen styles, there are two different styles that can be incredibly similar, but they are different, even if in small ways. A modern kitchen isn't necessarily contemporary, but a contemporary kitchen can be modern. In the simplest of ways, a contemporary kitchen is one that follows the designs and what's in right now. This can include features of other styles, and in fact, blending in aspects of another style can really make your contemporary kitchen unique and all your own.
Contemporary Features
No matter how you design and create your contemporary kitchen, it will have certain features and aspects that every other contemporary kitchen has. From cutting-edge design and technology to the use of older elements, contemporary kitchens use new materials, old materials in new ways, and technology in functional ways.
Feature #1- Technology
Technology is always advancing, and that's true in any industry. But kitchens aren't being left out. With the wave of smart appliances, kitchen technology is making a leap into the feature by offering connected appliances that use the Internet of Things. Running low on milk? Your refrigerator can send you a text and let you know. Sometimes, you can even use an app to figure out what you can make for dinner, just by seeing what's in your refrigerator.
The other trend of new appliances is a sleek and modern look. No more gaudy colors or a giant pink refrigerator. Form and function are taking off in a big way, and your kitchen is quickly becoming a high tech hub for your home. Many appliances can also be hidden away, like using a built-in coffee maker, or a mixer that slides into the cabinets. Induction cooktops are big in contemporary kitchens as well.
Feature #2- Old Materials
Just because you're designing a contemporary kitchen doesn't mean that you have to shy away from old materials. On the contrary, many contemporary kitchens make use of older materials, just in a completely new and unique way. The best example of this is using concrete as countertops. Some contemporary kitchens even use glass countertops. And don't discredit concrete just because you think your countertop will be grey and ugly. Concrete countertops come in all different colors, are incredibly stain resistant, and they're remarkably lightweight.
Feature #3- Backsplashes
Backsplashes are nothing new. However, while modern kitchens tend toward simplistic design, contemporary kitchens go for patterns and flair. Mosaic and glass tiles are incredibly popular. Kitchen backsplashes in a contemporary kitchen are a place for you to make a statement about your personality and your house. This is a great place to bring in some different or non-traditional materials.
Feature #4- Mixing It up With Layers
Contemporary kitchens are all about layers and texture. While a modern kitchen tends to have cleaner lines and simpler decorations and layout, contemporary kitchens use a variety of materials to create a layered appearance. In a contemporary kitchen, you'll use different materials, like wood, stone, and metal to create texture and depth. Multi-tiered countertops will create layers and an interesting sightline. Even using different shapes add to the layers of a contemporary kitchen, like using round lighting, or even stools, to offset the straight lines and edges of countertops.
Feature #5- Decoration
The finishing touches to a contemporary kitchen are what can really push it past being a modern kitchen. Add your own style by using a unique light fixture to contrast nicely with the rest of the kitchen. You can even turn a modern kitchen into a contemporary one by adding textures and patterns. Make your kitchen pop with eclectic lighting and bar stools. It's all about how all of the elements of the kitchen come together, even with different materials. Contemporary kitchens are all about style, using old materials in new ones, and contrasting elements to create a perfectly balanced and complemented kitchen.
Source-
http://www.houzz.com/ideabooks/1393695/list/kitchen-workbook-6-elements-of-a-contemporary-kitchen