Festival of Trees
Posted by Hughes Group Blog Team on Wednesday, December 21, 2016 at 4:47 PM
By Hughes Group Blog Team / December 21, 2016
Comment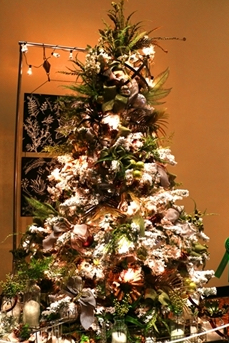 Boise, Idaho plays host to many events throughout the year, but none of them bring as much magic to the valley than the Saint Alphonsus Festival of Trees. This week long affair is an enormous benefit to the community, as every year's generous donations go directly to supporting the many units within Saint Alphonsus. This year's proceeds are going to support the neonatal intensive care unit. In one word the Festival is dazzling; a winter wonderland is created as enormous and intricately decorated trees line the ballroom of the Centre on the Grove, and colorful wreaths decorate the walls. All of these donated Christmas trees are raffled off at the start of the festival, and then left on display until the end of the week. The entire spectacle brings endless joy to all ages, and truly inspires a generosity for a great cause. The Festival will take place November 22 – 27, so don't miss out! Come and see what there is for you!
Prices:
Adults - $7.00
Military - $5.00
Children (ages 3-12) - $4.00
Seniors (62 and better) - $4.00
Family Pass (up to six individuals) $30.00
Children (2 and under) - Free
Gala
The gala is a black-tie event that presents an opportunity to open your heart and wallet to the community. This celebration provides holiday tree sales, dinner, dancing, a live auction, and a night you won't forget. Tickets for this night of fun are $250 a person, or $2,500 for a table of 10. If you have any questions about the gala, don't hesitate to contact Nancy Moulton at 208-367-8991. Mr. Formal is offering 10% off of Tuxedo rentals or purchases for the evening of the Gala. Additionally, they will donate 10% of any sale from the festival to Saint Alphonsus. If you would like to call ahead to reserve a tuxedo, contact Mr. Formal at 377-8636.
North Pole Village
Santa and Mrs. Claus set up shop for the whole week in preparation for the holidays to come. Santa's knee is yours for the sitting, and different crafts are provided for all ages. Be sure to take home your decorated ornament and free picture to share with friends. Though the picture is free, donations are greatly appreciated. The North Pole is certainly an element of the festival you don't want to miss, the elves look forward to meeting you!
Scavenger Hunt
If the Christmas trees aren't meeting your fancy, do not forget to pick up a scavenger hunt! Clues are provided to find all of your festival favorites, so you won't miss a single thing! Not only is the scavenger hunt free, but it is for a prize also! The winner of the scavenger hunt is eligible to win a season pass to Roaring Springs, so grab a pencil and start searching! This holiday season could provide a season of fun in the sun!
Live Performances
Live performances run the entirety of the week. Different youth organizations, school groups, local artists, choirs and ensembles volunteer to share their talent with all who come. You will be amazed at the talent right here in our community! This is a great chance to share your talents, so if you're interested in starring in the Tree Festival contact Lyndon Marquez, the Festival Entertainment Chair, at [email protected] or 702-622-7984.
The Festival of Trees has been a holiday favorite for the past 33 years and has brought merriment and joy to not only those who have come to partake in the festivities, but also to all those whom the donations are helping. The festival has raised over 9 million dollars to help raise the quality of life of our little community. Come with friends or come alone but be sure to come and give back to the Treasure Valley.
Tree Lighting
Traditionally the last day of the Festival of Trees also marks Zions' Bank's' Tree Lighting Ceremony. The official date and time of this event has not yet been posted, but keep an eye out for it, because you do not want to miss it! Hundreds of people gather together at the Grove Plaza to watch the Mayor light up the enormous outdoor tree. This event symbolically kicks off the holiday season with local vendors, caroling throughout the evening, and a candle lighting ceremony. A giving tree is provided for all those who seek an opportunity to give back to their community and will benefit a local charity that has yet to be determined. This is a night that cannot be duplicated, so do not miss out!