Exploring the Ridge to Rivers Trail System
Posted by Hughes Group Blog Team on Monday, April 13, 2020 at 12:11 PM
By Hughes Group Blog Team / April 13, 2020
Comment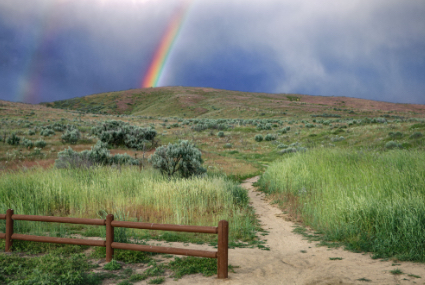 Aside from the Boise River and the Boise River Greenbelt, there is a treasure that the Ridge to Rivers Partnership bestows area residents and visitors alike. The Ridge to Rivers Partnership consists of the City of Boise, Ada County, and the Bureau of Land Management Four Rivers Field Office, Boise National Forest, and the Department of Idaho Fish and Game collectively with the goal of preserving and necessary maintenance of the trails. The Ridge to River Trail System could easily be described as the epitome of opportunity for area exploration within the Boise Foothills region. As adventurers tour the trails, it becomes valuable to reserve time to pause and marvel at the gorgeous mountain views and truly stunning scenery as the trails meander across the foothills and dip into the valley. From start to finish, the diversity of terrain that may be found on the trails includes flat segments, rolling hills, desert wildlife habitats, grasslands, broken timber slopes, shaded forest, hillsides combined with steep mountain summit treks complemented by unparalleled scenic views across the valley.
The Ridge to Rivers Trail System lays within the beautiful rolling foothills alongside the Treasure Valley, offering day hike and exploring opportunities to choose from with a plethora of trail options. A day of exploration awaits with a variety of uniquely challenging trails to not so challenging and easy-going trails depending on your preferred fitness level. Depending on which type of trail or trails that are preferred for a day of exploration, there are various trail designations in order to maintain an effective system that everyone may enjoy. With that being said, keep in mind that all Ridge to Rivers trails are made available to hikers and those who prefer running. However, there are trails designated to help minimize the occurrence of meeting up with mountain bikes if that is not the ideal scenario for you. Patrons are asked to implement trail etiquette while enjoying the trails. Trail etiquette could be described as an understanding that every one that is out on the trails is there to enjoy them, and to be mindful of that. Staying on the trails, being respectful, and not blocking the trails are, of course, other vital components that help maintain a pleasant environment. Once out on the trails, be sure to pay attention to trail signage and directionals to ensure that you are on the right path and following any specific guidelines for the trail of choice.
The city of Boise now offers a comprehensive interactive map outlining detailed area descriptions, trail locations, and access points, dogs and trails overview, equestrian use, and additional information for hikers and runners, pedestrian-only designated trails, motorized users, mountain bikers, as well as winter tail use. Discover details about Boise's spring wildflowers that delightfully decorate the surrounding landscapes, in addition to specifics on special events in the foothills. The most appealing part of the trails is that it is a magnificent place to be if you want some sunshine. The weather during the spring months is almost ideal, with temperatures typically peaking in the mid-60s to low-70s, though it is advised not to travel on area trails if the trails are muddy, in order to reduce damage to the trails. It's as simple as, if you are leaving any tracks, turn around and come back when the trail is dry. For times like this, there are a few sandier trails that may offer better outcomes. These trails include Dry Creek Trail #78, Lower Hulls Gulch Trail #29, Camel's Back Trails #40, Toll Road Trail #27A, and Freestone Ridge Trail #5. Trail etiquette is especially important in order to preserve the trails and keeps the environment pleasant and utterly enjoyable. All-weather trails also include Shoshone-Bannock Tribes Trail #19A, Harrison Hollow Trail #5, Red Fox Trail #36, Gold Finch Trail #35, Owl's Roost Trail #37, Hulls Pond Loop Trail #34, The Grove Trail #38, Red-Winged Blackbird Trail #35A, and The Mountain Cove Trail #22C.
Designated areas outlining the boundaries of the trail system are broken into the following segments Camel's Back and Hulls Gulch Reserve, a portion of the foothills that boasts pleasant native grasses, riparian trees and shrubs, wildlife viewing and birding, with the option for short-distance trails that also accommodate bikes. Hillside to Hollow Reserve is also a designated boundary that stretches across 260 +/- acres. This area boasts scenic views across Boise as far as the Owyhee Mountain Range. The Military Reserve area is well known for a selection of easy to moderate loop option trails as well as stunning views of area tree life. The Oregon Trail Reserve area is best recognized for its historical importance in addition to scenic views of Lucky Peak Summit. Another great area is Polecat Reserve, a fantastic location for beginner mountain bike rides with the chance at spotting area wildlife. Some of the more popular segments of the Ridge to Rivers Trail System are the Shaffer Butte Area and the Table Rock Area. Both areas offer a mix of trail designations and boast more challenging and demanding trail options.
For those who are interested in the pedestrian-only trails. The pedestrian-only trails, which are appointed explicitly for educational purposes and experience, as well as act as an erosion deterrent, as a few of the trails feature steepness qualities that would otherwise increase the wearing away of sediment. Ultimately promoting shared trails is the goal, though, the pedestrian-only designated trails can be especially helpful for those who want to enjoy a day of exploration with minimal distraction. Pedestrian only trails include Camel's Back Trails #40, which starts at Camel's Back Park and has the option to loop back around or connect with other trails. Hulls Gulch Interpretive Trail #0, The Grove Trail #38, Red-Winged Blackbird Trail #35A, and Freestone Creek Trail #22B are a few additional trails to check out when conditions are less than ideal.
The Ridge to Rivers Trail System offers the unique occasion to come across area wildlife that may otherwise not be practical in the lower regions of the valley. The diverse species of animals that call this area home tend to include rabbits, prairie dogs, mule and white-tailed deer, red fox, and coyote. There is also, of course, abundant insects that reside in the foothills, including butterflies, grasshoppers, ants, moths, bees, beetles, and dragonflies, to name a few. Exploring the trails is can be a nature expedition in itself as there is so much to be discovered.
That plant life and vegetation that may be found within the foothills alongside the trails may include big Sagebrush, mosses, tall grasses, wildflowers, Bitterbrush, Rabbitbrush, Netleaf Hackberry, Aases Onion, Annual Sunflower, and Arrowleaf Balsamroot. There is an undoubtedly beautiful array of flowering forbs otherwise known as herbaceous flowering plants that include Bachelor's Button, Ballhead Gilia, False Yarrow, Fiddleneck, Gairdner's Beardtongue, Gray's biscuitroot, Hoary Tansyaster, Hood's Phlox, Jim Hill Mustard, Lupine, Longleaf phlox, Maiden Blue-eyed Mary, Meadow Deathcamas, Munro's Globemallow and Bastard Toadflax. Most of these lovely plants act as an appealing morsel for area wildlife, though when in full bloom present themselves as a rather exquisite addition to the landscape.
Sources:
https://zooboise.org/zoo-news/your-visit-is-helping-to-restore-the-boise-foothills/
https://www.ridgetorivers.org/etiquette/general-trail-etiquette/