Enjoying Boise Parks
Posted by Hughes Group Blog Team on Wednesday, June 30, 2021 at 10:17 PM
By Hughes Group Blog Team / June 30, 2021
Comment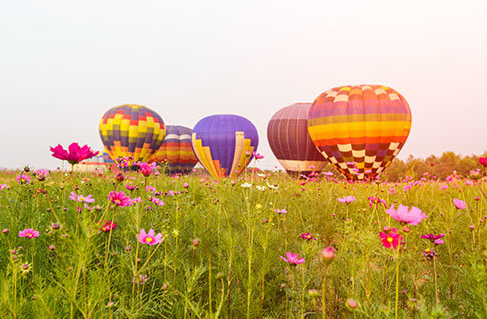 Find the ideal Boise area park to enjoy your time outdoors with various park types, styles, selection of multiple amenities, and opportunities; there is something for everyone to enjoy. Today we will cover part one of a three-part list of Boise parks, as Boise is home to over 80 +/- area parks. Take your list with you and check it twice; discovering all of Boise's parks is quite the adventure; you may find yourself exploring Boise parks thrice.
Aldape Park - 629 N. San Jose Way, Boise (East Boise)
This lovely park, delightfully decorated with mature tree life and open play areas, is located in East Boise with scenic views across the Boise Valley. Aldape Park is a mini-park and great for a midday picnic!
Ann Morrison Park - 1000 S. Americana Blvd., Boise (Downtown Boise)
Ann Morrison Park is undoubtedly one to impress with hordes of opportunities for outdoor play and enjoyment surrounded by nature. Boise's most extensive park measures in at approx. 153-acres. Amenities at this location include Birding, Bocce Courts, a Conservation Station, Cricket, Disc Golf Course, Dog Off-Leash, Greenbelt Access, Horseshoes, Gym, Playground, a Pollinator Garden, River Take Out and Floater Drop-Off, Softball Diamond, Sports Fields, Tennis Courts, Volleyball Courts. Ann Morrison Park sits nestled alongside the Boise River and Downtown Boise.
Archery Range - 1800 Mountain Cove Rd., Boise (Boise Foothills)
The Archery Range is situated at the base of the Boise Foothills and is ideal for those who enjoy archery recreation. Discover a marked shooting line with designated targets. Archery Park is open from sunrise to sunset.
Baggley Park - 1410 E. Parkcenter Blvd., Boise (South Boise)
Features and Amenities found at Baggley Park include Basketball Courts, Greenbelt Access, Open Play Areas, Pickleball Courts, a Playground, Tennis Courts, and a Volleyball Court. Formally known as Loggers Creek Park, the name was changed in 1990 to Baggley Park, remembering George Baggley, who served a 40-year career with the U.S. National Park Service.
Barber Observation Point - 6300 S. Surprise Way, Boise (Southeast Boise)
Discover interpretive signage with area information and excellent views of the Boise Foothills when visiting Barber Observation Point. Located in Southeast Boise, this destination is quite popular among those who enjoy exploring area trails and others who want to be surrounded by nature. The Barber Observation Point is an excellent destination for birding and enjoying a sunrise.
Bernardine Quinn Riverside Park - 3150 W. Pleasanton Ave., Boise (Northwest Boise)
Sprawling across thirty acres and counting, the Bernardine Quinn Riverside Park is home to the famous Quinn Pond. Centrally located, this destination becomes quite the scene during the warmer months as the water becomes instant relief for many hot days. With nearby Boise River Greenbelt access, directly access Bernardine Quinn Riverside Park and many other additional area amenities and attractions.
Bethine Church River Trail - Boise River Greenbelt (Southeast Boise)
While exploring the Boise River Greenbelt, one may come across the Bethine Church River Trail by chance. Located in Southeast Boise, alongside a portion of the Boise River Greenbelt, the Bethine Church River Trail awaits those who enjoy connecting with nature, exploring Boise's trails, and enjoying the outdoors. This area plays a crucial part for local and visiting birdlife and wildlife with nesting spots, riparian vegetation, and a small canal ideal for a watering hole and fish.
Boise Hills Park - 651 Clubview Dr., Boise (Boise Foothills)
Take a moment to enjoy the Boise Hills Park with scenic views amid the Boise Foothills. This neat destination comes equipped with a playground, tennis court, shade, basketball court, and gracious open play areas. The park connects with the Kristin Armstrong Children's Bike Trail, which runs approx. 0. 6-miles +/- in total distance. The park, named after Kristin Armstrong, a two-time gold medalist, won her first cycling gold medal in the 2008 Beijing Olympics and the second gold medal in 2012. The Boise Hills Park sits on 0.73 acres +/- and makes for an excellent opportunity to enjoy the sounds of nature while enjoying park amenities.
Boise River Greenbelt - Friendship Bridge, Boise (Central Boise)
Connecting portions of the Boise River Greenbelt across the Boise River has become the essence of the Boise River Greenbelts' Friendship Bridge. Delight in the scenic views of the Boise River waters, which span across portions of West Boise to the Boise Foothills. The bridge connects the Boise River Greenbelt near Quinn's Pond (Bernardine Quinn Riverside Park) near the Boise Whitewater Park. The bridge provides straightforward access to the Boise Whitewater Park from both sides of the river.
Borah Park - 801 S. Aurora Dr., Boise (Southwest Boise)
Most commonly known for its outdoor pool, Borah Park is also home to covered seating and tables, a playground, and a delightful garden committed to those who enjoy gathering at one of Boise's various community gardens. The pool was constructed in 1969 and boasts two diving boards. The Borah Park playground is surrounded by spacious open grass areas ideal for play. Located in Boise's Southwest Region, the Borah Park destination draws the attention of many year-round, and with good reason. Check it out for yourself, you are sure to be impressed. For an extra fun day out be sure to pack all of the extras like a kite, water, picnic basket, and throw. Additional consideration might include an umbrella, frisbee, favorite book, or outdoor game. While others might enjoy painting, taking photographs of nature, or simply taking a midday break from work, there is surely something for everyone to enjoy while exploring Boise's Parks.
Well, there you have it, ten of Boise's most enjoyed parks that are waiting to be discovered by you! Take time to get familiar which each of Boise's Park as each location provides its own set of unique outdoor activity opportunities and will provide a different experience throughout the year. It's possible to not only become familiar with the various park opportunities but also the host of area amenities, trail options, area reserves and so much more. Typically, most Boise area parks hours are from sunrise to sunset; to be sure of specific parks hours, please check posted times at the park of interest. Boise parks and area amenities are provided to the public for the purpose of outdoor enjoyment, be sure to remember to throw away trash or take it with you, and continue to keep Boise's parks clean and enjoyable for everyone.
In addition to Boise's park options be sure to set aside time to check out the Boise River Greenbelt. The Boise River Greenbelt is a popular destination for many wildlife sightings, birding, and simply being surrounded by nature. Furthermore, the greenbelt connects much of the Boise Valley to the various regions throughout Boise. Often venues, area events, and downtown celebrations are alongside or near the Boise River Greenbelt. According to Boise Parks & Rec. Dept., in all the Boise River Greenbelt stretches about 50+/- miles starting up near Lucky Peak and heading through the city of Boise, across Garden City, and over to the city of Eagle and stops right around Eagle Road. Future developments to the Boise River Greenbelt connecting additional cities would be an outstanding expansion, to the existing greenbelt.