Elements of a Contemporary Bathroom
Posted by Hughes Group Blog Team on Saturday, December 5, 2015 at 9:05 AM
By Hughes Group Blog Team / December 5, 2015
Comment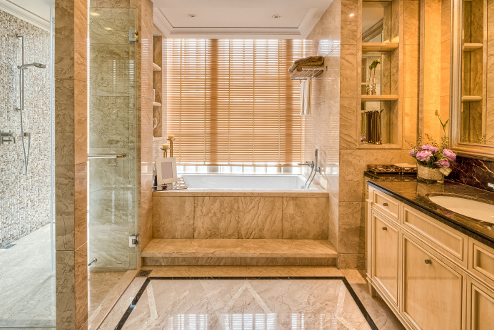 While kitchens are important in any home, and can often sell the house, you shouldn't forget about the bathroom. Bathrooms aren't just a place to care of business. They are retreats from the rest of the house, and a place to relax in peace. Finding the right bathtub, shower, or both can make all the difference between just another bathroom and you've just stepped into a peaceful oasis.
It's often said that the kitchen is the heart of any home. It's where everyone gathers, and many kitchens are designed with precisely that in mind. Open concept kitchens are popular, because they let the heart of the house work as the actual heart. Then it could be argued that the bathroom is the soul of the house. It's where you can relax and melt away the stress of the day by relaxing in the bathtub. And there's little more rejuvenating than a great shower. So make your dream bathroom, and for the ultimate getaway, design a contemporary bathroom so that you can enjoy the soul of your home to the fullest.
Contemporary or Modern Design
When you see a contemporary design, it can be easy to confuse it with a modern design. They are incredibly similar. And, a contemporary design can be modern, but a modern design can't be contemporary. Confusing? As it turns out, the modern design is specific to a certain time period. While modern design had its beginnings in the 1920s and 30s, it didn't gain in popularity until after World War II. That time period, just after World War II and before is considered modern.
Contemporary design, on the other hand, is current. It's what's happening now, and as such, what was contemporary 20 or even ten years ago won't be contemporary now. Contemporary designs use current materials. Of course, contemporary designs also use older materials, but typically in a new way. While wood certainly isn't a new material, you'll find it as accents in some contemporary designs, but it won't be the main material. This is why contemporary designs can be confused for modern designs.
Contemporary Elements
Small bathrooms tend to make better use of a contemporary design, because contemporary designs are simple, clean, and often unadorned. However, this doesn't mean that you can't get creative or have fun with a contemporary design. You can still use fun patterns and textures, but the overall design will favor simple, clean lines. This makes contemporary design virtually perfect for small bathrooms, but it works just as well in larger bathrooms.
While you might use a simple pedestal sink in a small bathroom, the angular lines of a double vanity will fill a larger contemporary bathroom just as well. Of course, saving space can benefit any bathroom, so if you want to make the most of what you have, a contemporary design will fit the bill perfectly.
While simplicity is a big part of a contemporary design, the materials are just as important. Because contemporary design is all about using the latest and greatest, most designs will tend to use modern (in the traditional sense) materials, like synthetic materials. Examples of these materials are plastics and laminates. Other popular materials for contemporary designs are glass and metals, like stainless steel, or even copper. You can still use tile, and in fact, subway tiles lend themselves incredibly well to being incorporated into contemporary designs. Subway tiles have clean lines, and you can create some unique patterns that still follow the elements of angular lines and simplicity. Glass tiles work well, too.
But the materials aren't all you need a bathroom. You'll need fixtures as well, and of course a bathtub or shower, sink, and a toilet. Angular and freestanding bathtubs work well for contemporary designs, and with showers, your options are virtually endless. You can use a floating vanity, or even a single pedestal. If you have more room, expand to a floating double vanity, or a simple and bare one. Mirrors accented by wood, metal, or tile make a great finishing touch to your bathroom, and round lights help create contrast to the angular lines of your contemporary bathroom.
Finding Your Design
The best way to decide if a contemporary bathroom is perfect for you is by hitting the internet and doing some searching. Find pictures of what you like, and piece elements together to create your perfect bathroom. Just because contemporary bathrooms are simple doesn't mean that they aren't beautiful and functional. And when you just want to relax after a long day, the simplicity of a contemporary bathroom will help you relax that much more.
Source­-
http://www.hgtv.com/design/rooms/bathrooms/contemporary-bathrooms