Eagle, Idaho, Neighborhoods
Posted by Hughes Group Blog Team on Sunday, December 25, 2016 at 2:28 PM
By Hughes Group Blog Team / December 25, 2016
Comment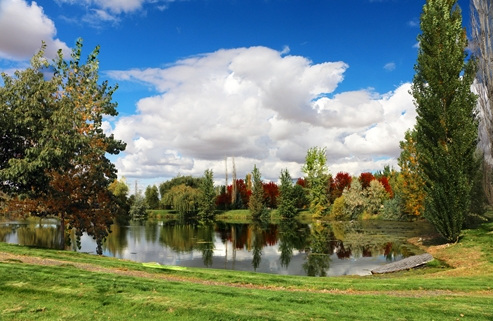 Eagle, Idaho is stunning with it's rolling farmlands and quaint downtown storefronts. If serenity is on your list of wants when looking for a place to build a home, Eagle is a great place to plant your roots. Since Eagle is slightly farther from downtown Boise, there's a feeling of openness that comes from being away from the big city. Many homeowners in this little place own animals, so it's possible to find land for horses and cows. In addition, there are many cool events that happen during the year such as Eagle Fun Days- an outdoor event with a parade and vendors, a farmer's market on Saturdays throughout the summer, and a holiday event with food, music, and fun activities. All of these contribute to a great sense of hometown charm- all while being close to department stores and with city life just around the corner. If this sounds like the ideal place for you to build, read on as we highlight a few neighborhoods that may strike your fancy.
Mace River Ranch is a neighborhood that is in a later phase of building, but still has many lots available. Built alongside the Boise River, the properties that are available are surrounded with the beautiful sounds of running water and birdlife. It's location also puts you near downtown Eagle, so if you are looking to enjoy a night on the town, the stroll to catch a bite at Davinci's Italian Restaurant will not take too long. If you are more in the mood for a walk/stroll along the river, Mace River is adjacent to a forty acre wildlife preserve, so you are in the prime spot for bird watching or a nice picnic in nature. If you are feeling more adventurous, hop on the newly built stretch of the Greenbelt and possibly bike into Boise! This neighborhood has other amenities such as a clubhouse and pool- ideal for parties and splashing around.
Another great neighborhood is Syringa. With many homes in the Eagle area catering to homebuyers with a longing to build custom homes, Syringa evens out the playing field with several builders with more affordable, yet still stunning, floor plans. One great bonus to building in this neighborhood is the focus the developer has put on finding builders who are willing to help make the neighborhood more eco-friendly. Homebuyers will be pleased and excited to know that Eagle Island Park is not far, so taking a walk through the park or swimming and lounging on the swimming beach are just a hop, skip, and jump away. In addition, Syringa has a pool, a neighborhood park, and a playground for those interested in playing catch without having to leave the area.
Foxtail Estates has three different neighborhoods, though they are all great complements to each other. This neighborhood used to be the Foxtail Golf Course, so you can imagine the pristine care that has gone into (and continues to go into) caring for the public landscaping. Since there are three neighborhoods, you have a wide selection of where you would like to build. In addition to a well-manicured presence, Foxtail has gorgeous water features, lakes, and even a well-kept pool area. Exquisite doesn't begin to cover the feeling that you get from driving through this neighborhood. Foxtail may just be the ideal neighborhood for you!
Tuscan style is timeless. If you have always longed to be in Tuscany but still want to build your home in the beautiful state of Idaho, you are in luck! Corrente Bello is a phenomenal neighborhood also located in Eagle. With many architecturally interesting archways and fences and water features that mimic the fountains found in Italy, you'll feel like you've been transported to another place every time you come home. The pool at this neighborhood will make you want to grab your swimsuit and jump right in. With fountains and clear, blue water, you'll never want to leave the peaceful ambiance of the poolside. One unique thing to look forward to in Corrente Bello is the Bocce ball court. Bocce ball enthusiasts will love the opportunity to play on a court specifically for this game, and that can be found here. Enjoy having your own home right here in this stunning little slice of Italy, but be sure to move quickly as lots are almost gone.
The final neighborhood on this tour of Eagle's new subdivisions is Legacy. Currently on phases 5 and 6 of building; many lots are available with waterfront options which can be a beautiful thing to wake up to in the morning. Imagine spending the evening in your backyard and watching as the sun sets with a beautiful chorus of chirping crickets and singing frogs as the soundtrack to finish your day. Legacy is a great neighborhood for enjoying the outdoors. There is even a three hole executive practice golf course where you and your friends can tee up and play a round or two. Also located near Eagle Island Park, this neighborhood is in a prime spot to explore and enjoy your surroundings.
Whether you are looking to build a home near the Boise River or in a neighborhood that transports you overseas, Eagle, Idaho has some fantastic options. Feel free to drive around and check them all out to see the styles of the builders and get a feel for which neighborhood is right for you.