Day Treks from Boise
Posted by Hughes Group Blog Team on Sunday, October 13, 2019 at 11:10 AM
By Hughes Group Blog Team / October 13, 2019
Comment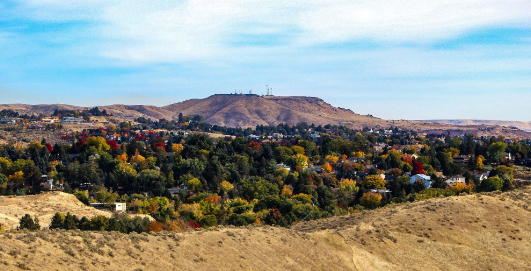 Boise, Idaho is ideally located for anyone wanting to do some hiking. Since the city is nestled right next to the foothills, there is a myriad of opportunities for hiking. There are all kinds of trails from easy quick hikes, to longer ones that are more difficult. No matter what your level of skill is when it comes to hiking, the Boise area has something for you.
Let's start off simple. If you have no hiking experience at all, but you still want to get a good jaunt in, the Greenbelt is an excellent choice. It's also great for casual jaunts with friends or family, a leisurely break by the river, or a nice run. The Greenbelt is a paved path that runs along the Boise River. There is no elevation change, and a great thing about traveling along the greenbelt is you can make the adventure as long or short as you'd like. A ton of parks run along the path of the Greenbelt with plenty of places to park, so you can start your journey at any point on the trail and go any direction for as long as you want. The trail runs a total of about 30 miles, but only ten of those miles are actually in the Boise city limits. Along the path are some great parks as well as Zoo Boise if you're interested in taking a small detour. The full path of the Greenbelt runs for over 30 miles through the whole Boise area and beyond, but only 10 of those miles are in the Boise city limits. Going west, the trail goes through Garden City and ends 17 miles later on Eagle Road in the Eagle city limits. Going the other direction, it goes on for over 7 miles and ends in Discovery Park in Lucky Peak, which is a popular camping and boating location in the area. This part of the path is more popular among cyclist.
Arguably the most popular hiking spot in the Boise area is Table Rock. Table Rock is a ridge in the foothills that overlooks the city. On top of the ridge is a huge LED glowing cross that can be seen at night from just about anywhere in the city. The cross was built by Boise's Junior Chamber of Commerce, or Jaycees Club of Boise, in 1956. There are a few options when taking the jaunt up Table Rock. Each has a little different experience, but they all end in the same place. When people decide to hike Table Rock, most of them start at the Old Penitentiary. There is a parking lot behind the penitentiary, and the trail goes up the hills from there. The hike is an about 3.5 miles long loop and considered a moderate difficulty. This particular trail is frequented by adventurers and walkers alike but is also available for dogs and horses.
Included in the foothills around Table Rock is the Table Rock Trail and Quarry Loop. This 4-mile loop starts in a different location, but still meets at Table Rock in the middle of the loop. The starting point is in downtown Boise, by Warm Springs Ave which is right next to the Greenbelt. Similarly, the Tram Trail starts in the same spot but takes a much more direct route to Table Rock and back. Because of this route, it is shorter yet steeper.
If you want to go into the foothills but aren't sure you can tackle Table Rock just yet, there is a short trail on a neighboring ridge called Castle Rock. This loop starts in the same spot as the mail Table Rock trail, right behind the Old Penitentiary, but goes in the opposite direction to a much shorter hill. The loop is only two miles long and only elevates about 330 feet, as opposed to the over 900 feet that Table Rock elevates. You get a similar view of downtown for not nearly as much work.
Since downtown Boise and the foothills on the edge of the city are so close together there is even a marked hiking trail that starts in downtown and ends in the foothills. Because of its vast distance and variety, this trail is obviously much longer, coming in at over 14 miles. This loop is considered more difficult because of its length and 2200-foot elevation change. The starting point is between 9th and 10th streets on Main and ends in a section of the foothills that is north-west of Table Rock. It also goes much deeper into the foothills than Table Rock does, so bring lots of water, and don't forget the sunscreen, because there's not much shade in the foothills.
The Crestline Sidewinder Loop Trail is another longer trail in the foothills, though not quite the intense 14 miles. It is just over 9 ½ miles long in the foothills north-east of Boise. This trail is rated as a moderately difficult hike and is known for its stunning wildflowers and great views. There are a few activity options as well, such as picnicking and bird watching, and is a great trail for dogs too. You can also use this trail for mountain biking if that's your preferred outdoor activity. Again, bring lots of water and sunscreen, because there's minimal shade.
If you want something simple and short there are tons of small pedestrian parks in the Boise city limits that have loops and trails ready to be explored. These parks host dozens of easy trails in the one- or two-mile long range.
Boise has a perfect location for hiking and exploring leisure trails. Tucked into a valley right next to a range of foothills, Boise has a lot of variety when it comes to hikes and paths that can be explored. You can find anything from flat paved paths along the river to tough steep trails in the foothills. There is something for every type of walker, hiker, or biker in the Boise area.
Sources
AllTrails App