Day Hikes From Boise
Posted by Hughes Group Blog Team on Monday, May 13, 2019 at 10:43 AM
By Hughes Group Blog Team / May 13, 2019
Comment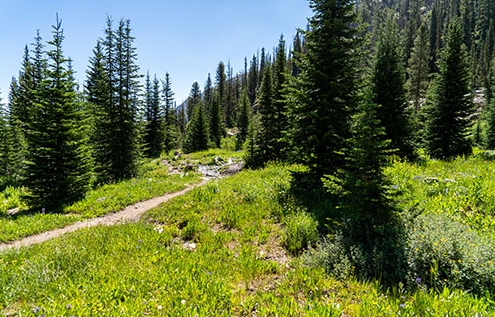 The state of Idaho is filled to the brim with great places to go for a weekend-long camping trip or have an adventurous week of backpacking. However, you may not have more than a day to get out and enjoy the beautiful nature that Idaho has to offer. You'll find that in addition to long trails, there are many day hiking trails in the Boise area! In the city and the surrounding area are hundreds of magnificent spots with gorgeous sights to enjoy all around! You may be in the most populous city in the state, but that doesn't mean that nature is too far away!
Nature is in fact very close, as you'll find when you go for a stroll down this trail. Along the Boise River, a true icon of the Treasure Valley is a path called the Boise River Greenbelt. The Greenbelt goes through over 800 acres of Boise's best city parks, putting on display the wildlife in the area. Along the trail, you will discover many different overlooks that offer a wonderful way to view the animals that inhabit the area, particularly in either the early morning or late evening. The belt itself is 25 miles long, but you can go along the path as long as you would like before going back to civilization. Feel free also to stop and rest at any time and do a number of activities like fishing, bird watching, or even picnicking.
When you get down into the Boise foothills you will find a cool area known as the Dry Creek Trail. While many trails similar to this one are dry and empty, thanks to the Shingle and Dry Creeks that the trail follows this particular path is lush with beauty and plant life all around, making it one of the more picturesque trails available in the area (especially in the fall season). It is a mostly flat hike, so it is more easy-going for those not wanting to over-exert themselves, and you have the option to either go the full 14 miles (round trip) or to take a hike of only a couple miles and turn around where the two creeks meet.
If you want to get a little bit further away from the Treasure Valley, a 60-minute drive from Boise will bring you to the old "ghost town" of Idaho City. Right outside the city is a hiking trail called Charcoal Gulch. About 2 miles one way, this path is a nice little breezy place to get away from the hustle and bustle of city life and clear your mind. Since its pretty well separated from the city of Boise, for miles you will enjoy completely natural and absolutely exquisite scenery! A nice little bonus to going to Charcoal Gulch is that on the way back you can further relax by visiting The Springs, a great little hot spring attraction that is hidden in the mountains.
Another small hike that offers plenty of memorable views is at Table Rock. The path is less than 4 miles round trip, so it is definitely a short adventure, but an adventure nonetheless! The trail does offer several offshoot trails that ultimately lead to the same destination, so if you've gone before you can certainly go again and mix things up a bit. This short distance is ripe with some steep rocks to climb to, so you will feel satisfied when you reach your destination, which is nicely marked with a large cross at the crest of a hill.
Stack Rock is yet another gorgeous day hike just half an hour from Boise. While the last couple of hikes mentioned were definitely shorter trips, Stack Rock is for those wanting their hike to last for a larger portion of the day. The trail loops around and is about 8 miles long in total. Since it isn't right next to Boise, one advantage of this adventure is that it (like Charcoal Gulch) gives hikers the opportunity to get a little more in tune with nature. Along the trail, you'll come across Stack Rock itself, where you are given an unforgettable view of the forest. You can also climb to the very top of the rock to get an even greater view!
The city of McCall and the nearby Brundage Mountain Resort are home to many of the Boise area's greatest places to go for a hike. One of the best of these when it comes to day hikes is the trail leading to Goose Creek Falls. The trail starts at the Brundage Resort and is about 4 miles long, with an increase in elevation on the return trip. This trail is filled with pleasing views all throughout especially when enhanced by the warm fall colors. The real gift that this hike has to offer is its destination. The trail brings you to a bridge right above the superb Goose Creek Falls, which gushes out water on top of a granite rock bed at 60 feet high. To add a little more excitement, carefully climb down to the rock bed to get a close-up view of the majestic falls.
The Boise/Treasure Valley area is absolutely packed with some of the best places you can think of to get out of the house and out of the city for a day or even just a few hours and really just enjoy and bask in the Idaho wilderness. Idaho fresh air is one of the most satisfying things, especially when complemented by such magnificent nature all around. You can't stay cooped up in the office forever, so be sure to obtain peace and tranquility by taking a day off on one of Boise's many beautiful trails!
Sources:
https://visitidaho.org/travel-tips/5-fantastic-fall-hikes-near-boise/
https://visitidaho.org/things-to-do/rail-to-trail/boise-greenbelt/
https://www.trailsunblazed.com/best-day-hikes-near-boise/