Cycling in Boise
Posted by Hughes Group Blog Team on Thursday, December 31, 2020 at 9:46 PM
By Hughes Group Blog Team / December 31, 2020
Comment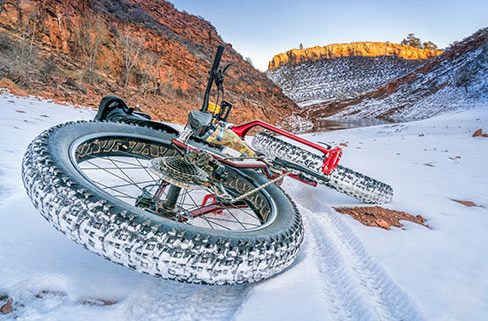 There are a great deal of means and ways to get around when you are scheduled to be some place or you want to get across town for some reason or another. Some of the time getting around town might be more fun on a bike and at times can also prove to be a more affordable method of travel. For a large portion of the province of Idaho, a bike won't get you far due to seasonal changes as well as varying and demanding topography. For the Boise area though there is a ton of room between things which makes traveling by bike more pleasant and more of a reasonable consideration. Travel distances depending on the desired location are generally not too significant to accomplish most common travels such as going to the grocery store, enjoying area trails, or perhaps taking in the scenic beauty that surrounds them.
If traveling further distances across the city, this, however, may be more challenging in deciding which routes to take. That is presumably not going to be a majority of people, however, I assume there is consistently an opportunity for accomplishing lengthier distances by bicycle if that is the desired goal. From Northwest Boise to the Boise Diversion Dam could provide distances well over the 15-mile marker, with a round trip ticket running 30 miles with most of the terrain being predominantly flat. Further disntacnce trips within the city are going to provide a wide variety of scenic views as well as destination opportunities. If longer trips are on the agenda it is best to plan out accommodations in advance for restroom breaks as well as where to find additional water if need be. Throwing food in a small portable sack can sometimes come in handy as well. These are considerations that everyone heading out for the day no matter the length of the trip will want to keep in mind.
The greater Boise area exudes a more tight-knit feel with destinations no too far stretched out from one another, with surroundings that include vastly sparse desert land and spread-out forests. Which makes the Treasure Valley a treasure trove of hot spot locations waiting to be discovered and within miles of most anywhere from city to city. One of the greatest attributes to the Boise Valley for some bicyclists is that there is varied terrain. There is certainly abundant opportunities for those who are interested in road biking. For the most part, Boise pathways are flat or predominantly flat without much decline or inclined surfaces. Now for those who like to go downhill mountain biking or want to take to the Boise Foothills, that is definitely an option. The Boise Mountain Range sits about 20 +/- miles from the Boise area creating a whole new list of options for those who like to head to the mountains for a day of exploration.
The Boise Ridge to Rivers Trail System boasts Spring Flowers, nature trails, and trail options galore. For those who enjoy a variety of types of trails, this is surely one option to check out. Discover diverse landscapes, area birdlife, wildlife, and plant life along the trails. With over 190 miles of trails to choose from there is definitely something for everyone to enjoy. Of course, learning the trail rules before heading out to enjoy these trails is going to provide the best outcomes for all as some of the trails have designated user days under the newly implemented pilot program. This means odd days may be designated for hikers only, which means taking to the trail on one of these days may not be the best idea. There are also one-way designations to be away of during the pilot trail program period. For additional information, it's best to go to the Boise Ridge to River Trail System website or find additional information at the desired trailhead of choice. It's also best to be aware of and exercise proper trail etiquette so that everyone enjoys the trails.
For those who enjoy a bit more of a challenge or enjoy a terrain consistent with mountain biking with panoramic scenic views across the valley, there are a few trail options to choose from. Not all of these trails are going to boast the same qualities and characteristics though each is equally enjoyable for various reasons. Toll Road Trail #27 / Cottonwood Creek Trail #27, otherwise known as the Black Forest is a .88 +/- miles trail featuring beautiful Cottonwoods. Centered along a riparian area, the Cottonwood Trail runs about .67 +/- miles and boasts native vegetation. Those who enjoy birding may get the opportunity to spot an owl along this trail. Shanes Loop #A is also another trial option to consider that brings opportunities for inclines and a more challenging experience. Shanes Loop also boasts incredible scenic views across the tops of the Downtown Boise area. Another trial option is Polecat Loop #81. Featuring scenic views of the Boise Ridgeline and views across the rolling foothills this trail is an excellent trail for moderately challenging inclines. Next in line is the Corrals Trail #31 which allows access to Bogus Basin Road to 8th Street in addition to connecting to Bob's Trail #30 and Highland Trail #1. Thus bringing us to the next trail option at Kestral Trail #39A. This trail acts as a bridgeway connection from the 8th Street Extension to Crestline Trail and connects to a host of additional trail options. A few of these additional connections include Sidewinder Trail #24, Fat Tire Traverse Trail #42, and Military Reserve Connection # 23.
One of the best things about Boise is its four delightful seasons. Some may think that this means the end to outdoor enjoyment when it comes to bicycles but that not always the case. Nowadays, people who enjoy bicycling and the snow combined are gravitating to fat tires. The creation of fat tires was actually back in the 1980s, though has become increasingly popular in the past decade. Fat tires typically will provide a minimum width of 3.8 inches and make it easier to manage bicycling in the snow for year-round fun!
There it is Boise is one of the best places in the state for getting outdoors and enjoying a day of bicycling or even area exploration. However, you choose to meaner about around town there is something for every to take part and enjoy. Find a plethora of interpretive signage with information about the areas history, its landmarks, and fascinating features. There have been countless additions mode of travel with neat new inventions that improve, modify, and create ways to explore. What most people new as a bicycle in the early 20th century has so many new meanings. Advances in the bicycle industry have included cutting edge motorized bikes or E-bikes, indoor-outdoor bicycles, advanced velocipedes, z-framed bikes, chainless bikes, bikes that can be folded, bricycles, and many more. Doing some research to find the best-suited bike for you is a great place to start. Ensuring that all that bits and pieces of your bike are dialed in before heading out for the day is well advised. Gathering safety gear and weather-appropriate clothing is another consideration to make prior to committing to a day outdoors. A few other considerations to make is water or possibly some extra money just in case you get hungry while you are out and about. Then it's off to have some fun in Boise!