Creating the Ultimate Home Theater
Posted by Hughes Group Blog Team on Tuesday, April 5, 2016 at 11:43 AM
By Hughes Group Blog Team / April 5, 2016
Comment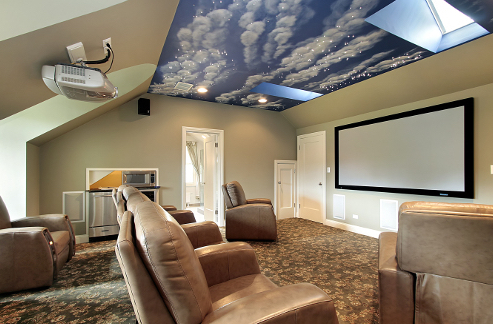 In recent years, the home theater system has grown in popularity, and with so many great movies to enjoy how could you not succumb to the temptation to create a specific space to enjoy your favorite flicks? So, if you have decided to devote a part of your home to become a theater, or you want to just revamp your previous one, then you have come to the right place. Here are some of the vital 'must haves' for your home theater system.
TV
This may be obvious, but it is key to having a spectacular movie viewing experience. However, don't get us wrong, we are not suggesting that you go out and buy a 70 inch High Definition TV the next time you are in the store. The key to a good television is the picture. You don't need anything extravagant; just something that offers a clear and bright picture. However, how bright and how clear you want your picture to be weighs heavily on your own preferences. If you are just watching movies on your TV then you probably want to stick with a standard plasma or LCD TV will do. If you want to watch cable, satellite or stream from the web, you will probably want to opt for a Smart TV (or some sort of device that allows you to connect to the web like the Roku or Xbox or computer-- if your TV and computer have HDMI ports.) However, there are alternatives when it comes to televisions.
Projectors
If you are looking for an affordable way to view your favorite heart-wrenching rom-com or psychedelic sci-fi in bigger proportions then, a projector may be the way to go. Projectors, good ones at least, can cost anywhere from $500 to several thousands of dollars, but it is the closest thing to being in a real theater as you can get. The great thing about a projector though is that you can play things directly through your computer which means you can do plenty of other things besides movie watching or video streaming. There can be a problem with picture quality when you go the route of projectors, though. So, be sure to do a lot of research before you invest in one.
Sound Systems
The next part of your home theater is its sound system. Even with a superior picture, a movie night can be ruined with bad audio. So be sure to get yourself a good sounds system. For the best viewing experience, many people suggest surround sound systems which consist of a series of speakers around the room to make you feel like you are in the thick of it with the characters. And don't forget to get a good subwoofer to amplify the base of the soundtrack or special effects and shake the house along with it.
Movie Playing Devices
Though they have been addressed earlier, it's good to compare and contrast the different kinds of media devices you can use in your home theater system. At the very least you need a DVD and Blu-Ray player which will allow you to watch any movie currently on the market. But, if you are like most people, you may still have VHSs lying around that haven't been watched in years. Instead of investing hundreds of dollars in buying them again, why not head down to your local thrift store and buy an old VHS player to attach to your TV? This will result in lower picture and sound quality, but it can save you money in the long run.
Now days, with the increasing influence of movie streaming and cloud storage, it would be beneficial to you to get something that will allow your TV to connect to the internet. Many Blu-Ray players allow you to do that, which would probably be the best option if you want to cut down on your costs. There is also the option to buy a Roku box or just getting a Smart TV, these options, however, will cost a little more than the standard Blu-Ray player with internet access.
If you are a gamer, or want to get into video games, you may just want to buy a game console. They will allow you, most of the time, to do all of the above functions, as well as play your favorite games. The downside to this is the price. Some game consoles can cost almost the same as a decent TV, so, be mindful of that while you are shopping.
Seating Once you have the TV, sound system, and video playing device setup, it's time to talk about seating. What kind of seating you buy and how you arrange it is completely up to your own tastes and preferences; the only real requirement is that your seating is comfortable. Some people have bought fluffy sectionals, others have gone with a room of bean bags. All that matters is that you like it.
Movies
Now that you have everything set up, you will need some movies to watch. If you already have a collection of your favorite flicks, then great, if you don't, then start searching. Again, this is a time when prices can add up pretty quickly. There are many places though that sell inexpensive movies, used movies and more. Also, the libraries here in Boise have a large collection of movies if you don't want to buy the actual movie.
The Finishing Touches
At this point, you are almost done. The last two things to consider are; first, a universal remote and second, snacks. A universal remote is important, because after you have all your devices hooked up and ready to go, you will be drowning in a sea of remotes that are nearly unidentifiable. So, if you have a universal remote, you won't have to worry about turning the sound system off when you are trying to get to Netflix. Snacks, on the other hand, should be fairly self-explanatory. You can't watch a good movie on an empty stomach, so make sure to stock up on all your favorite movie foods.
These are just the basics for making yourself a great home theater system, there are many more suggestions and ideas on the web. Once you have everything you need for your theater installed there is nothing standing in your way of having a movie party or binge watching your favorite show, all from the comfort of your own home theater.