Cool Ideas for your Extra Acreage
Posted by Hughes Group Blog Team on Saturday, January 14, 2017 at 5:01 PM
By Hughes Group Blog Team / January 14, 2017
Comment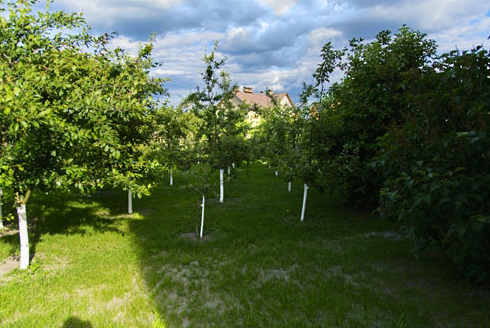 So you've just purchased your home and are psyched about the extra space it provides, have you thought about what you may want to transform your yard into? Winter may be approaching quickly, but that is no excuse not to get ideas for some fun new backyard projects this spring!
Obstacle course
American Ninja Warrior is a television show that has been sweeping the nation. Hundreds of people try out every year to run, jump, climb, swing, and show off all of their parkour skills in front of a national audience. Why bring this up here? Because it would make for the perfect backyard! Get off that couch and step into your newly renovated backyard obstacle course! Wooden pallets, rope swings, rock walls, old tires, why join a gym when you could work out at your own home? Get everyone together and create your own full blown Ninja Warrior course that will never get old. Take turns timing each other as friends and family try and get through the fastest, and if you get bored with your course you can always re-arrange it! If you are wanting a fun, unconventional way to turn your extra space from bland to bold, this is the way to do it.
Orchard
The Treasure Valley offers such rich topsoil, why squander it? Similarly to creating a garden, farming an orchard would bring incredible opportunities! Though it is possible to start from seed, it might be easier to visit your local nursery and pick out your favorite fruit bearing trees. Apples, peaches, pears, plums, any one of these trees would turn your bare back yard into a fruity utopia. This introduces some things to consider if you wanted to be a success, what kind of watering system would you use? How about pesticides? As these would be trees planted in grass, much less of your time would be spent pulling weeds, however, you should consider the time needed for pruning, keeping birds at bay and advertising for your orchard. Though one probably shouldn't live off of fruit trees alone, come harvest time your new orchard could potentially bring in quite the revenue! As your trees mature and develop they will offer more produce and ultimately a more tangible proof that your hard work has paid off!
Beekeeping
The rate in which bees are dying worldwide is truly alarming, so why not put your extra acreage to good use? Many in Idaho have started keeping bee boxes recreationally; you would be surprised how much of a support system there is! After, or even while, you get your boxes set up be sure to sign up with the Treasure Valley Beekeepers Club for extra help and support. With your extra space, you would want to position your bee boxes not only somewhere in the sun, but also near something that would provide some resistance from the wind. Trees, the side of a building, a fence perhaps, somewhere that will let your hives stay warm in the sun without getting blown away. You also want to consider obstacles that would help with their flight patterns. These would just be different flowers and plants that would prevent your new friends from flying into your dog house or neighbor's back yard. Keeping bees is extremely helpful to the environment and quite a bit of fun, but it can be difficult and dangerous if not done right. If you are planning on breaking out the bee boxes, please be sure to also invest in the appropriate garments and gear necessary to keep both you and your hive safe.
The Entertainer's' back yard
Many people purchase their homes with a vision in mind; a home with extra acreage could mean anything from a small farm to a large back patio. This is for all of those back patio people. This is the entertainer's back yard complete with grill, barbeque fire pit, lawn chairs for sitting and chatting, and so much more. Why spend your precious time pulling weeds or clipping back trees when you want to fire up your grill and watch a friendly game of volleyball going on in your sand filled court? Though this sounds extravagant (and expensive), this could be a great way to put your space to good use without breaking the bank. A volleyball court could use sand from craigslist, and would need little to no maintenance to keep up and running. A classy fire pit could be created with cinder blocks and a grate, just keep your eyes peeled for yard sales and "curb alerts"; many people try to get rid of these materials without charging you anything! As for the lawn furniture and decorations, now is actually the perfect time to stock up! Stores are starting to wind down for the summer as it starts cooling off, meaning major discounts for you! Chairs, picnic tables, strands of lights or lanterns, these would be the perfect touch to your outdoor paradise.
Regardless of what kind of backyard you envision for your home, be sure to have fun with it! Extra acreage should be seen as a benefit, and not an extra stress in your life. If you truly are hassled with what you want to do, don't forget you can always rent it out! The valley plays host to many agricultural elements, and your space might be just what someone is looking for! Whatever you do be sure to stay safe and have a great time with it.