Celebrating Boise 150: The Boise Fire Department
Posted by Hughes Group Blog Team on Tuesday, October 15, 2013 at 6:45 PM
By Hughes Group Blog Team / October 15, 2013
Comment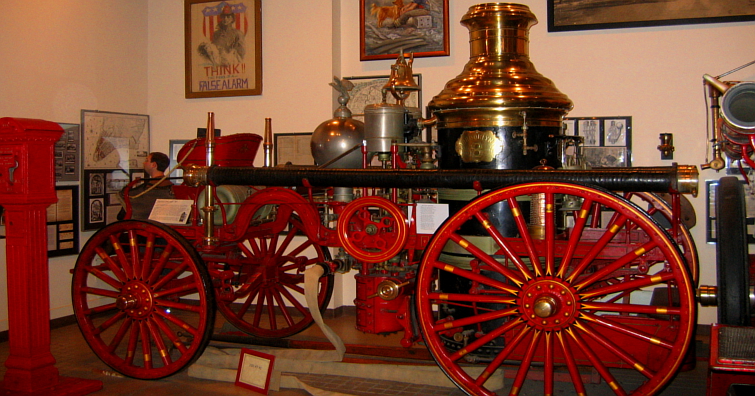 In honor of celebrating Boise's sesquicentennial, let's take a dive down memory lane at one of the most important organizations in the city of Boise – the Boise Fire Department. The department's history truly begins with one of downtown's most historically significant buildings, the Central Fire Station that sits on the northeast corner of Idaho and 6th Street. With a glimpse at the past surrounding the Central Fire Station, we can gain a better understanding of just how far Boise's Fire Department has come over the course of Boise's history.
In January of 1876, a volunteer Fire Department was officially organized with the contributions of 28 men. Roughly four months later, the George Washington Stilz blacksmith shop at 619 Main Street was changed into Boise's first firehouse. It was a one story wood structure home to Engine Company no. 1 and Hook & Ladder Company no. 1. As fate would have it, the firehouse burned to the ground in September of 1883, and a temporary station was placed in another blacksmith shop close by at 6th and Main Street.
At the site of the first firehouse in December of 1883, a two story, two bay firehouse was dedicated as "The City Hall" station. The firehouse also served as the home of Boise City Hall, and did so until the first of September in 1903 when the Central Fire Station was opened for operation. The couple of years before the new Central Station was built, the mayor and City Council wanted to get rid of the volunteer department and replace it with a new, fully paid Fire Department. Once the volunteers disbanded June of 1902, the new, professional Fire Department had 1 part time Chief, 2 part time Assistant Chiefs, 3 drivers, 1 Assistant Driver, 1 Engineer, 1 Hose-man, pay per call Stokers and Firefighters. Horses were soon added to the companies at the Central Fire Station, and shortly after that the city of Boise passed an ordinance that required the Fire Chief to be a full time position, which was first filled by E.B. Tage a couple of months after the Central Fire Station was opened.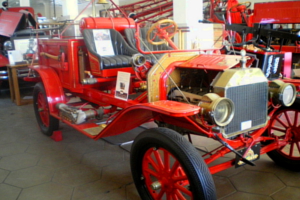 The Boise Fire Department performed its duties unfettered until 1912 when expansion finally brought change to the Department. 17 new firefighters and 2 stations were added at 16th and Front Street, which is still Fire Station no. 5 to this day. The other Fire Station, McKinley & State Street Station, is a private residence after its relocation in 1923.
Through difficult economical times during the 20s and 30s, the Boise Fire Department focused its efforts on prevention. With pay cuts and staffing reduced, educational programs were launched along with fire inspections, initiated in 1932. In 1935, the first Fire Prevention week was in place, and a Fire Inspector position was created in 1938. Beginning in the 1940s when Boise's population began to grow, the Fire Department began to make efforts to modernize and expand. A station was built at Kootenai Avenue and Federal Way, and a Fire Combat training program was introduced in 1951. Soon after, the first State Fire School was held, and radio systems were upgraded in 1957 at the Fire Alarm Dispatch office. The following year, Boise Fire received an ISO rating of a class three fire department. Also during the 50s, Boise was inundated with significant structure fires, including Mode Department Store, the Sonna Building and the H.B. Eastman mansion.
In 1964, the Boise Fire Department built their sixth fire station on Liberty Street. Also that year the staff grew to 107 firefighters, and for the first time, Boise's Fire Department received over 1000 alarms. The next year, Boise Fire took over Aircraft Rescue and Fire Fighting (ARFF) at Boise Air Terminal and built a new station at the airport in 1966. Boise Fire was split into 5 divisions, including Administration, Fire Prevention, Combat, Training & Alarm/Maintenance. At the new Fire Station no. 8 on Overland Road, 12 new firefighters were added, and by the end of the decade Boise Fire had 139 employees. Throughout the 1970s, the Boise Fire Department continued to grow with new equipment and vehicles.
In the 1980s, Boise's population had continued to swell, and a number of devastating fires caused over $1 million in fire damages. In 1982, an arson spree caused over $2.46 million in damages. Soon after, workers were rehired and new firefighters filled positions, and Firehouse no. 3 was moved to Gekeler Lane in 1978. The Idaho State Firefighter Collective Bargaining Act was passed in 1979, and the Fire Department began working with the local firefighter union. With the previous 1 percent Tax Reduction Initiative, the department's budget was reduced by 14 percent and a round of layoffs and demotions rifted through all divisions.
In 1984 the Fire Alarm Dispatch office was shut down and the Ada County Sheriff's office began dispatching fire calls. By 1989, the Fire Department began responding to roughly 7,000 calls and by 1994 the Fire Department grew to 13 stations. In 2000, all Whitney firefighters became Boise City employees and 2 Whitney Fire District houses were renumbered as Fire Station no. 21 on Overland Road and Fire Station no. 22 on Amity Road.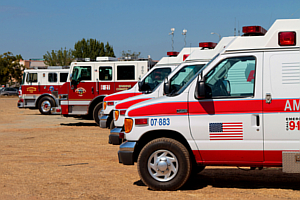 In 2006, the Department implemented the operation of Advanced Life Support Engine Companies, equipping Engine 22 and 8 with firefighters and paramedics. Today, the Boise Fire Department has 288 full employees, 17 Fire Stations, a Hazardous Materials team, ARFF team, Dive Team and a Technical Rescue team. It's a busy job with a population of over 218,000 people covering roughly 130 square miles!
Want to join the team? Becoming a member of the Boise Fire Department is not for the faint of heart. Competition is fierce and the hiring process is grueling to say the least – which is the case for any fire department anywhere. According to Firerescue1.com, more than 70 percent give up at some point during the process and move on to other career choices. They say that the journey to becoming a firefighter begins with maintaining a clean background and lifestyle, doing plenty of volunteer work, taking fire technology classes, and becoming an emergency medical technician – again – these tasks are just in the beginning. You should take the time to understand the entire firefighter hiring process as well as familiarizing yourself with the series of tests that are you'll be required to pass.
Firefighter or not, it's plain to see just how important the services of these men and women are to our city.
Whatever your Idaho real estate goals are, Hughes Real Estate Group is here to help you reach them. Whether it's buying, selling, or investing – give us a call at (208) 571-7145 for more information anytime.