Camping Near Boise
Posted by Hughes Group Blog Team on Thursday, April 1, 2021 at 10:11 PM
By Hughes Group Blog Team / April 1, 2021
Comment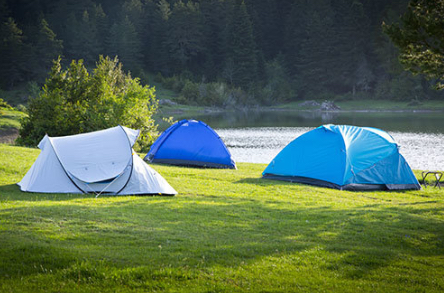 Is there anything better than laying under the stars next to a crackling fire, listening to the sounds of nature lull you to sleep? If you're crazy about Idaho, you probably feel this way too! With so many places to explore in Idaho, you're likely to find lots of new adventures to add to your summer bucket list. You'll get the chance to swim in crystal clear alpine lakes, take an afternoon tour through well-preserved forests, or hop on your ATV as you ride through the designated trails nearby. Boise has many great campsites only a short drive away from the city, so if you want a break from city life, pack up your gear and you'll find a great camping spot in no time.
Sitting on the banks of the North Fork Boise River is Black Rock Campground, which is part of the Boise National Forest. This lovely spot is a two-hour drive from Boise and costs just fifteen dollars per night to camp at. Here you'll have the opportunity to roast marshmallows on the fire pit, have access to drinking water and vault toilet facilities, and even use the grill to cook the catch of the day. There are numerous trails close to the campground if you want to do some exploring, mountain biking, dirt biking, hiking, or horseback riding. Wildlife are known to frequent the area and can often be seen wandering nearby. You might consider test out your angling skills in the river as you fish for rainbow trout or explore around the campsite and you're sure to find a nearby swimming hole to cool off in.
Drive two hours north of Boise and you'll reach the Payette National Forest. Load up your canoe or ATV so you can go on a little adventure while you're there. The Upper Payette Lake Campground is ideal for canoeing on the gorgeous mountain lake and riding, hiking, or mountain biking the trails at the foot of the Grassy Mountains. You'll only pay around ten to fifteen dollars a night to camp here, and there are even two group sites here that can hold 30 and 50 campers if you need to plan an outdoor event. Feeling grimy after a long weekend of camping? Burgdorf Hot Springs isn't too far from this campground in case you need a long, hot soak so you can have a relaxing end to your camping trip. Don't forget to be on the lookout for blooming wildflowers in the meadows that surround your campsite!
A large number of people love camping at the Boise National Forest not only for the scenic views but for the abundance of outdoor activities to do here. Depending on the season, you'll have the opportunity to go skiing, snowboarding, hiking, biking, and become immersed in nature. A popular hike to try is Schafer Butte, which gives you a spectacular view of the valley and its surrounding viewpoints. Located in the forest's Peace Valley is Silver Creek Campground, which offers excellent trails to venture off on as well as great whitefish and rainbow trout fishing. Hike about one-fourth of a mile away from camp and you'll arrive at the Silver Creek Plunge hot spring to have a nice soak. There are also onsite courts to enjoy a game of basketball or volleyball with friends, a convenience store, and a playground.
Another great campsite in Boise National Forest is Pine Flats Campground, which is only an hour and a half outside Boise. At the South Fork Payette River, you'll find yet another hot springs pool at the river's edge to relax in. Large Ponderosa pine trees loom overhead, giving your campsite just the right amount of shade during the day. You'll have a blast kayaking, whitewater rafting, and fishing for trout at the river before snuggling up in your sleeping bag for the night.
Have you ever camped in the desert? If you travel two hours west of the city of Boise and cross over the Oregon border, you'll reach Succor Creek. Desert camping is beautiful during the late spring! Wildflowers poke their heads out of the soil near the creek and there are no trees to obstruct your view of the starry night sky. Some other perks include having dry clothes and gear in the morning due to less humidity than you'd find in the forest, and you won't be freezing when you leave your tent for breakfast! The landscape is other-worldly, with red and tan spires towering overhead, creating large valleys and stunning views that can't be beaten. The creek is located within Succor Creek State Park, so you can expect amazing scenery and a great experience as you wander the trails near Leslie Gulch and the Owyhee Canyonlands.
Another camping location only two hours from the City of Trees is French Creek on Lake Cascade. The best spots to set up your camping gear are at sites 1-8 since they are closest to the lake and creek. There are boat ramps in case you'd like to sail out onto the lake. You can also do some windsurfing, go fishing for rainbow trout, and other fun water sports. Here you have the option to rent your kayak or stand-up paddleboard from Van Wyck Boat Ramp to enjoy Lake Cascade to its fullest. In the winters you can try your hand at ice fishing or hop on the fresh powder for some Nordic skiing or snowshoeing. You'll sleep peacefully next to the sounds of gently rushing water as you get cozy next to the campfire while it dies down for the night.
There are a lot more places to choose from to put up your tent for a fun-filled weekend. Fortunately, camping sites are not only abundant in the capital city of Boise, but in Idaho as a whole. Each spot is unique and will give you even more reasons to fall in love with the state's truly impressive landscape and wildlife, its peaceful locals, and give you a new appreciation for the outdoors that you'll only find in Idaho.
Sources:
https://www.recreation.gov/camping/campgrounds/234007
https://www.buyboiserealestate.com/blog/best-camping-destinations-within-2-hours-of-boise1.html
https://www.idahostatesman.com/outdoors/camping/article40858578.html
https://www.recreation.gov/camping/campgrounds/232312
https://www.idahostatesman.com/outdoors/camping/article79729222.html
https://parksandrecreation.idaho.gov/parks/lake-cascade