Camping in Idaho
Posted by Hughes Group Blog Team on Saturday, November 19, 2016 at 2:15 PM
By Hughes Group Blog Team / November 19, 2016
Comment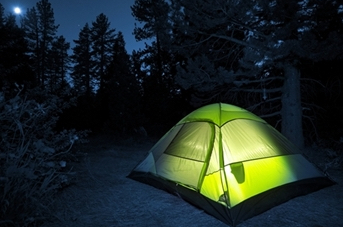 Camping is a favored pastime here in Idaho, especially during the summer. Idaho's many campsites make it the ideal place for campers of all kinds whether they want a relaxing weekend away, or want to tough it out in the wild.
If you are new to Idaho and are searching for a great place to go camping, check out these to popular destinations.
Bruneau Sand Dunes
If you thought that Idaho was all just mountains, forests, and potato farms, then you have never seen Bruneau Sand Dunes. This massive attraction is located off of Interstate 84 between Mountain Home and Glenns Ferry and is quite a spectacle to be seen. It doesn't look like there will be much out in the southern Idaho desert until you come across the giant 400+ foot mound of sand we lovingly call Bruneau.
Bruneau consists of a chain of dunes that stretch for almost ¾ of a mile long with sheer sandy edges on either side. At its peak, it is the tallest sand dune in North America and it provides hours and hours of fun for sledding, hiking, and fishing in the adjacent lake.
Only a little ways away from the base of the dunes is a camping area with both tent and trailer areas, fire rings, and bathrooms. The fee to camp there is between $12 and $125, depending on how large your group is. The campground has quite a few other amenities as well. There are horseback riding trails (horse not included), a late night observatory, boat launch site for the lake, and much more.
Givens Hot Springs
Givens Hot Springs is a privately owned campground on the edge of the Owyhee Mountains (an hour from Boise) near the city of Melba. It is a charming little campground that combines the picturesque Idaho countryside with the fun of hot springs.
This campground has many options for patrons. It has spots for tent camping, RV camping, and eve has cabins and trailers to rent with communal fire pits and picnic tables.
The main attraction for people visiting Givens Hot Springs is really the hot springs. They are built above a natural hotspot that allows them to pump warm water up from under the ground into their indoor swimming pool. Price of admission to the pool is included in the camping fee for the first two people that are there, everyone else must pay separately. It may seem a little expensive, but it is worth it. The hot pool is refreshing, rejuvenating, and fun.