Buy a Home During the Holiday Season?
Posted by Hughes Group Blog Team on Monday, December 30, 2013 at 11:31 AM
By Hughes Group Blog Team / December 30, 2013
Comment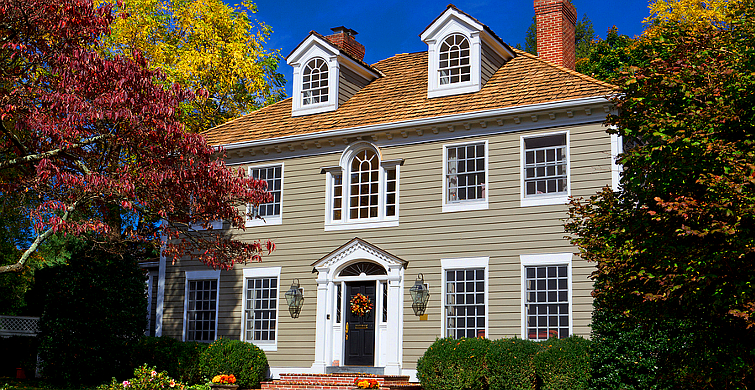 Yes, generally October, November and December are considered the off season for buying and selling real estate. But the real estate market never closes, even when the weather is frigid and most people are too busy getting ready for the hustle and bustle of the upcoming holiday season to think much about anything else. Regardless of the entertaining, merriment and gift giving going on through the end of the year, yes, you can still buy a home! But should you? Here, we'll go into detail why buying a home in November can be a great time of year to do so.
Sellers do generally avoid this time of year as many buyers are otherwise occupied with the demands of the season. As a result, many sellers feel under pressure and are more highly motivated to sell and cut a deal. So, by avoiding competition from other buyers you'll reap all kinds of benefits.
Benefit No. 1) According to Realtor.com, lower competition equals lower prices. Spring and summer is indeed the hot season for home selling and buying, as most people want to get settled in before the new school year begins. In addition, the warmer weather that accompanies this time of year helps fuel a seller's market, where the buying end of the game is at more of a disadvantage. Buyers find they are just one in a pool of many other buyers, launching competition and a rise in prices.
During November, a natural calmness falls over the market, ushering in the lower prices. As one of the few who will be dabbling in real estate, you'll beat next year's spring rush -- and can enjoy planting your garden and painting your newly acquired home while others are knee deep in the competition.
Benefit No. 2) Highly motivated sellers are urgent sellers, and urgent sellers are much more willing to make a deal. It's likely that those who do choose to list their home for sale at the end of the year are under pressure to do so. A determined house hunter can really take advantage of this urgency. Realtor.com says that only 8.1 percent of home sales occur during this time of the year, and that makes what few buyers there are serious business to the seller. Enter the market now and you'll have the edge when it comes to negotiating power, especially if the home you're looking at has been on the market for several weeks.
Benefit No. 3) Some individual mortgage brokers might take some time off during November and December, but it would be highly unusual for any mortgage company or bank to be closed other than the standard Thanksgiving, the day after Thanksgiving, Christmas Day and New Year's Day. The benefit is that during this drop in demand, lenders are experiencing less requests for mortgages, which translates into great advantages for you. Realtor.com says this is the best time of the year to buy a home because interest rates drop every December through January on a cyclic basis.
While a lender may be able to offer you a lower interest rate, it's important to shop around to find the best one for you, and to remember that getting prequalified for a loan is always the best course of action -- and do it as early as possible, as loan closing can take anywhere between 30 and 60 days to complete.
At the same time, closings can move more quickly during November and December while lenders have fewer overall transactions to complete. Lenders may also be inspired to get through the process more quickly as they'll want to close their books by the end of the year.
Benefit No. 4) What better gift is there during the holiday season than a brand new home? Yes, it's the busiest time of the year and buying a home is a busy affair, but if you check off the to-do tasks on your holiday checklist early, you won't be rushing to get it all done while rushing to secure your new mortgage. Buying a home is likely the largest and most rewarding purchase you'll ever make, and having it in time to throw a big housewarming and New Years party all in one can really top it off magnificently.
Also, with the fabulous gift of a new home, you can start the new year as an official homeowner, and begin reaping the associated benefits. Begin to enjoy tax deductions, home appreciation, building equity, enjoying further buying power, stability and the freedom to do as you please (as far as your home is concerned, that is). These financial and feel good advantages will begin immediately after you get the keys, and even if you have to move when it's snowing outside, you won't regret it.
Benefit No. 5) You can take advantage of the best time to own a home, the summer months, while others are entering the busiest season in the market. Enjoy your summer vacation and the warm weather after you've already put in the time and effort it requires to secure a new home. Now you are unhinged and free to do warm weather activities (and there are plenty of those around the Boise Idaho valley) or get busy on summer home maintenance.
House hunting in the Treasure Valley is the most exciting market in Idaho. With new and resale homes available for sale throughout Boise, Meridian, Nampa, Caldwell, Eagle and Kuna, you'll find many great opportunities in a variety of neighborhoods. Our online search tools are innovative and easy to use, launching your home search right from the comfort of your own computer. Search for the homes you're looking for with any number of the home features that matter most to you, whether it's by square feet, number of bedrooms and bathrooms or home price.
Contact Hughes Real Estate Group today at (208) 571-7145 to talk to a professional and get your search for the perfect Idaho home started.