Boise Trails
Posted by Hughes Group Blog Team on Friday, April 23, 2021 at 10:09 PM
By Hughes Group Blog Team / April 23, 2021
Comment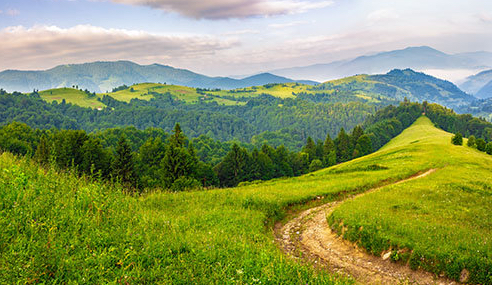 Few mid-sized cities can match Boise's melting pot of rich cultural and outdoor recreational opportunities. Located beside the Boise River and nestled alongside the foothills, Boise is a gateway to an overabundance of outdoor activities ranging from snowboarding, boating, fishing, hiking, biking, and more! Adventure awaits just outside Boise's backyard with passage to an expansive network of trails that wind through the rolling foothills. Apart of the greater Ridge to Rivers Trail System, these routes offer picturesque views of downtown and the surrounding Boise Mountains.
The Ridge to Rivers Partnership strives to protect and maintain over 190+/- miles of Boise's most desirable trails by working with landowners and the city of Boise to create easily accessible routes to the public. With a grand total of around 243+/- miles of trails and over 190+/- different courses, Ridge to Rivers is the valley's hub for some of the best biking loops, hiking routes, and paths for leisure walks. In addition, these well-maintained and loved pathways are enjoyed by the greater Treasure Valley and the city of Boise for a host of recreational activities, including hiking, mountain biking, horseback riding, and all of the above!
Beginner
Harrison Hollow Trail (2.4+/- miles)
Situated on the northeast side of the city, near the beginning of Bogus Basin Road, lies the Hillside to Hollow Reserve encompassing 260+/- acres of wilderness sanctuary. The spectacular scenic landscape and topography of the Reserve make for an easy escape into nature.
The primary and centrally connecting trail in the area is the Harrison Hollow Trail. This 0.5+/- mile trail is mainly sand and gravel, making it accessible when other trails in the area may be muddy. The minimal elevation gain and gorgeous views make it a popular path with beginners. As the trail comes to an end, if you plan accordingly, you can catch a beautiful summer sunset and enjoy one of the many reasons to call Idaho home.
Castle Rock (2+/- miles)
The Castle Rock loop, otherwise known as the Shoshone-Bannock tribes loop, is a pleasant, short hike ideal for beginners. Starting at the Old Penitentiary off Warm Springs Road, it's a swift climb up to an incredible overlook. The path is a great singletrack alternative to the more crowded and popular Table Rock trail.
Elephant Rock (0.5+/- miles)
Elephant Rock is an ideal hike for beginners because it's not too steep, shorter in length, and leads to a unique, rounded sandstone boulder resembling an elephant, making for an all-around rewarding adventure. To extend this short loop, continue onward to part of Cottonwood Creek to cool down or enjoy the serene setting.
Elephant Rock Trail is a 0.5+/- mile lollipop loop within the Military Reserve and is accessible by driving up Mountain Cove Road to the trailhead or through the network of trails in the area. The course features little to no elevation gain and is very manageable suitable for a wide range of hikers.
Table Rock (3.2+/- miles)
Table Rock is one of Boise's most popular and essential hikes because it's easily accessible; the length is ideal for an average or occasional hiker, and it leads to an iconic overlook. The route is a reasonably steep climb, but the views of downtown from the top are worth it in the end. Table Rock is typically done as an out-and-back hike, though access to various alternative trails in the area enables convenient routes to extend the journey.
Located in the southeast portion of the city, Table Rock Trail provides picturesque panoramas of Boise. Beginning at the Old Penitentiary parking lot, the trail climbs nearly 2+/- miles to the top of Table Rock, gaining around 1,000+/- feet of elevation along the way. As a result, visitors can get an up-close view of the Table Rock Cross that has stood the test of time for over 60+/- years.
Moderate
Central Ridge Trail (6.8+/- miles)
With over 700+/- acres, the Military Reserve provides several trail options suited to nearly every level of hiker. Undeniably one of the best trails within the Reserve is Central Ridge Trail #22. The trail follows the backbone of the foothills and gains a modest 500+/- feet in elevation over 2+/- miles. This unique vantage point unveils beautiful views of the Boise Skyline. Central Ridge Trail is also a great starting point to more lengthy hikes into the Boise foothills, including the Three Bears Trail.
Lower Hulls Gulch (4.4+/- miles)
Hulls Gulch is a great route that makes it easy to get outdoors while also maintaining close proximity to home for Boise residents. Beginning at the Foothills Learning Center on 8th Street, Hulls Gulch trail follows a tranquil creek at a mild grade. The path is straightforward to follow and clearly marked for a hassle-free trip. The course ends with a bridge that continues to Hulls Gulch Interpretive Trail or serves as an ideal point to turn around.
Lower Hulls Gulch is a popular hiking trail for outdoor enthusiasts, including mountain bikers, trail runners, and casual hikers. The lush surroundings and gorgeous greenery make it essential to navigate the route with care to create a pleasant experience for everyone sharing and enjoying the beautiful path.
Hulls Gulch Interpretive Trail (7+/- miles)
The Hulls Gulch Interpretive Trail extends access to a bounty of nature and tranquility scenery without the long drive from town. Picking up at the Lower Hulls Gulch trailhead, the singletrack path descends into the canyon and follows the creek high into the upper portion of the foothills. This trail is open exclusively to hikers, making for a peaceful journey to let your love for the outdoors run free.
Five Mile Gulch (7+/- miles)
Five Mile Gulch is a scenic trailhead off Rocky Canyon Road that typically has less traffic compared to the hikes closer to town. The lower section follows a creek at a mellow grade and requires a few crossings to a well-marked fork with the option to continue another steep 1.5+/- miles until you top out on the Ridge Road or turn back. The entire hike offers excellent views and plenty of solitude.
Advanced
Dry Creek Trail (14+/- miles)
Dry Creek trail is a great summer hiking option for those looking to enjoy a longer hike with the opportunity to take well-needed breaks. The trail begins by following the hillsides of a rugged, sandy canyon, eventually ascending into shaded forests. The numerous creek crossings provide plenty of opportunities to cool off and rest. Advanced hikers may climb the whole thing in one go about; however, most hikers choose to do an out-and-back on lower Dry Creek.
Stack Rock Trail (9+/- miles)
Otherwise known as Freddy's Stack Rock Trail, this gorgeous hike is surrounded by plenty of greenery and leads to an impressive granite tower featuring 360-degree views of the greater Treasure Valley, Horshoe Bend, and more. This trailhead is an excellent route for experienced hikers, as it ascends more than 1,300 feet in elevation and is about 9+/- miles out and back.
Stack Rock Trail can make for a great day spent exploring the outdoors and enjoying Boise's beautiful topography. The trailhead begins about 12+/- miles up Bogus Basin Road and continues traversing along the tree line to unveil stunning views of the valley. About 2.5 miles into the trail lies a 3-way intersection with the Sweet Connie and Eastside trails or the option to continue onto Freddy's Stack Rock Trail to a grand geological feature molded by the natural landscape.