Boise Parks
Posted by Hughes Group Blog Team on Wednesday, September 16, 2020 at 11:59 AM
By Hughes Group Blog Team / September 16, 2020
Comment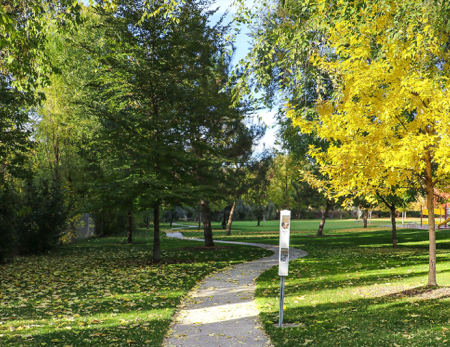 Boise Park's are popular for several reasons; finding the reasons motivating you to discover some of the best outdoor amenities offered in Boise may help you understand why so many people enjoy calling Boise home! Today, we will continue reviewing amenities provided at each park, surrounding area destinations, and locations. Southeastern Idaho's awe-inspiring display of autumn leaves, lovely harvest fragrances, and pleasant fall temperatures are just a few reasons to enjoy calling Idaho home and enjoy all the perks of the surrounding parks!
Bowden Park - 3230 W. Edson St., Boise (South Boise)
Bowden Park is a modest 3-acre park drenched in mature tree life. Come fall, the park transforms into a beautiful ocean of rainbow-colored leaves. Take delightful from open grass areas ideal for play or tossing down a throw with a picnic basket stuffed with goodies. The trees attract area birdlife filling the air with the sounds of birds chirping, cheeping, and tweeting.
Bowden Park is located near South Pool off S. Shoshone Street in Boise. The pool is seasonal and typically very popular come the warmer months. The area becomes engulfed with water enthusiasts ready to enjoy fun in the sun while surrounded by the beautiful tree line encompassing the region. The pool does offer a basketball hoop ideal for a game of shooting hoops. Bowden Park makes for an excellent destination to grab a favorite book, ipad, or kindle, listen to music, or watch a movie outdoors. The park is also popular among those who enjoy practicing a favorite outdoor sport, playing outdoor games, enjoying nature, get-togethers, and gatherings, and getting out to soak up some sun. The parks act as a central point for community sports on occasion and those simply wanting to practice and improve their skills. Find a picnic table ideal for bringing along the picnic basket, a puzzle, or an art project. Parking wraps alongside the open end of the park. Each piece of equipment offers instructions to properly use the equipment to accomplish the routine that works best for you.
Bowler Park - 4403 S. Surprise Way, Boise (Southeast Boise)
If getting outdoors inspires you, then Bowler Park may be just the place for you. Cheerful and picturesque Bowler Park is located in Southeast Boise near Surprise Valley. The park sprawls across just over 24 acres and boasts enchanting views of the Boise Foothills. This picture-perfect park is packed with all the extras, including its very own skate park (non-motorized only), outdoor gym, disc golf course, playground, and Bocce Courts.
Bowler Park is the way to go for those searching out a destination ideal for bringing along the skateboard, longboard, rollerblades, mini-board, cruiser board, mini-cruiser, downhill skateboard, carve skateboard, freestyle skateboard, street skateboard, park skateboard, slalom skateboard, or perhaps the vert skateboard. Please keep in mind that motorized vehicles, including mobility devices and e-scooters, are not allowed in City of Boise skate parks per the city guidelines.
There's undoubtedly something for everyone at Bowler Park. If skating isn't the goal, then maybe it's time to consider the playground, which boasts features geared towards younger age groups and offers bonded rubber surfaces ideal for maximum comfort, and likely a little bounce with each step adds to the fun of hanging out at the playground. The playground does provide semi-shaded and entire shaded toys though the exposed portions may get hot during the summer heat, so be sure to check the temps before play.
Now it's time to consider heading over to the outdoor gym for a rewarding workout. The bonus to the gyms is that there is something for everyone, and no one gets left out. Find the workout ideal for outcomes that meet your goals at the park gym while meeting the desired fitness level. The gym provides opportunities for engaging workouts that keep you coming back day after day. A few equipment items found at the gym might include leg press raises, pull-up and dip station, step and twist, parallel bars, sit-up board, s-shaped jump bar, squat press, horizontal ladder, plyo boxes, rowing machine, sit-up bench, combo press and pull, back extension and multi bars.
Find shaded areas, dog-off leash designated areas, as well as benches ideal for taking a break from all the excitement. Bowler park does off a dog off-leash area with rules and regulations while visiting and enjoying the park. The dog off-leash designated area boasts 1.25 acres of enclosed space, a watering station, trash cans, a covered shelter, as well as a shy dog space for those who need a little more time to adjust to the surroundings.
Ready to try out disc golf to see if it's for you? Bowler Park has got it! The course currently boasts nine holes though more are on the way. The first five holes have baskets.
Now for the bocce courts, available as first come, first serve, it's time to learn bocce! Bringing your set of bocce balls or the pallina (jack, cue, beebee, a drag broom, etc.) may be a consideration as these are not provided in order to play, and only the court is provided.
Bowler Park is surrounded by things to do in the Boise area. After enjoying a fun day at the park folks may consider heading over to the Boise River, Barber Park, or possibly Bowns Crossing. Bowns Crossing offer opportunities for outdoor dining, social gatherings, businesses, and additional amenities.
Bowler Park acts a great vantage point to connect to nearby area trails. If searching for stopping point to take a break while out on enjoying the trails Bowler Park makes for a fantastic option.
C.W. Moore Park - 150 S. 5th St., Boise (Downtown Boise)
Located in the heart of downtown Boise sits the C.W. Moore Park nestled at the corner of S. 5th Street and W. Grove Street. This 0.28 +/- acre park makes for the ideal midday stop to get away from the hustle and bustle of the workweek. On a windy day, this modest park comes to life as the wind rustles through the leaves of the trees like a symphony swimming in ribbons of color. Breathtaking, pleasant, and fascinating to explore, find C.W. Moore Park on your list of things to do!
Discover architectural masterpieces, interpretive signage, historical relics, open grass areas surrounded by nature, and mature tree life. The various architectural masterpieces include wheels, rounded headed arch, cornerstones, stonework, engraved stones, ogee topped columns. Buildings and shapes are a part of everyday living, and the concept of architecturally pleasing and complex designs form the foundation to which C.W. Moore Park exists.
The park's location makes it ideal for hanging out, getting together for group meetings outdoors, taking a mid-day break, and enjoying the atmosphere. After hanging out at the park, there's always the option of heading over to downtown Boise for a bite to eat, window shopping, a daily exercise routine or stroll, exploring a historic building area tour, or possibly heading over to the capitol building to learn more about the history of Boise.
The C.W. Moore Park sits surrounded by opportunities to explore! For instance, the Basque Block sits a few blocks away and boasts a cultural center, museum, and dining opportunities. Find live events, festivals, and a plethora of information about what the Basque Block is all about.
Another downtown activity to consider might be checking out the greenbelt. Also, find opportunities to check out local museums, the library, discovery center, zoo, other parks, the farmers market (Sat.), or Freak Alley. Additional downtown activities might include taking a trolley ride, enjoying a seasonal sleigh ride and goodies, checking out a live performance or sporting event.