Boise in the Summer: Ways to Enjoy the Greenbelt and Boise River
Posted by Hughes Group Blog Team on Saturday, May 20, 2017 at 5:39 PM
By Hughes Group Blog Team / May 20, 2017
Comment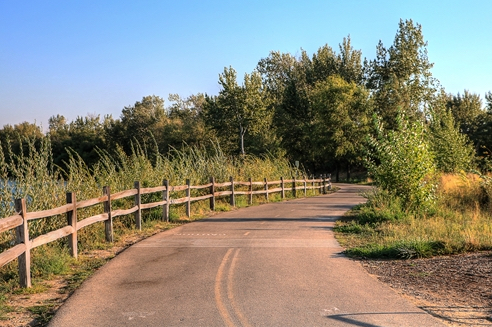 Looking for some summer fun in Boise during the warm months? There is so much to do, including taking part in the fun that surrounds the Boise River and Greenbelt. If you like floating rivers and soaking up sunrays, then you will enjoy having fun on a tube on the river. However, if you're more of a dry land lover, the Boise Greenbelt that winds around the river has fun paths to stroll, hike or bike down as well. Whatever it is you like to do, you are sure to find something to do on the Boise River or Greenbelt this summer. Check out the following list of fun activities and find the ones that are best for you:
Floating the River
Ah, those warm summer days with the cool breeze bouncing off the water. Floating down the Boise River allows a spectacular opportunity to take in the Idaho scenery while spotting wildlife and having fun with friends. Bring your bestie and a tube (or rent what you need when you get to the river) and bound down the river with splashing and laughter. Many people spot otters and birds as they float away into the horizon.
While you travel the river and have fun, be sure to be safe and look out for quick-moving currents and rocky areas that could hurt your limbs hanging from the tube. Make sure you take the proper safety precautions, and you will be fine and able to enjoy the fun of the summer days.
Fish the Boise River
If you are a fisherman/woman, you are in great luck! The Boise River has great locations for fishing. Head on down to the Boise River this summer and go to one of the three forks on the upper end. Be sure to do your research ahead of time so that you know which fork will be best for you and what you want to do and catch. Websites such as perfectflystore.com are really helpful, as they will tell you what you can spot in each area as well as giving you great tips and tricks. The three forks you can fish at in the Boise River are the North, Middle, and South Forks. In the North Fork, you can find rainbow trout, in the Middle Fork you can find wild trout, and in the ever-popular South Fork you can wrangle in enormous rainbow trout. The South Fork is popular for the massive sizes of rainbow trout as well as the winter activities that abound when the summer months reach an end. So, before grabbing your pole and heading for the water, do a little research and learn which area would be best for you (or let yourself be surprised!).
Biking and Hiking Along the Boise Greenbelt
If you love riding your bike and want a great place to do it in the summer in Boise, try biking the Boise Greenbelt. You won't get bored with the abounding scenery and the abundance of plant and wildlife surrounding the area, and there are great paths to follow. Be sure to stick to the path, though, as it could be harmful to the plant life and homes of the wildlife—and not to mention potentially dangerous for you—if you head off the trail and lose your way. There is so much to see on the paths, so don't worry about mixing things up when you get down there.
If you are more of a walker, then feel free to hike the Boise Greenbelt. When walking along the path, you are sure to find some amazing sights and experience adventure. Taking your time hiking, rather than biking, will also let you look at plant life and animals at your own pace while also taking everything in around you. Breathe in the fresh air and take a walk with friends.
If you aren't looking for exercise on the Greenbelt and just want to enjoy the overall splendor and participate in outdoor activities while sitting still or walking here and there between picnics and rest, try bird watching. What is called the "Idaho Birding Trail" along the Greenbelt offers a wide range of bird watching opportunities and many birds to spot in your travels. Before you head out, you can even take a list of different birds that you can spot on the Greenbelt and check them off as you go. It could be a fun and exciting game for you and your friends to enjoy together. You can spot all different types of song birds, water birds, fowl, bald eagles, and more. Much like fishing on the Boise River, do your research ahead of time to learn where you are likely to see what kinds of birds.
Tips for Traveling the Greenbelt
It may seem like an adventure to travel the Greenbelt alone, but it isn't wise to go without someone with you. Not only will having someone else with you cause the experience to be even more enjoyable, as you will have someone to share the fun with, but it will also help you stay safe against strangers and wild animals. If you do find yourself traveling alone, or even if you are with someone else, and you feel someone following your trail, try to vary your route and find other people, or call for help if necessary. Varying your route is a good idea anyway, as it will bring you to different types of sights and keep your trail from being predictable to any shady characters that may be lurking about.
Avoid areas where people or animals could hide and jump out at you, and it's wise to avoid going on the Greenbelt at night (especially by yourself). Also make sure you track where you are going so you don't get lost.
Something to remember is that motors are off limits on the Greenbelt. You can get a permit for a Segway, but other than that you will need special permission for anything else with a motor (and this will depend on individual circumstances).
Take precautions, but don't let the fear of getting lost or the chance of wild animals crossing your path spoil your good time. Idahoans and out-of-towners love the Boise Greenbelt and the Boise River. Experiencing these sights in the Boise area are sure to bring you a wailing good time and memories that you'll remember forever.
Pack lots of sunscreen and grab that fishing pole, and go and have a good time!