Boise, Idaho Street Names: How Did They Come to Be?
Posted by Hughes Group Blog Team on Monday, December 9, 2013 at 11:38 AM
By Hughes Group Blog Team / December 9, 2013
Comment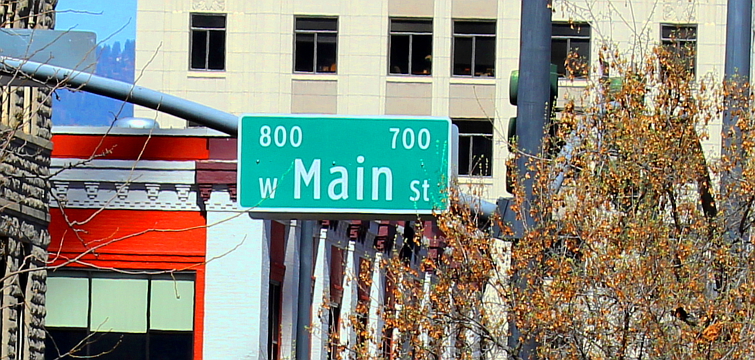 Have you ever found yourself wondering how the streets you drive up and down every day came into being? How and who gave them their name, how long have they been there, and how much have they changed? Street names can range from the ordinary to the crazy – from Psycho Path Way in Traverse City, Michigan to Shades of Death Road in Warren County, New Jersey.
Boise, Idaho is much like every other American town, our street names are primarily named after numbers, trees and the surnames of important people, such as presidents or important historical figures – Martin Luther King is a common one. The kind of street name you're fated to have depends largely upon the city you choose to live in, and the names requested by developers and new subdivisions. Oftentimes, developers submit the name of a street to the appropriate city department where it goes under review, which can take up to a few weeks to complete. The departments who have the greatest amount of power to veto a street is the police and fire departments – if a street name is not intelligible enough or easy to distinguish during the event of an emergency, it can get the ax. The post office also gets a final review.
A lot of areas have a theme in place, such as names of trees or bird species. A residential area in Nampa, Idaho for example, implemented a "tasty" theme, using the names of sweet things, such as Caramel Court, Sugar Avenue, Taffy Drive, Peppermint Drive, Sweet Drive and Lollipop Drive. Another good example of themed streets are those found in Washington D.C., where each of the 50 U.S. States have a street named after it (such as Pennsylvania Avenue which runs from the capitol to the White House).
Commonly, developers will name streets that are indicative of the area's primary business or industry, or for the road itself – 17 mile drive in Camel By The Sea California for example, or Five and Ten Mile Roads here in Boise. Actually, the history behind Five and Ten Mile Roads are probably not what you think. Five Mile Road and Ten Mile Road get their names from two creeks that run through Ada County – five mile creek starts about five miles south of the Boise River near the airport, and Ten Mile Creek is about five miles south of that. According to a 2003 publication from the Ada County Highway District, a school was built by Five Mile Creek and was named for the creek, which led to the name of the road. Essentially, Five Mile Road got its name from a school who got its name from a creek. Ten Mile Road was named for Ten Mile Heights near the creek, and thus led to the name, Ten Mile Road.
Some of the most famous streets in America aren't named for what most people think. Bourbon Street in New Orleans for example, is named after the House of Bourbon, the ruling dynasty of France – not the beverage that the famous people from the street are drinking. Wall Street in New York, a narrow street that runs downhill from Broadway to the East River, was named for the wall that was built there in the 17th century by the Dutch to protect their settlement. Today it's the historic heart of the Financial District and home to the New York Stock Exchange.
Other streets are world famous, and automatically conjure certain images and impressions. Haight Ashbury for example, an intersection of streets found in San Francisco known for the origin of the 1960's counterculture. There's Sunset Boulevard, known for the glamour of Hollywood, located in western Los Angeles county. Beale Street in Memphis, Tennessee is famous for the many blues and jazz legends who played there, and Broadway, an avenue that runs through the borough of Manhattan, is known as the pinnacle of American theater.
As far as real estate is concerned, can the name of a street affect the sale of a property? The answer is yes. People strongly react to street names –whether it's because of prestige, or even perceived prestige. In a study found in the Journal of Real Estate Research printed in 2011, they offered empirical evidence to support the claim that real property buyers are in fact willing to pay price premiums based on property names. Basically, they said that buyers were willing to pay for perceived prestige – maybe even more than for good schools, particularly in subdivisions with the word "country" in the title, and especially "country club." Homes located on a Boulevard seem to fetch a higher price.
One more thing – can you guess what the most common street name in America is? You might guess Main, Elm, or Center Street – but you'd be wrong. America's most popular street name is 2nd Street. Because most American towns began organizing their streets using a simple grid system using numbered streets, 1st Street was usually switched to Main or Center Street, giving 2nd street a boost to the number one spot. In fact, behind 2nd Street -- 3rd Street is the second most common street name while 1st Street is the third most common.