Boise Greenbelt: what is it and why does everyone like it so much?
Posted by Hughes Group Blog Team on Wednesday, June 21, 2017 at 5:46 PM
By Hughes Group Blog Team / June 21, 2017
Comment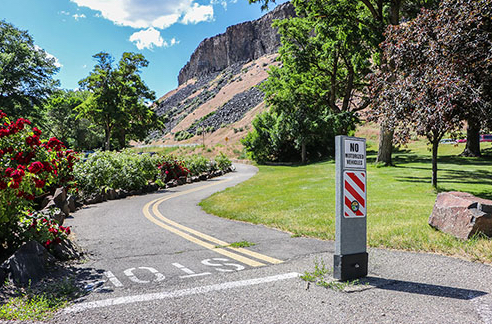 Boise is an outdoor city, there is no getting around that, but there are few outdoor activities that Boise, and Treasure Valley residents, love more than the Boise Greenbelt. The Boise Greenbelt holds a special place in the hearts of residents and visitors and has been a popular place to go for almost 50 years now (as of 2017). Our hope today, with this article, is to help those who don't know much about the Greenbelt whether they are new residents, visitors, soon to be residents or even longtime residents of the area that just haven't had the time to check it out. Boise and the Treasure Valley would not be as wonderful a place as it is without the wonderful Greenbelt. So, be sure to check it out for yourself.
What is the Greenbelt and why do we have it?
The Boise Greenbelt is a long time amenity in the Treasure Valley. Like we said earlier, it has been around for nearly 50 years now since it opened in the 1970s. When it started, however, it was not nearly as extensive as it is today. The first visions of the Boise Greenbelt started out being exclusive to the City of Boise; they did not plan for it to extend farther as far as we know. Nowadays, the Boise Greenbelt is not just a path that runs along the Boise River through the City of Boise, it is a long patchwork of different trails and paths that extend almost halfway across the Treasure Valley.
Because of the Greenbelt's extended length different sections of it are governed and maintained by a handful of different city governments— each government managing the portion of the Greenbelt that resides in the boundaries of their own city. This large variety of authorities makes it so the Greenbelt is not one long homogenous trail or path. In fact, it is quite the opposite. You see, there are many sections of the path that are well established with paved portions, informational plaques, and so on, while there are also many parts of the Greenbelt that are not so established, that are not paved, and hardly have signs to direct travelers.
It isn't one single path either. You see, the Greenbelt is actually a network of paths that run the length of the Boise River from Lucky Peak Reservoir to Canyon County— yes, one could travel the Greenbelt from start to finish, but there is no one single path that does it. One would have to take several different trails to make it happen. The web-like system of trails that create the greater Greenbelt, though confusing at first, is great for visitors who want to explore different parts of the banks of the Boise River. Before you start exploring though, be sure to know that not all the paths along the Greenbelt are 'official' paths. Some of them have been blazed by other visitors making the danger to you and to all the local plants and animals. Please do your best to stick to the designated and official paths of the Greenbelt when you start your adventure.
Uses of the Boise Greenbelt
For a lot of people, the Greenbelt is a place of recreation and exercise. The Greenbelt is a great place to go to have some fun and get some good exercise in. It doesn't matter what you like to do, there are plenty of ways to enjoy the Greenbelt. One thing that many people seem to like about the Greenbelt would be the quick access to several series of parks throughout the Boise area. Like pearls on a necklace, many of the parks in Boise are connected by the gorgeous Greenbelt. These parks are built with open grassy fields, leisure paths, playgrounds, water features, and so on. There are even some that are built with outdoor gyms.
Then, of course, there are many people who also use the Greenbelt for transportation. You see, as we said earlier, the Greenbelt moves through several cities in the Boise area, including downtown Boise. This means, if you live in a place like Garden City or Eagle and work in downtown Boise, then you could easily use the Greenbelt as a way to get to and from work. That is if the weather is good. It can be quite difficult to travel down the Greenbelt during the wintertime when we have a lot of snow.
There are also many people who use the Greenbelt for events. These events vary in scope, but it is important to note that anyone can schedule one, they just have to get permission from the parks and rec department. It is hard to know about upcoming events on the Greenbelt though, so it is best to just keep your eyes on local event boards to see if anything is coming up.
How do I get on the Greenbelt?
If you want to get on the Greenbelt, you have several options to choose from. The easiest way to get on the Greenbelt would be to look for one of the official entrances. These are entrances that are established by the local governing body and can be found at various points along the Greenbelt. There are many of them to choose from, but the easiest to find, and to use, would have to be the official entrance on Glenwood Street in Garden City (across from the library). This entrance is very well established and even has a parking lot if you are coming to it by car.
There are many other entrances though, some of which are harder to find than others. A trick to finding these entrances would be to go on to any online map program. Type in your current location as the starting point and then simply type in "Boise Greenbelt" into the destination field. Now, before you tell it to calculate, make sure to select a mode of transportation that doesn't involve cars, buses, trains, and other large vehicles as it will not work as well. If you click on the biking option, even if you aren't going to bike there, it will show you the best path to the closest Greenbelt entrance.
Now, there is a lot more to know about the Boise Greenbelt than we have mentioned here. If you want to know more about it or any of the other awesome amenities available here in the Boise area, be sure to either send us an email or give us a call here at the Hughes Group. Our local and licensed real estate agents are happy to answer any of the questions you might have about the area and can help you find the ideal home as well. So give us a call today and come see what Boise has in store for you!