Bogus Gold: The Bogus Basin Mountain Recreation Area
Posted by Hughes Group Blog Team on Sunday, April 17, 2016 at 11:39 AM
By Hughes Group Blog Team / April 17, 2016
Comment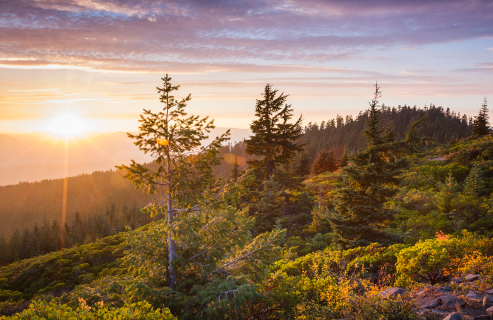 When you live in Boise, Idaho, you make a choice. That choice is a lifestyle. You want access to some of the best recreational opportunities in the West, and Idaho delivers. You live for the outdoors. And that is why you live in Boise. You made the choice to live your lifestyle because living in Idaho is a lifestyle. While Boise may be the largest city in Idaho, it is far from simply an urban paradise and playground. Instead, it is a fusion of the urban life and the outdoors life. From winter sports like skiing to summer sports like mountain biking, your opportunities are endless when you live in the state's capital.
Just 16 miles northeast of Boise, you'll find a fantastic outdoor playground. The Bogus Basin Mountain Recreation Area has it all. It's bound to keep you busy year round, doing what you love. From alpine skiing in the crisp and beautiful winters of Idaho and mountain biking in the glorious Idaho sun, Bogus Basin is your playground, and it's close enough to be home in time for dinner.
Crooks and Miners
During the 19th century, gold fever had swept the nation, and Boise was not left out. But the hills of Boise became home to a different kind of gold fever. This one was not so noble. Crooks, known as spelterers, used the Boise hills as a place to make fake gold, or bogus gold, rather. They would mix a small amount of real gold dust in with lead fillings, and then heat them. They passed this mixture off as real gold. In reality, this was bogus gold, nothing more than a clever con.
While the nation's gold fever died down, this mountain area drew attention for a different kind of gold. White gold. Perfect snow for skiing. The area's history was not forgotten, and it's likely that the name Bogus Basin was drawn from the spelterers and their bogus gold. The site was chosen by the father of the American powder technique, Alf Engen, in 1939. In 1942, Bogus Basin opened to the public with nothing more than a 500-foot rope tow. A few years later, in 1946, a 3,300 T-bar was installed.
Becoming Bogus Basin Mountain Recreation Area
As the years went buy, Bogus Basin grew in popularity and size. In 1959, its first chairlift was installed. It was added at Deer Point. In 1964, the resort debuted night skiing. Skiing is a popular winter activity in Idaho, and Bogus Basin's growth reflected that. Today, the Bogus Basin Mountain Recreation Area has seven chair lifts, two magic carpet lifts, and a combined lift capacity of 9,980 skiers per hour.
You won't be bored at Bogus Basin. And you'll never have to search for excitement and adventure. With 2,600 acres open for day skiing and 165 acres open for night skiing, you have the run of the resort. There are plenty of slopes for you to carve as you enjoy the fresh mountain air of Idaho. When you get tired of alpine skiing (which isn't likely), you can take to the trail and go Nordic skiing. Bogus Basin has 37 kilometers of groomed Nordic trails, which is perfect for exploring and enjoying the beautiful mountains and forests of Idaho.
With over 50 groomed runs across the mountains of Bogus Basin, you have a season full of snow and fun. And there are runs for every skill level. You'll find a fairly even spread of difficulties across the runs, with 22 percent classified as easiest, 45 percent as more difficult, and 33 percent as most difficult. Take the lifts to the top of the resort, and you'll be on top of the world, with a vertical transport height of 10,383 feet. Head down Paradise Trail for a wonderful adventure, over one and a half miles of groomed trail.
Bogus Basin Fits Your Lifestyle
Today, the Bogus Basin Mountain Recreation Area is the perfect outdoor destination for you. You love the outdoors, and getting right into nature is your ideal day. Because Bogus Basin is open until 10:00 p.m. which means you can hit the slopes after a day of work. Boise offers the perfect balance for your lifestyle. It has a booming urban life, with all of the amenities, including a bustling nightlife and entertainment scene, that is blended beautifully with the surrounding nature of Idaho.
Bogus Basin's winter season runs from mid-November through mid-April. The resort's normal hours of operation are 10 a.m. to 10 p.m., except on weekends and holidays when the resort opens an hour earlier.
You know that Idaho has plenty to offer. After all, that is why you chose to move here. So take advantage of everything that Idaho has to offer. Especially when there is an incredible mountain resort in your own backyard.